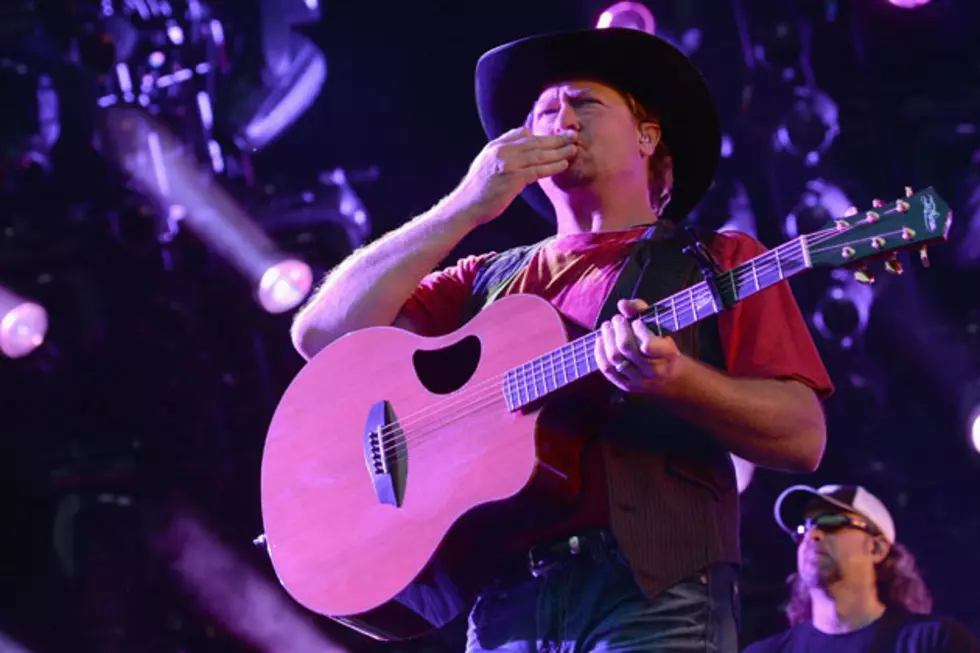 Tracy Lawrence, 'L.A. Dirt' Movie, 'Aggressive' New Music Planned for 2013
Rick Diamond, Getty Images
Tracy Lawrence could summarize his career in the past year in a few words ... new and different. The singer landed his first part in a film and was then asked to do the soundtrack for the flick, called "L.A. Dirt." In it, Tracy plays "Uncle Charlie" to his young nephew, "Ty Hargrove," portrayed by Michael Roark. Ty's one ambition is dirt-track racing, but his challenges include not having much money to do so and also going up against a rich hot-shot boy who is as determined as he is to win on the racetrack. The film was shot around Mobile, Ala.
"I completed filming the movie last June, and then they decided to shoot some other scenes so there is still no word when it will come out," Tracy tells The Boot. "The director was great to work with and now he hired my production company to do the score for the movie. He's sending us a few scenes at a time and we've been working on music for them as we get them.
"It's been a lot of fun to do the score, I'm learning as I go," Tracy adds. "I'm anxious right now because we're just now starting to feed scenes back to the director and get his feedback. I'm a little bit nervous to see if he's gonna like what we send him. But I feel good about what we've done so far. We anticipate we'll put some kind of soundtrack together that will be distributed later this year."
Tracy won't be doing all the songs for the soundtrack himself. In addition to a tune he contributed, called 'Dirt Track Demon,' he says other singers and songwriters will also be featured.
Scoring a film is a brand-new thing for Tracy, but he says it's a great example of what happens when you are creative and open to new experiences. "You just embrace the things that come to you. You never know what one thing is going to lead to."
Tracy wouldn't turn down another acting role either. "Hopefully I'll get the chance to do some other things," he notes. "This was a small, independent company and this first role has opened some doors for me."
In addition to scoring "L.A. Dirt," Tracy has been in the studio working on his upcoming album, which is expected to be released as early as August of this year. The new single, "Stop, Drop and Roll," written by Casey Beathard, is at country radio now and Tracy says it reflects the more contemporary side of the new project.
"I tried to straddle the line between edgy and contemporary but still remain true to where I am artistically," he explains. "I've never done anything like this single before. It's a positive love song with a message. The band played great on it; their guitar work is phenomenal. I felt like it was a positive song to come off the album first, and I think people are connecting to it so far."
Overall, Tracy says the album is just what he's been looking -- and listening -- for, sonically. "I think it's edgy and I think it's fresh, and it's mixed more aggressively than anything I've had previously. That's a big trick with what's going on today. Music going to radio has to fit into the sonic placement that goes with everything around it. I think it will connect well with what's going on out there today."
The only problem Tracy has found so far with the disc is that some of the songs fall outside his more comfortable vocal range. "I cut some things that are real dynamic, with a lot of modulations, and it's a bit difficult to sing them ever night. They're a challenge for me. So I have to push myself on a nightly basis, but it's good. It's healthy to challenge yourself."
One song on the album that holds special meaning for the singer-songwriter is "Butterflies," which was written -- with co-writer Ricky Huckaby, after Tracy watched a news program about the deadly tornadoes that tore through Joplin, Mo., in 2011.
"It's one of the most powerful things I've ever written," says Tracy. "In that news program, the commentators were saying that a lot of children who survived the disaster were talking about the butterfly people who came down and protected them and comforted them and kept them conscious when they were waiting to be pulled out of the rubble."
After doing some research on "butterfly people," Tracy found testimony from people at the Chernobyl nuclear accident site, in wars and other catastrophic events who had claimed to witness them.
"Butterfly people would come and protect you but they were also collectors of souls that would come and take people to the other side when they died," he explains. "They are pretty much angels. My writing partner and I had lengthy discussion about it and researched it and we wound up writing the song, which is about angels coming down and protecting people. It's already been played at several funerals, and it's something I am very proud of."
Tracy expects to headline at least 130 concerts this year and already has half of those dates on the books.