Keith Urban, John Travolta Duet; Jennifer Nettles Moves: Country Music News Roundup
Getty Images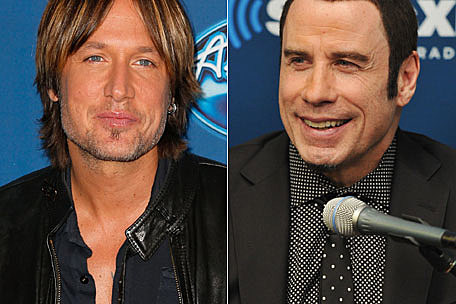 Getty Images
Keith Urban was joined for a special duet by actor/singer John Travolta at the G'day USA party in Los Angeles last week, where the pair performed the Beatles' classic "Yesterday." (Watch a fan's footage of the duet below.)
The New Zealand-born musician, who was raised in Australia and now makes his home in Nashville with wife Nicole Kidman (who was born in Hawaii but also raised in Australia), says the couple's two daughters are being raised with a "particular [Australian] spirit ... that the girls have without having been raised there." The G'day USA event celebrates Aussies living and working in the US. [WENN]
Sadly, Keith Urban and Dolly Parton didn't make the cut for this year's Academy Awards nominations, even though both wrote terrific original songs for movies in the past year. The five tunes that are up for an Oscar are: "Before My Time" from "Chasing Ice," J. Ralph; "Everybody Needs a Best Friend" from "Ted," Walter Murphy and Seth MacFarlane; "Pi's Lullaby" from "Life of Pi," Mychael Danna and Bombay Jayashri; "Skyfall" from "Skyfall," Adele Adkins and Paul Epworth; "Suddenly" from "Les Miserables," Claude-Michel Schonberg, Herbert Kretzmer and Alain Boublil. [Spinner]
"The Color Orange: The Condredge Holloway Story," produced by Kenny Chesney and Shaun Silva, will air Sunday, Jan. 13, at 10:00 PM ET on ESPNU as part of the SEC "Storied" series. The documentary, about the first African-American starting quarterback in the Southeastern Conference, is narrated by Kenny, who idolized Holloway and wore his jersey number when he played high school football. The film also airs Friday Jan. 18 at 6:00 PM ET and Friday, Jan. 25 at 11:00 PM ET.
Sugarland's Jennifer Nettles and her husband Justin Miller are new parents, and Jennifer's country-music career continues to flourish, so it's no surprise that the singer recently made the move from Atlanta to Nashville. But why relocate after 17 years? Says Jennifer, "Part of what is really attractive about Nashville right now is that it isn't Atlanta, and I love Atlanta. There's a bit of charm and a richness a city the size of Nashville allows for." [New York Times]
"X Factor" champ Tate Stevens, who recently moved to Nashville to start work on his debut album, has been writing with John Rich. Tate sent out a tweet to his followers earlier this week which read: "Writing with johnrich we determined that #jesus did not turn the water into Dr.Pepper!!" No release date has been announced for Tate's album. [Taste of Country]
Tracy Lawrence will appear on tonight's (Jan. 10) episode of the History Channel's "Cajun Pawn Stars." The country star will stop by the shop to sell a 1920s Martin guitar and a vintage suit worn by legendary songwriter Hank Snow. [CMTT]
Dierks Bentley and Miranda Lambert will embark on their joint Locked & Loaded Tour next Thursday, Jan. 17. The two stars and their bandmates are in rehearsals right now, so Dierks decided to film a little message to fans to get them pumped up for the shows. [YouTube]
Wednesday's headlines: Jana Kramer gets a housemate, Hunter Hayes gets some heavy metal + more ...
Watch Keith Urban & John Travolta Duet
Watch the Best & Worst Dressed at the People's Choice Awards
Download Keith Urban Songs