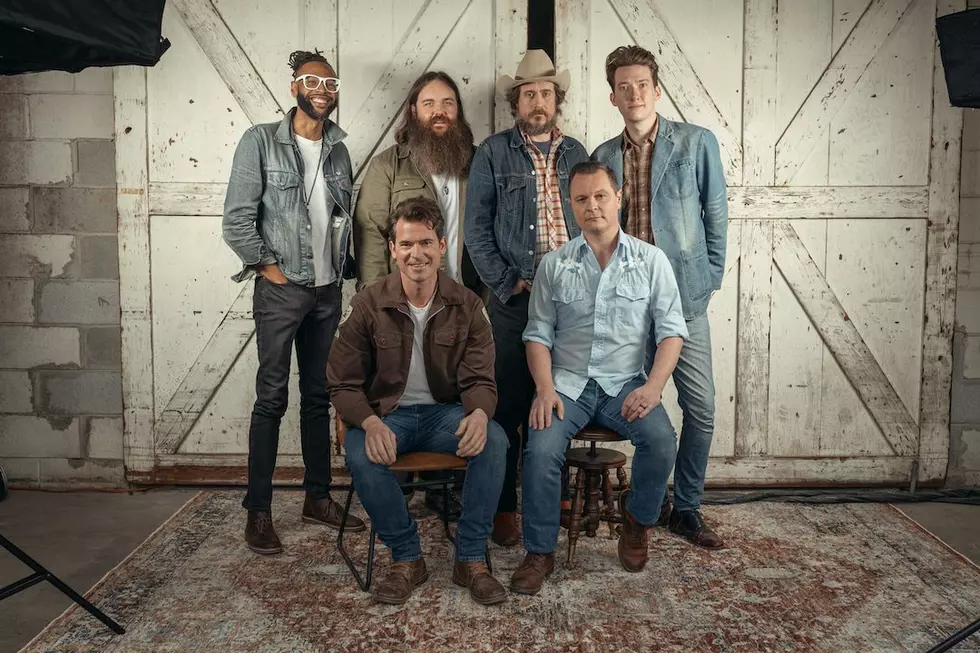 Top 10 Old Crow Medicine Show Songs
Kit Wood
Like the tales of all good troubadours, the story of Old Crow Medicine Show starts with a lot of street-corner busking and a little bit of chance.
The old-time influenced band formed in 1998. After assembling what would turn out to be a revolving cast of musicians in Ithaca, N.Y., the band set off for Canada, busking its way from one side of the continent to the other -- and back again.
When Old Crow returned to the United States, the band members settled as a collective in Boone, N.C. The move immersed the bandmembers in the ways of Appalachian living that would come to define their music. They made whiskey, sold a little weed, worked odd jobs, and continued to busk and hone their craft together as a band.
One day, playing on King Street in Boone, Old Crow had a chance encounter with folk-country legend Doc Watson. Watson's daughter heard the band busking on the corner and brought her father over to listen to the music. Subsequently, Watson invited the band to play MerleFest. The rest was history
Throughout its career, the Grammy-winning band has recorded seven studio albums and four live albums. Old Crow's catalog includes original songs written by the band and plenty of pre-World War II blues and folk songs, too.
The band's current lineup includes founding member Ketch Secor, Morgan Jahnig, Cory Younts, Jerry Pentecost, Mike Harris, and Mason Via. In Apr. 2022, the band released their latest album, Paint This Town.
Over two decades into its career, Old Crow is still finding ways to reinvent old-time music. Keep reading to count down The Boot's picks for the band's top 10 songs, so far:
10

"Gloryland"

From: 'Paint This Town' (2022)

"Gloryland" is a stand-out track from Old Crow's new album, Paint This Town. Founding member Chris "Critter" Fuqua, who officially left the band in 2020, penned this track with Secor. The lyrics describe feeling "locked out at the gates of Gloryland" while the rest of the world is "scenes of ruination everywhere I go." It's hard not to see the parallels between "Gloryland" and "Knockin' On Heaven's Door." Dylan is a prominent influence on the band, after all. Even as the track nods to the past, the song is still very much rooted in the present. One can hear Old Crow's zeal as the band head into its third decade.

9

"Methamphetamine"

From: 'Tennessee Pusher' (2008)

Old Crow's time living in the holler shaped more than just the band's sound; it also influenced the stories they tell and the believability behind the words.

"Methamphetamine" is a dark, blues-country look inside the pilage of Appalachia. It's sung with the wary knowing of someone who's seen too much. Secor collaborated with Americana great David Rawlings for the track. It was Rawlings who completed Secor's chorus with the keyword, "Methamphetamine."

8

"Visions of Johanna (Live)"

From: '50 Years of Blonde on Blonde (Live)' (2017)

In 2017, Old Crow released 50 Years of Blonde on Blonde: a live album of the band covering Bob Dylan's iconic 1966 double-album track-by-track. The album was recorded live at the CMA Theatre at the Country Music Hall of Fame in Nashville, Tenn.

While the live album is essential listening for anyone who loves Old Crow (and Dylan), "Visions of Johanna" is a standout track. It's full of instrumental depth and richness and a fine example of how Old Crow honors its musical influences while also bringing its unique spirit to any given track (cover or not).

7

"Sweet Amarillo"

From: 'Remedy' (2014)

"Sweet Amarillo" is not the first time that Old Crow built a song using the bones of a Dylan bootleg, but it is the most recent. Secor told CMT how the song took shape: "Bob... sent a demo and said, "Here's a song that I never really finished. It was recorded a few days after 'Rock Me Mama.' Give it a try. We'd like the boys, the Old Crows to give it whirl."

Dylan first sang the song in 1973 during a recording session for the Pat Garrett & Billy The Kid soundtrack. Donna Weiss and Brenda Patterson were also present at the session. Weiss was the first person to flesh out lyrics for the complete song. Then, in 1974, Patterson recorded the track. However, Patterson's recording and Old Crow's are vastly different. Under Old Crow's care, "Sweet Amarillo" is the wistful tune sung from the heart of a lonesome drifter.

6

"James River Blues"

From: 'Big Iron World' (2006)

"James River Blues" was released in 2006, but its lyrics and instrumentation could convince an unknowing listener that the song was created over 100 years prior. The song captures the woes of workers put out of the job due to industrialization: "James river blues / That train came on through / And the worlds gotten slow / So wheres a boat man to go?"

Of course, the song's reach extends beyond the James River and connects to the larger story of America. It resonates with anyone who's ever seen an industry move on without them, be it the automobile industry or coal.

5

"Down Home Girl"

From: 'Big Iron World' (2006)

Old Crow recorded "Down Home Girl" for its 2006 album, Big Iron World. However, the song was first recorded in 1964 by New Orleans-based Alvin "Shine" Robinson. It was written by Jerry Leiber and Artie Butler. The song has been recorded many times over by music legends, including Taj Mahal and the Rolling Stones. Still, Old Crow's country-blues version of "Down Home Girl" competes with the best.

4

"This Train is Bound for Glory"

From: 'Woody Guthrie: At 100! (Live At The Kennedy Center)

For Woody Guthrie's centennial celebration, Old Crow took the stage at the Kennedy Center to perform Guthrie's classic, "This Train is Bound for Glory." The band was joined by an all-star assembly of musicians: Ani DiFranco, Dan Gellert, Donovan, Jackson Browne, Jimmy LaFave, Judy Collins, Lucinda Williams, Ramblin' Jack Elliot, Rosanne Cash, Ry Cooder, Sweet Honey in the Rock, The Del McCoury Band, Tim O'Brien, Tom Morello, and Tonya Trischka. The result is joyous, jubilant, and gloriously fun.

3

"My Good Gal"

From: 'Big Iron World' (2006)

Dark story songs are at the heart of traditional country music. On "My Good Gal," Secor proves he can write them just as well as the greats. The somber, acoustic-driven track starts with a lament of love gone wrong. Secor sings, "Well she drug me down / Tossed me 'round / Slammed my name all over town / My good gal ain't no good to me / She makes true love more like misery."

By the end, the misery has turned deadly. Secor sings, "Because I drove her out of town / And I shot her down / And I left her there in the cold, cold ground." The emotive outro is marked by a wailing harmonica and strings that communicate wordless pain.

2

"Tell It To Me"

From: 'O.C.M.S.' (2004)

Released on Old Crow's second studio album, "Tell It To Me" captures the essence of the band's early busking days. The rowdy, jaunty, jug-band-influenced track has since become one of the band's most famous songs. Its infectious, fun chorus likely has something to do with it. The group sings, "Now won't you tell it to me / Tell it to me / Drink the corn liquor let the cocaine be / Cocaine's gonna kill my honey dead."

1

"Wagon Wheel"

From: 'O.C.M.S.' (2004)

Most songs don't take twenty-five years to get written. Then again, "Wagon Wheel" is not most songs. Today, the track is ubiquitous. But once upon a time, it was just a forgotten chorus an old Dylan bootleg from his Pat Garrett & Billy The Kid sessions. The old tape fell into the hands of Critter when he was just a kid, and he eventually shared the tape with Secor. It was Secor who completed the song's verses about the hitchhiking gambler trying to make his way back to his true love in Raleigh. When Secor approached Dylan for permission to record the song, Dylan agreed. The two men share 50/50 writing credits.

When Darius Rucker came along and recorded "Wagon Wheel" in 2013, it became a smash hit on the country charts. However, the cover's platinum success doesn't eclipse Old Crow's original charm.