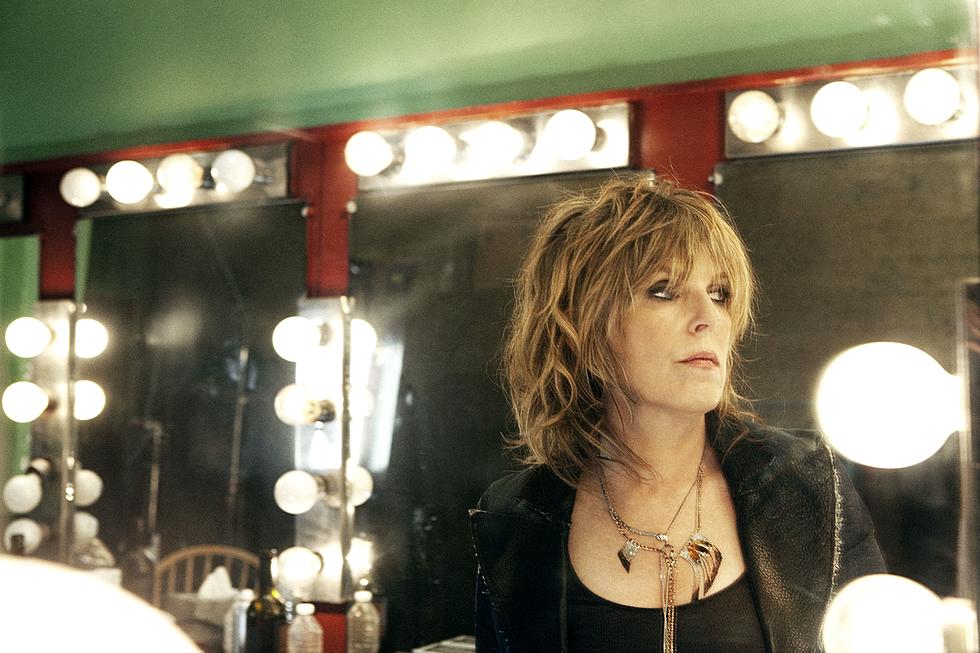 Lucinda Williams Revels In Her 'Blessed' Life
Lost Highway
Talk to Lucinda Williams and you will begin to understand how she became one of the most lauded singer-songwriters in country music, winning three Grammy Awards and an array of other honors.
Like her 2008 album 'Little Honey,' her just-released collection, 'Blessed' has received rave reviews. That's especially notable when you consider that some critics wondered if Lucinda's recent marriage to manager Tom Overby would spell the end of her songwriting success. Without a well of heartache from which to draw, how could she keep writing the unrequited love songs for which she was arguably best known? The Boot sat down with the Louisana native to talk about her marriage, the changes in her songwriting and how the title track of the new album is taking on an unexpected life of its own.
I read you approached writing the songs for 'Blessed' a bit differently than the way you approached songs for past albums.
Yes, this was a little different in that regard. These were all written in the same time period. I probably started the writing cycle in April or May of last year and then just kept going until we went in the studio, which would have been July. When I sit down to write like that, I have a folder of verses and lines and interesting phrases. I get all of that stuff out so some of the songs are from seeds that may have been placed a few years ago.
Would you describe yourself as a sponge in that way, collecting so many ideas?
Yes, it is endless, really. There is so much to write about. That's especially true now that I'm in a satisfying relationship. It's the one I've been looking for my entire adult life. Now I can branch out and write about all the other stuff there is to write about. I have this freedom. Now I'm not burdened with same subject -- unrequited love -- over and over again. It's easy to write about unrequited love but it's more interesting for me to [write about] other topics.
Yet, 'Buttercup,' on the new album, is about love gone sour. You've said the inspiration came as one last bit of angst you wanted to get out of your system. Did you write it about a specific person?
'Buttercup' was [begun] about the time I wrote 'Jailhouse Tears,' when I was working on [my last album] 'Little Honey.' I came up with the idea [for the lyrics] 'you live the life of a little kid with bruises on your knees.' After that line, I knew it was going to be something. It is funny because sometimes I work on them and work on them, and you can't force them. Sometimes you have to put them aside and come back later. I don't write every day. I am always coming up with lines and everything and just keep everything. For that one, I was thinking of one person when I was writing.
It was interesting to hear that Don Was co-produced 'Blessed,' just because I was surprised the two of you hadn't worked together before.
He was the ideal co-producer. Working with Don was Tom's idea. You'll hear me say, 'That was Tom's idea,' a lot. He worked in labels for a long time -- in A&R [artists and repertoire] and production -- and he brings a lot to the table as a manger. I was asked to sing at a tribute to Neil Young [last fall in Los Angeles when he received the MusiCares Person of the Year award] and Don was in the house band. We were hanging out backstage, after rehearsing the song I was going to sing with Emmylou Harris and Patty Griffin, and Don kind of came over and was standing there smiling his beautific smile. He has this Zen thing about him. Tom was watching us talk and picked up on things, a chemistry between us.
Later, when Tom and I sat down and were talking about going into the studio, he said 'What do you think about having Don co-produce?' The thing with Tom is, he is a great producer but he always wants to learn. He knows he's not on the same level as Don Was. He just loves Don's production, what he's done in the past and, personally, Don's a cool guy. We contacted Don, gave him a copy of the songs, and then went to dinner with him. He jumped at the opportunity, although he was knee-deep in another project at the time.
On your website, you have all the videos with people writing the word 'Blessed,' holding them up, and then talking about why they're blessed. It has to be amazing to write a song and not only have it take off, but also to serve as a catalyst for people to talk.
It really is gratifying. It has just grown into this whole other project now to the point where we're working on this full-length documentary with people talking about 'Blessed' and possibly having some interest in the documentary from HBO. They're excited about it and it's grown into this whole cool thing. Again, this was Tom's idea and I have to give our photographer, James, credit. He and Tom talked about it and James went out on the streets of Hollywood, really all over Los Angeles and the outlying areas, and just found these people. He approached them and got them to write 'Blessed' in their own handwriting.
Then he called us and said 'You won't believe what is going on. A lot of these people want to talk about why they're blessed!' So [the photographers] went back and found the same people and had them talk about why they're blessed. Now a lot of fans are posting videos and talking about how they're blessed. I have watched a lot of them and my exact words to Tom were, 'This is HBO-quality documentary stuff.' I was blown away by it. We are all very excited about it and now [some HBO executives] are excited about it, too. It's all just very, very gratifying."
Your songs are very emotionally charged. When you release them and perform them are they still yours or do you feel, as some artists do, that you've given them away at that point?
I feel both ways. Some last the test of time and some don't. Some of the songs like 'Big Red Sun Blues' [from her self-titled 1988 album], well, I am not as emotionally attached to that one as I am to 'Changed the Locks' that I put a whole new spirit into. That one has grown with me.
If you could sum up how to begin to write a song, what would you say?
Dip in a well and pull out a memory. Somebody told me a long time ago, or maybe it was my dad [poet Miller Williams] who helped me understand the idea of the writer standing outside of himself and pretending he's the listener. A lot of times songwriters, or even poets, don't do that. They get so wrapped up inside their own heads, they never stand outside. They're too self indulgent to the point that no one else can relate. That's not very interesting to the listener.
You've said that the Lucinda of today is very different -- in a positive way -- from the Lucinda of 10 or even 20 years ago. What changed?
I found Tom. That is the biggest difference. That is the main, huge difference. I never have had this before and it happened in my fifties. Do I wish I'd met him sooner? Yes. We talk about that. But for whatever reason that wasn't meant to be. I found the one. I found my soulmate and best friend. It all works for us.
Lucinda Williams is currently on tour, with her next concerts scheduled for March 4 and 5 in Toronto. For more concert news, check here.