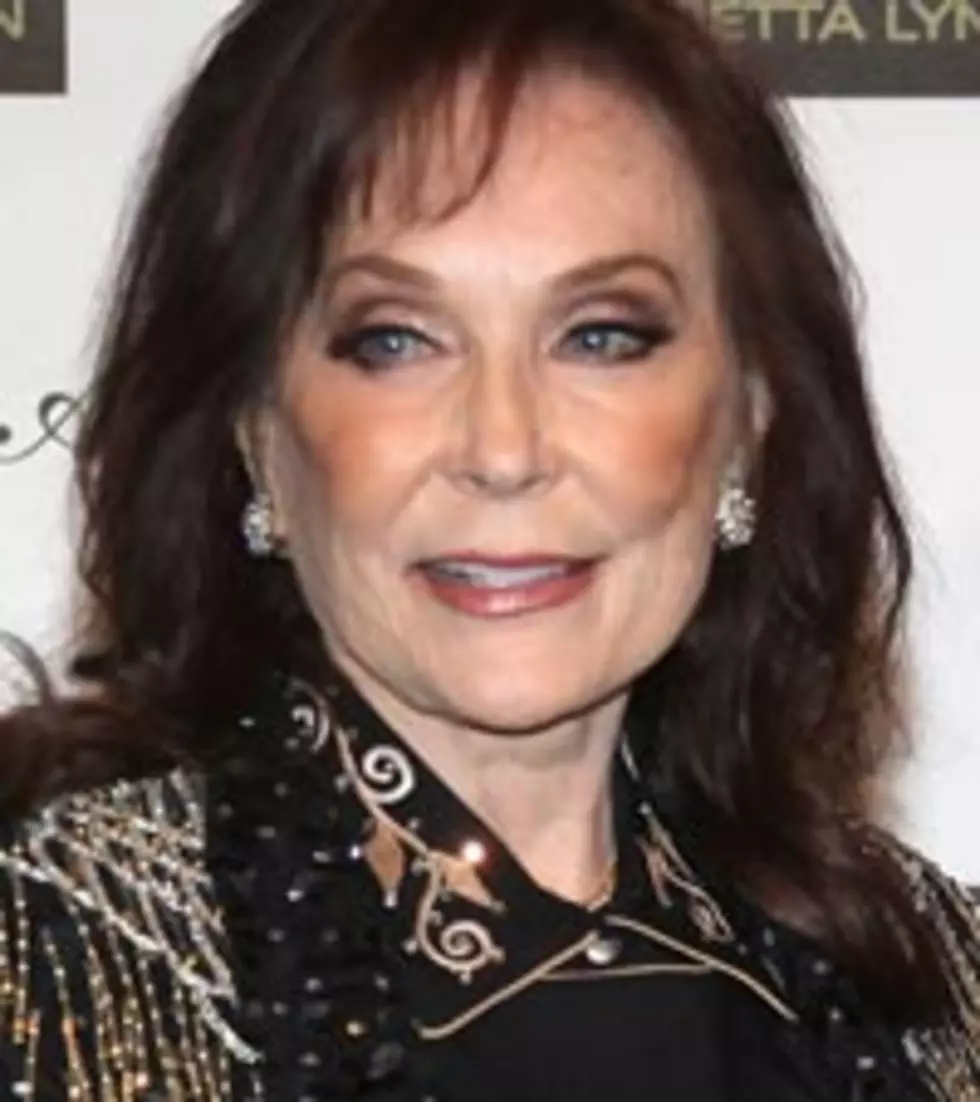 Loretta Lynn Receives Star-Filled Tribute at Home
Tony R. Phipps, FilmMagic.com
Loretta Lynn kept saying "I don't know what's going on; nobody has told me anything," as she met with press last Friday night in Hurricane Mills, Tenn., where she was honored with "A Tribute to an American Icon" for her 50 years in country music. And it was certainly a night full of surprises for the country icon.
Loretta's first single, 'I'm a Honky Tonk Girl,' was released in 1960. When asked how she has managed to stay humble over the years, Loretta was quick to reply, "I look at these awards and honors as if they belonged to someone else. I can close my eyes and I know where I come from."
The singer also insisted that over the years her fans have become her friends, and that she still loves being on stage. "I go out now when I want to," she explained. "But before, I used to have to go out because I had to. When I was traveling so much before, I often wished I could stay home because I would have liked to spent more time with my kids when they were small. The kids are all grown now, so it's a little easier."
Loretta said she continues to write songs, commenting that she has written a lot in the past few years with Shawn Camp. "I bet he's mad at me though because we haven't written in six or seven months," the singer joked. "But we're gonna write again soon."
Shawn was on hand for the ceremony, as were Loretta's younger sister Crystal Gayle, and singers Terri Clark, Marty Stuart, Ronnie McDowell, Ray Walker of the Jordanaires and Grand Ole Opry star Jack Green. Loretta received many commendations of recognition from various organizations. Ronnie presented her with a painting of her as a young girl, and Ray recounted the story of how the Jordanaires were on the singer's first Nashville recording session. Many of Loretta's friends sent well-wishes via video including Keith Anderson, Big Kenny, Amy Grant, Wynonna, Dolly and Martina McBride.
Crystal told the attendees that Loretta opened doors for all the women who came after her. "It's hard work to be in the music business, and for Loretta to stay on top of her game for 50 years is fantastic," she said to enthusiastic applause of agreement.
Marty recalled something he had seen happen firsthand, when some years ago an interviewer called Loretta the Queen of Country Music. "She stopped him immediately and said, 'Kitty Wells is the Queen, Tammy Wynette is the First Lady, and I'm just a Coal Miner's Daughter.' I can tell you this tonight, her love for her fans keeps her going, and no matter where she goes in this world, she will be welcome."
John Carter Cash, who has been working with Loretta in the studio, re-recording many of her biggest hits, said, "Loretta Lynn is as real on the inside as she is on the outside. She and my mother were both mountain girls, and she has the same heart as my mother."
An album titled 'Coal Miner's Daughter: A Tribute to Loretta Lynn,' will be released on November 9. Among the artists who perform on it are Miranda Lambert and Sheryl Crow, who are on the current single with Loretta, 'Coal Miner's Daughter.'
"I had six more verses written on that song and I took it in to [producer] Owen Bradley and he said to me, 'There's already been one 'El Paso,' Loretta, make that song shorter!' When I wrote it I didn't think it was gonna be such a hit; I just thought it was another song about life."
Commenting on her singing partners on the new album, Loretta said, "I love Miranda, she is feisty enough to do what she wants. Sheryl is more pop but we did a good job on that song!" Loretta acknowledges that she didn't get to put everyone she wanted to on this album. Of the other folks who are on the tribute, the singer said, "I love Kid Rock. He does that song ('I Know How') a lot different from the way I did."
Loretta and the songs that have entertained hundreds of thousands of people around the world are also being honored with an all-star concert in October at the Ryman Auditorium. The show is part of the Grammy Salute to Country Music series. Despite family and friends trying to keep some things secret from Loretta, one of the major players managed to let the cat out of the bag.
"Garth [Brooks] called me last week and he started talking about this tribute at the Ryman," Loretta said. "I said to him, 'Garth there are a lot of things going on that they aren't telling me about.' I guess he let that out a little early," she added with a laugh.
Among honors she has already received, 'Coal Miner's Daughter' was chosen for preservation within the National Recording Registry of the Library of Congress, which annually honors select recordings for cultural, historic or aesthetic significance. The singer's 1976 memoir, 'Coal Miner's Daughter,' was re-released on September 21.