Loretta Lynn Grand Ole Opry Anniversary Show Honors Country Music Pioneer
Rick Diamond, Getty Images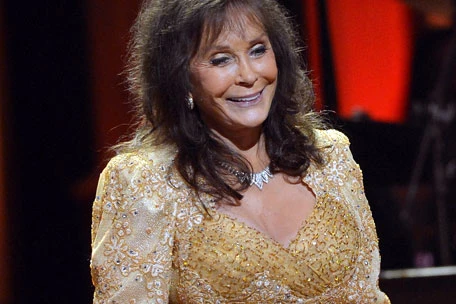 Rick Diamond, Getty Images
Backstage before the show, Loretta reminisced about her first time at the Opry. "Me and my husband got in town the night before and we spent the night in the car outside the old Grand Ole Opry," she said, referring to the Ryman Auditorium. "We slept and the next morning, we didn't have any money, so we divided a donut and ate the donut and took pictures of the Grand Ole Opry. I got my picture made in front of it."
During her first Opry performance, Loretta recalls singing "Honky Tonk Girl." "That was my first record on Zero, and that's exactly what it made me," she said with a laugh.
Of course, Loretta has come so very far from those struggling early days. She became the first artist to win the Country Music Association's female vocalist of the year award in 1967 and also took home the trophy in 1972 and 1973. She was also the first female artist to win CMA entertainer of the year in 1972.
Loretta admits she doesn't remember much about her induction into the Grand Ole Opry in 1962. "I was so nervous, I don't remember anything except patting my foot to the song," says Loretta, who admits she still gets the jitters. "I get so nervous every time I go on anywhere, but the Grand Ole Opry is different. I think any Grand Ole Opry member will say that. When you go on the Opry, it's absolutely a different feeling."
Over the years, Loretta has made numerous friends among the Opry family and the late Ernest Tubb was always one of her biggest supporters. "Ernest Tubb was such a great friend of mine," she said. "He was someone that if I had a little problem, I'd run to Ernest Tubb to solve the problem. I went to him with every little problem I had. Ernest was like a daddy. He'd sit down and say, 'Loretta this is how I'd handle this,' and I'd listen. We were great friends."
When asked to what she attributed her longevity in the business, Loretta smiled and responded, "I'm good!" The press corps laughed and nodded in agreement. "I'm kidding," she smiled and continued. "I've been singing a long time, haven't I? I have no idea what's kept me there. I think it's hard work."
Her songwriting has also been integral to Loretta's success over the years. "You have to live a life before you're a great songwriter," she said. "Every songwriter has to live life before they can write."
Rick Diamond, Getty Images
Fielding questions from reporters backstage, Loretta was joined by her sister Crystal, Miranda and Lee Ann. "The first time I ever met Loretta, she had heard my single. I was brand new and had one single out," recalled Lee Ann. "She liked it and it was really, really country. She said, 'Just don't let 'em push you pop' ... I never did, thanks to Loretta."
Miranda recalled meeting Loretta for the first time when she recorded "Coal Miner's Daughter" with the music icon and Sheryl Crow for the 2010 album "Coal Miner's Daughter: A Tribute to Loretta Lynn." "It was the best day of my life, besides my wedding day," said Miranda, who noted she and Loretta share a passion for collecting salt and pepper shakers. "I got to sit in her kitchen at her house and talk to her. I kept reminding myself, 'Oh my gosh! I'm talking to Loretta Lynn!' I just felt like I was talking to a friend, like somebody I had known my whole life. She just takes you in and gives you a hug. You feel so warm when you're in her presence. I remember at the end of the day, doing interviews and I just broke down bawling and couldn't stop. Every time I'm around her I realize what she's done for women in country music. The reason I feel like I get to stand up here is because of what she laid the groundwork for. I'm just thankful that she likes me and calls me country."
Though Miranda has performed on the Opry numerous times, it was the first time for the Pistol Annies. Miranda's fellow Annies, Ashley Monroe and Angaleena Presley admitted they were nervous about performing in front of Loretta. "I'm from where Loretta is from and I'm a coal miner's daughter," said Angaleena. "I grew up doing dishes to her records with my mom. I have loved her since I was a little girl. I remember coming to the Opry when I was 17 and I saw her. I was standing in the front row, hoping and dreaming I'd be there someday and tonight she's going be in the front row listening to me singing one of her songs. I'm so tickled to be here. This is just IT for me."
Those gathered to celebrate Loretta's 50th anniversary played to a packed house and for the first portion of the Opry, Loretta took a seat in the audience and enjoyed the show. Crystal performed Loretta's first No. 1 hit, "Don't Come Home a Drinkin' (With Lovin' on Your Mind)." After she finished, she looked at her sister and said, "I hope I did it OK Loretta. I love that song." Crystal thanked Loretta for paving the way for other female artists and then launched into her own signature hit, "Don't It Make My Brown Eyes Blue."
Trace Adkins performed a three-song set that began with "Just Fishin'" and followed with "Ladies Love Country Boys," commenting that Loretta "loves country boys and I just happen to be one." He closed his set with his new song "Tough People Do," but returned later in the night to perform a duet with Loretta on "Lead Me On." Trace sang Conway Twitty's part on the legendary hit and the collaboration was one of the highlights of the star-studded evening.
Bill Anderson sang a three song set that included "They're Not Teardrops" and "Too Country." "What a special night to be part of the Opry as we celebrate Loretta Lynn's 50th anniversary," Whisperin' Bill said. He shared remembrances of his years performing on the Opry and touring with Loretta and said he understood how Loretta felt because he too was a member of the Opry for over 50 years.
In addition to singing her No. 1 hit "White Liar," Miranda performed Loretta's "Honky Tonk Girl." "I've covered a lot of Loretta songs, but I've never covered that one before," Miranda said backstage before the show. The crowd loved Miranda's spirited rendition of "Honky Tonk Girl" and after taking a bow, she returned to the stage with the Pistol Annies. Angaleena sang lead on "Housewife's Prayer" from the Annies' debut album then the trio paid homage to Loretta with a feisty version of "Fist City."
To close out the evening, the guest of honor herself took the stage kicking off her set with "They Don't Make 'em Like My Daddy Anymore." Clad in a beautiful beaded gold gown, Loretta remarked to the crowd the dress weighed about 50 pounds. "Pray for me," she laughed as she launched into "You Ain't Woman Enough." She then said, "There's someone here I've always wanted to sing with" and called Trace to the stage to join her on "Lead Me On." When Grand Ole Opry general manager Pete Fisher came on stage, Loretta looked over at him, laughed and said "You gonna fire me?" Well of course not. He introduced a video from Martina McBride congratulating Loretta on her 50th anniversary and then Pete welcomed to the stage celebrity jeweler Johnathon Arndt, who had designed a beautiful gold watch for Loretta to commemorate the occasion.
The evening concluded with Miranda, Ashley, Angaleena and Lee Ann joining Loretta on stage to sing "Coal Miner's Daughter." "She paved the path for us," Ashley said. "We're so thrilled to get to honor her."
Watch Loretta Lynn's "Coal Miner's Daughter" Video