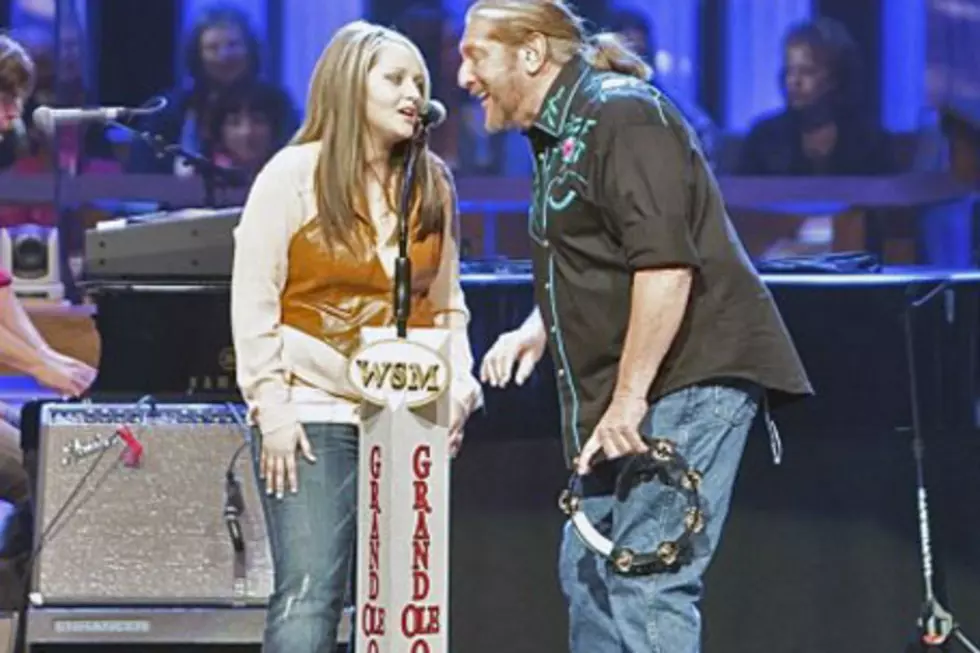 Singing Walmart Cashier Makes Grand Ole Opry Debut
Chris Hollo
Chris Hollo
The "Coat of Many Colors"-singing Walmart cashier turned Internet sensation continues to see her musical dreams come true.
Kayla Slone, whose impressive voice inspired a customer to record her singing at work and post it on Facebook, has been living a lot of firsts since that spontaneous performance in January. She took her first plane ride to New York City to appear on "Anderson Live" in February, and this past weekend she made her Grand Ole Opry debut, singing Loretta Lynn's "Coal Miner's Daughter." (Watch below.)
"It was a real honor to sing on the Grand Ole Opry stage and be a part of a great tradition," says the 21-year-old, who returned to the stage with the Marshall Tucker Band for their tune, "Can't You See." "It was also a special treat to sing with the Marshall Tucker Band and it goes to show you that dreams really do come true!"
While that's an often-heard statement, it takes on new meaning when you account for the fact that the night before, Kayla had to work at her hometown Walmart. Her husband, who works as a coal miner, was also on the job that evening.
The Marshall Tucker Band's lead singer and founding member Doug Gray (pictured above) was all for the collaboration, having seen Kayla on the news. "When I found out she would be performing on the Opry with us, I knew we had to invite her back out after her set to help us sing 'Can't You See,'" he explains.
Kayla also got the attention of one of her idols. Before taking the stage, she video chatted with Ms. Loretta, who comforted the anxious performer with a simple, "I love you, Honey."
Dierks Bentley is also impressed by the West Virginia native, so much so that he called in during her appearance on "Anderson Live" in February. "I'm a huge fan," Dierks said. "Like so many people, I saw the video, and I love your singing, your voice, it's such a great traditional country voice. It was really refreshing. I wanted to call and say you that I'm a fan and enjoyed your story."
To which she responded, "That's amazing, I'm a fan of yours too!" And with a laugh, Dierks declared, "We should sing together." While that collaborations hasn't yet to be officially announced, the singer-songwriter did give Kayla two tickets to the ACM Awards in Las Vegas next weekend. He also invited her to a post show party.
Watch Kayla Slone's Grand Ole Opry Performance
Unfortunately your browser does not support IFrames.