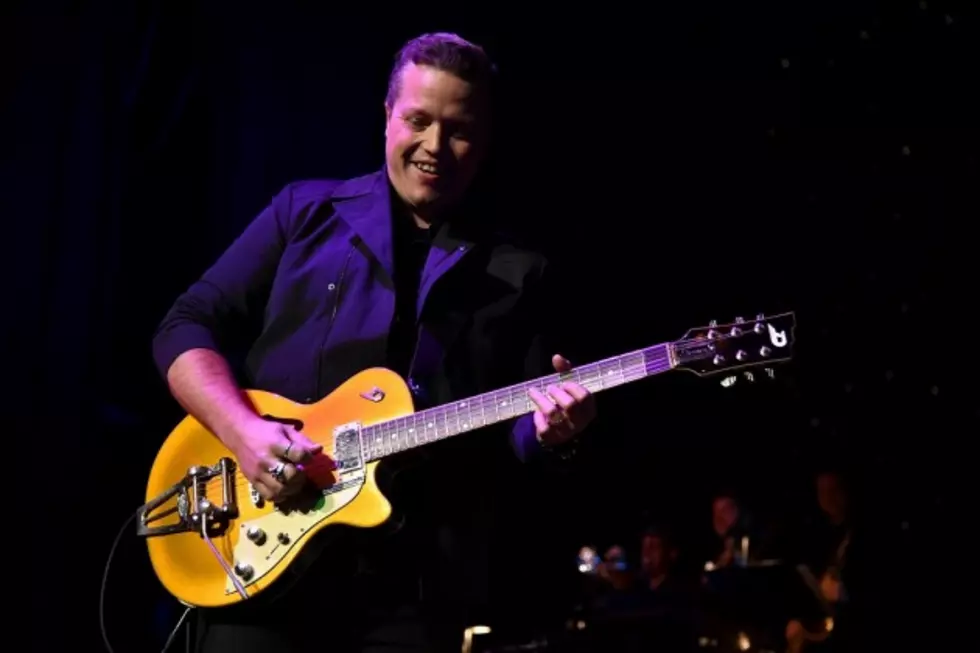 Jason Isbell Says He's 'Almost Done' With New Album
Mike Coppola, Getty Images
Jason Isbell is preparing to release the follow-up to his award-winning 2013 album, Southeastern, and he's giving fans a hint as to when they can expect to hear something new from him.
"We're almost done. We've already done all the primary tracking, and right now, we're mixing and seeing if anything needs any overdubs," Isbell tells Radio.com. "We've recorded 14 [songs]; we'll probably wind up with 10 or 11. But I'll make out the list when it's all mixed, before it goes to mastering."
After the songs are recorded, it can still take months to get an album out, so Isbell is unsure exactly when the project will be released -- but he has a goal in mind.
"I'm thinking July; that seems like the goal right now," he says. "Usually it takes three months, once we turn in a master, to get everything printed up and all the press that they need to do out of the way. So I think we might be able to hit early July. I'm not positive yet, but that's the goal."
Isbell penned all of the tracks for the album on his own and teamed up with producer Dave Cobb, who also worked on Southeastern, for the project.
"I don't really co-write with anybody; I write all my songs myself. Some of the arrangements, we worked out once we got in the studio," Isbell says. "Dave Cobb helps a lot with those things; he's got really good instincts for what direction to go in, whether a song needs a bridge or not, how many times to sing the chorus, things like that ... He's really good at doing essentially what a producer should do, which is provide a standard of taste in the studio."
So far, very few people have heard any of the album's tracks. Isbell doesn't play new songs on the road until a record is finished, partially so that his band, the 400 Unit, doesn't have to re-learn parts if the track changes.
"I don't practice the songs on the road, or play them in live shows, before the record's done. I don't want people to to have to un-learn parts," Isbell says. "You fall in love with certain parts that you play, if you're playing these new songs on the road, and then when you get in the studio, those don't turn out to be the right parts, you're going to have to fall out of love with them. And that can be really stressful."
But waiting to play new music for fans can also inspire the band and get them excited to play the tunes live.
"That can cause people to play in a way that's more inspired, because the band is very excited about a song," Isbell says. "If you play it for them for the first time, and it's a good song, it's just a natural human reaction to be more excited about it. With really good players, that can be a good thing."
The new release will have a lot to live up to following the success of Southeastern. The record helped Isbell take home three big categories at the 2014 Americana Music Awards, including Artist of the Year, Album of the Year and Song of the Year, the latter for "Cover Me Up" -- and it also gave Isbell more clout (and more money) to make its follow-up.
"We had a bigger budget this time, not a whole lot, but we could afford a bigger room, so there were a lot more situations where we could all play together live," he says. "Everything was played initially with multiple musicians, pretty much the whole band, right off the bat. It's good to have that conversation, because you can really capture some inspired moments, people playing off of each other, rather than only one half of that equation reacting ... When you're able to play live all together at the same time, everybody's reacting to everybody else."