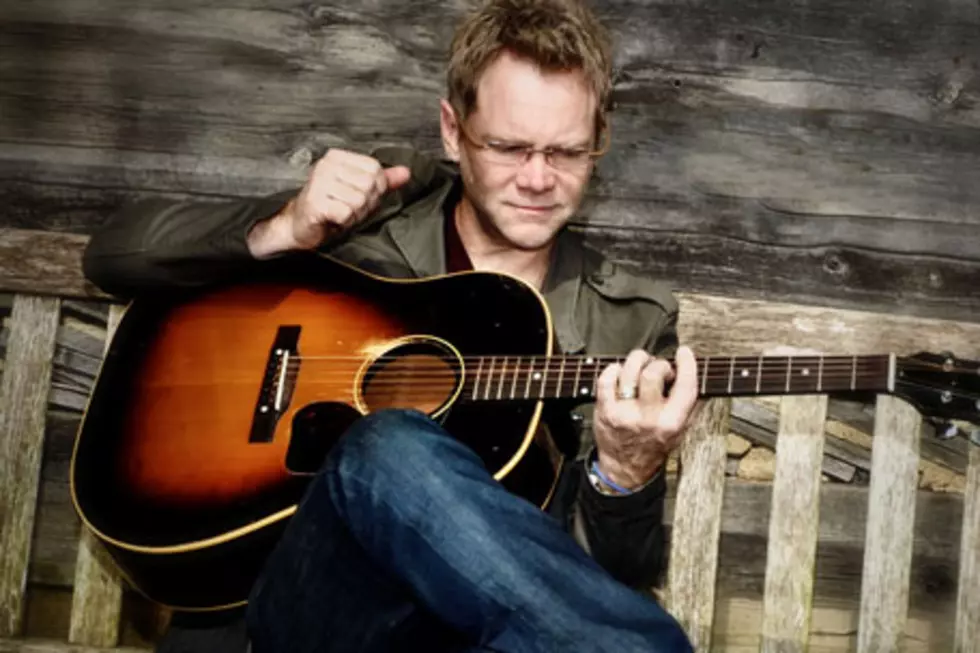 Steven Curtis Chapman Recreates Hits on New Album
Dale Manning
Good songs are like good friends, and just as relationships change and deepen over time, an artist's perspective on their hits becomes different years into a successful career. That realization inspired Steven Curtis Chapman's approach to his new album 're:creation,' a 14-song collection that features five new songs, a cover version of the '70s Cat Stevens classic 'Morning Has Broken' and eight newly-recorded versions of the veteran singer/songwriter's best-loved hits.
"I found that all of the songs that I've written over the years continue to grow in meaning as you live more life," Steven tells The Boot. "These songs are rooted in my life experience and faith journey."
During that journey, the musician has experienced both mountaintops and valleys. Since debuting in 1987, the boyish songwriter from Paducah, Ky., has become the Gospel Music Association's most awarded artist with an unprecedented 56 Dove awards to his credit. He's also won five Grammys, an American Music award and earned two platinum and eight gold albums. Steven's personal life seemed even more blessed. He married his college sweetheart, Mary Beth, and had three children, Emily, Caleb and Will Franklin, before adopting three beautiful daughters from China, Shaohannah, Stevey Joy and Maria Sue.
However, on May 21, 2008, his world was shattered when his youngest daughter, Maria Sue, was accidentally killed in the family's driveway, struck by an SUV driven by his teenage son Will. "Three years ago when Maria Sue went to heaven, all of my songs took on a much, much deeper meaning," says Steven, known for such hits as 'The Great Adventure,' 'For the Sake of the Call,' 'More to This Life' and 'Heaven in the Real World.' "I found myself singing these songs with a different passion and different purpose. I wanted to re-invent them in a way that really represents what they mean to me now ... 'The Great Adventure' meant something to me when I wrote it and I had some understanding of it, but there's so much more now that that song means."
He admits there was a time when he couldn't imagine ever singing again, especially such upbeat songs as 'The Great Adventure,' 'Dive' or 'Live Out Loud.' "It felt like I had to put all those away because life has gotten so painful and hard, but when I sing these songs they have a much deeper meaning to me now," he says. "So that was the heart behind doing this [album]. It was how can I take some of those songs that have a new meaning to me and kind of reinterpret those, thus the title 're:creation.'"
Working again with co-producer Brent Milligan, Steven re-recorded 'The Great Adventure,' 'Speechless' and other hits in a more organic style similar to the approach he took on 2009's 'Beauty Will Rise,' the album that chronicled his emotions in the wake of Maria's death. In reinventing his hits on the new album, Steven says he was influenced by the approach Rick Rubin took producing Johnny Cash during the later years of the iconic country artist's life. "He took those great songs you couldn't imagine ever redoing, everything from the Beatles 'In My Life' to Roberta Flack's 'The First Time I Ever Saw Your Face' and he even did a cover of Nine Inch Nails' 'Hurt.' They became almost like new songs," he says. "The emotion and what you could really feel in them was inspiring the way I wanted to record these songs."
Steven's oldest son Caleb joins him in singing 'Morning Has Broken.' "I was driving one day and I actually heard an instrumental version of it, and it reminded me of when I was a kid singing it in church," he says. "I heard those lyrics and thought, 'that's what is happening with my family.' Morning has broken and we see that. It's really a celebration of what I believe is a new morning for us as a family."
're:creation' also features several new songs, including the single, 'Do Everything,' 'All That's Left' and 'Long Way Home,' which he describes as "God just letting me sort of smile with music again. There was such a heaviness that music became so deep and so heavy. Then I discovered ukulele and it was like God saying, 'Here play this for a little while and I want you to smile a little bit again with music. I want it to be fun.' You can't frown and play a ukulele. There's just no way. It just makes you smile. I think that's why Hawaiians are all so happy."
Steven also fulfilled a longtime musical ambition by putting a banjo on the new album's version of 'Heaven in the Real World.' "I actually played banjo on a song finally, after all these years. It was fun," he says. "I was excited to put banjo on one of my songs. I love that Mumford & Sons record. It has banjo and all these cool elements that I grew up with in Kentucky."
Being raised in Paducah and living in Nashville for years, Steven has an obvious appreciation for country music and he's been writing with some country songwriters, including Tom Douglas and Allen Shamblin, who penned Miranda Lambert's award-winning hit 'The House That Built Me.' "I'm just stretching, kind of flexing some muscles I haven't used in a while," he says. "I've been trying to do that a little bit, writing for artists and things that might be outside our norm of songs that I would record. I've wanted to for a long time. I've dabbled here and there, years ago [writing] with Don Schlitz, Charlie Black, and I did quite a bit with Paul Overstreet."
In addition to expanding his creative horizons, Steven is more excited these days about the expansion of his family. "Emily came home at Easter and told us she was pregnant,' he says of his 26-year-old daughter. "We found out about a month ago that it's going to be a little girl, so I'm going to be a grandpa. It's so cool and exciting and crazy."
Their new granddaughter just might be a birthday present for either Steven or Mary Beth. "The baby is due November 14th," Steven tells The Boot. "It's right between Mary Beth's and my birthday. Her birthday is the 6th and mine is the 21st. Emily and her husband, Tanner, are going to be back in Ireland of all things. They are studying there and she has one more year, and Tanner has one more year."
Of course, Steven and Mary Beth plan to be in Ireland for the birth of their granddaughter, then Steven will return to the U.S. for concert dates in December. The entire Chapman clan is looking forward to the new addition. "What a beautiful gift for our family, a new beginning just when we needed it," he says.
Another exciting development in the Chapman family is that are building a new home, which will be on the site of their existing house. They are donating windows, doors, and parts of their house to Habitat for Humanity, but are looking forward to a new home and a new beginning on the property where they have spent so many years.
"It's where Maria played and we have so many wonderful memories. It's where she skinny-dipped in the pool almost every day because she loved to be naked, but it's also where a tragic accident happened," Steven says. "We really wrestled a lot with that. We don't want to leave the property. We feel like we want to stay there. It feels like holy ground, but we need some things to change, to recreate where we live."
While their new home is being built, the Chapmans plan to enjoy a rather unusual living arrangement. They have parked their RV in the large barn on the back of their property and Mary Beth has set up an indoor campground. "It's hilarious," Steven says. "Mary Beth went crazy. She said, 'If we're going to do this, I've got to make it fun. So she's got it totally set up like a campsite. There's a grill, a campfire. She has the lights hanging off the awning of the camper and it's so funny. There's a baby pool that has little balls, like the balls at Chuck-E-Cheese that are all blue, and then she's got little fish and you can go fishing in there. They have little magnets on them."
Steven is friends with Isaac Slade, lead singer of the rock band the Fray, who recently visited the Chapman campground. "Our little girls love him," Steven says. "They have a serious crush on him and he came over to the house and jumped into the pool with the fish. It's been hilarious!"
After the pain of losing Maria Sue, Steven says they are moving forward and it feels good to smile again. "You know what? If the sun comes up and God gives you breath for another day, you trust and know that if he's giving you another day, he will be there to carry you through and give you the strength for that day. Still, at times, it feels like it's an hour at a time or 15 minutes at a time. Some days we can't figure out much beyond that, but we're going to take the next 15 minutes, the next hour and just take the steps and keep breathing."