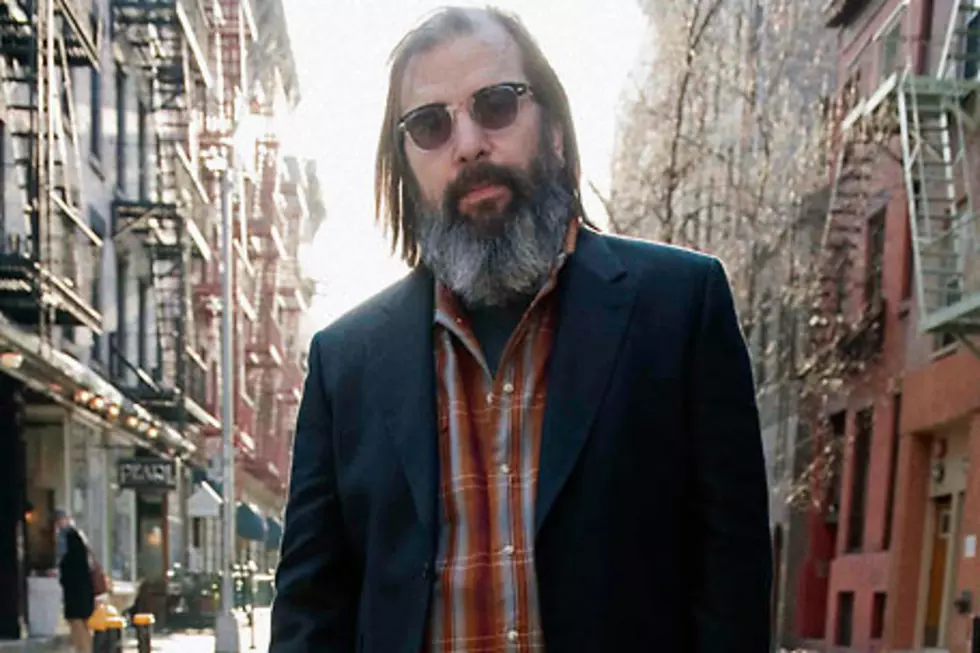 Steve Earle Finds Himself More 'Alive' Than Ever
New West Records
Steve Earle could be music's poster child for multi-tasking. In recent months, he's been almost constantly in the public eye as a supporter of public union workers in Wisconsin and beyond, traveling with his wife Allison Moorer and her sister Shelby Lynne for their Side by Side tour, and touring with Joan Baez, supporting her album 'Day After Tomorrow,' which Steve produced.
Next up for the singer/songwriter/producer/activist is the April 26 release (and the tour in support of) his latest album on New West Records, 'I'll Never Get Out of This World Alive.' The title of the album, which was produced by T-Bone Burnett, is taken from the last single Hank Williams released in his lifetime. It is also the title of Steve's first full-length novel, due to be released May 12.
Steve took some time from his jam-packed (and multi-media) schedule to talk candidly with The Boot about the iconic inspiration for his book, his oldest son's all-too-familiar battle with addiction, and how fatherhood is different for him the second time around.
When did you start writing the novel?
The model started a little over a year after I published a collection of short fiction ['Doghouse Roses'] in 2001. Within a year of that, I started working on this novel. It was always going to be called 'I'll Never Get Out of This World Alive.' The original idea came from my fascination with the stories [which alleged that] a doctor [named Toby Marshall] was traveling with Hank Williams when he died. The book was on the back burner when I was making a couple of other records, writing a play, and doing a lot of other stuff.
I was having a conversation with Marty Stuart -- he's pretty knowledgeable about Hank Williams and very knowledgeable about the history of country music overall -- and in his collection he has a lot of things that belonged to Hank, including a letter Toby Marshall wrote to Hank's mother. It was Marty who persuaded me that Marshall wasn't a doctor. He was just a quack. But [Marshall] convinced a lot of pharmacists that he was a doctor and he believed he could cure alcoholics by treating them with chloral hydrate.
There were all these rumors that he was traveling with Hank when he died, and then he wasn't there when the police got there. No one has ever proven that, but Marty has a letter -- that has been published in a couple books -- from Toby that sounds a little guilty, sort of an "I ain't did nothin'" letter.
By the time I found out that Toby Marshall wasn't a doctor, I had been kicking an idea around in my head. It's much more interesting to me if he was a doctor. This is fiction so in my book he is a doctor. So Toby isn't this doctor; this doctor is Doc Ebersole, sort of based on the existence of Toby Marshall, but the similarities sort of end there.

A lot of the language in the book, especially when people are under the influence, sounds very realistic. I have to ask if fans will get an inside glimpse of some of Steve Earle from this novel?
Not fans. I don't think there is that much new about me. Hardcore fans have read my short stories. I guess [readers] might learn something about me that they didn't know. But it's always tricky to assume that. It's fiction. It's just one of those things, some things are taken from my life, but this book is fiction. Somebody asked me if the book was autobiographical and I said, "No, I would never f--- myself out of material that way."
You recorded and toured and worked on many other projects while writing this novel. What kept you returning to it?
I opened my mouth and told everyone I was working on it. I'll know better next time. It may be nobody will hear about it until I publish it! We'll see.
They have the same name, but did you write the songs for the new album with the novel in mind?
The record wasn't called that until I finished it. Quite frankly, I didn't know what the record was about -- and I usually know what my records are about -- until I finished it. I recorded the song ['I'll Never Get Out of This World Alive'] as a bonus track. There are only two ways you can get that track. If you download [the album] from iTunes, you'll get it. Also, we put it out on a seven-inch single we'll get out to record stores for Record Store Day (April 16, 2011).
The songs were written over three years, and I was really stumped for a title. After we finished recording it and before it was mixed, I listened to it and said, "Oh, it's about the same thing as the book."
Why did you take so long between albums?
Basically, because of [the 2009 album] 'Townes,' I had the luxury to take three years to write this record. I wrote songs up to the week before [we went into the studio] and kept working on the songs I had and never stopped. When I made 'Townes,' I had a specific reason for making that record [to honor his mentor, Townes Van Zandt]. When I made 'The Mountain,' [in 1999], I wanted to write a body of new bluegrass songs and record with the best bluegrass band in the world, which the Del McCoury Band certainly was then. 'The Revolution Starts Now' [2004] I wrote to f--- with the Republicans. This was the only [record I've made where my sole intent was to] push the poetics and raise the literary bar higher than I had before. I feel like I did that.
What do you make of all the controversy surrounding what some say is the mixture of musical styles that have watered down pure country?
I hope I don't hurt anybody's feelings, but I couldn't tell you. I casually know Miranda Lambert, mainly through Allison because they're friends, but I really can't tell you what is going on in country music. I didn't know that much when I was on country radio. I didn't listen to pop music much, either. In the early, early days of underground rock radio and in certain places I lived when I grew up in Texas, on AM radio you could hear the Beatles and Buck Owens. Then when FM radio started, I lived in a town where the Reno Brothers were played in San Antonio and in Austin, Gram Parsons was played.
I know that country has shrunk less than the rest of the music business. There are certain things I pay attention to [in the music business] but my idea of controversy, though, is s--- where people die. Otherwise, I don't worry about it all that much.

What's it like to have a very young son and two other sons who are adults?
It is definitely different. I'm a different father than I was with the older boys. Years ago, I wrote a song ['The Week of Living Dangerously'] where this guy -- and I was a father at the time and loved my kids -- but I wrote a song where the guy runs away from home and the first thing he does in the first verse is throw the car seat in the dumpster. He just doesn't go home one day. I am a lot less in that mindset than I was when I was younger. I'm going to go through some stuff with [my sons Justin Townes Earle, who is newly sober after a high-profile arrest last year and Ian]. They know this is different than when they were growing up. I was around a lot when Justin was a teen [but when] 'Guitar Town' came out [in 1986], he was three and I was kind of gone after that. Ian doesn't even remember me much until he was five or six. His mother and I split up, and she went through a period where she wouldn't even let me see him.
He's fine. He's on tour right now halfway between here and [the west coast]. I wish he could come see his brother more but he is doing what I was doing -- he has a record out and things are going pretty well and he's touring. That's what he should be doing.
I've read people say, and certainly Justin say, how terrific it is that you got him into rehab.
It's best not to talk about that. The way I stay sober, I don't mind saying, is a 12-step program. Justin's program is his program. I didn't get into rehab, and I can't get Justin into rehab. Justin had to get himself into the program. It's just one of those things that it's the only way that works. I have been sober 16 years and I've been sober a lot longer than I was publicly f---ed up. 'Guitar Town' came out in 1986 and by late 1991, I was homeless. That is literally less than five years. I didn't make a record for four years. I started making records in 1994 and actually releasing them in 1995. I have been sober ever since. I've made a lot more records and played a lot more shows, and wrote a lot more songs than I ever did when I was a practicing addict. And we're still talking about it. Justin has his own thing he has to go through. He's fine right now.
As you look at [your almost 1-year old son] John Henry, though, you must think about how you'd like to protect him from, well everything, but certainly addictions.
Trust me, my plan for Justin was not to have him become an addict. It's not like he doesn't remember me being f---ed up, but he has a lot more memories of me being sober. He inherited the disease from me. I inherited it from my family. I'm not the first addict in my family. I hope John Henry never has to go through it. I can't guarantee that. I can't make the choices for him. He has to make them for himself. I promise you that I did not become an addict because of anything to do with the behavior of either of my parents. Everybody has to make their own choices.
You've got the new album, the novel, and you're acting again in the HBO series 'Treme.' So what's the immediate plan for the rest of the year?
We'll get music to radio, what radio [play] I get. I have a book tour and I have shooting for 'Treme' in May. We're going on tour the first week of June, the second week of the tour we'll be at Telluride [Bluegrass Festival, June 16-19 in Telluride, Colo.]. Right now every part of me is the plan and that is the plan right now.
if(typeof AOLVP_cfg==='undefined')AOLVP_cfg=[];AOLVP_cfg.push({id:'AOLVP_74958256001','codever':0.1,'autoload':false,'autoplay':false,'displaymnads':true,'playerid':'89761511001','videoid':'74958256001','width':476,'height':357,'playertype':'inline','stillurl':'dynamic','videolink':'#','videotitle':'dynamic','videodesc':''});