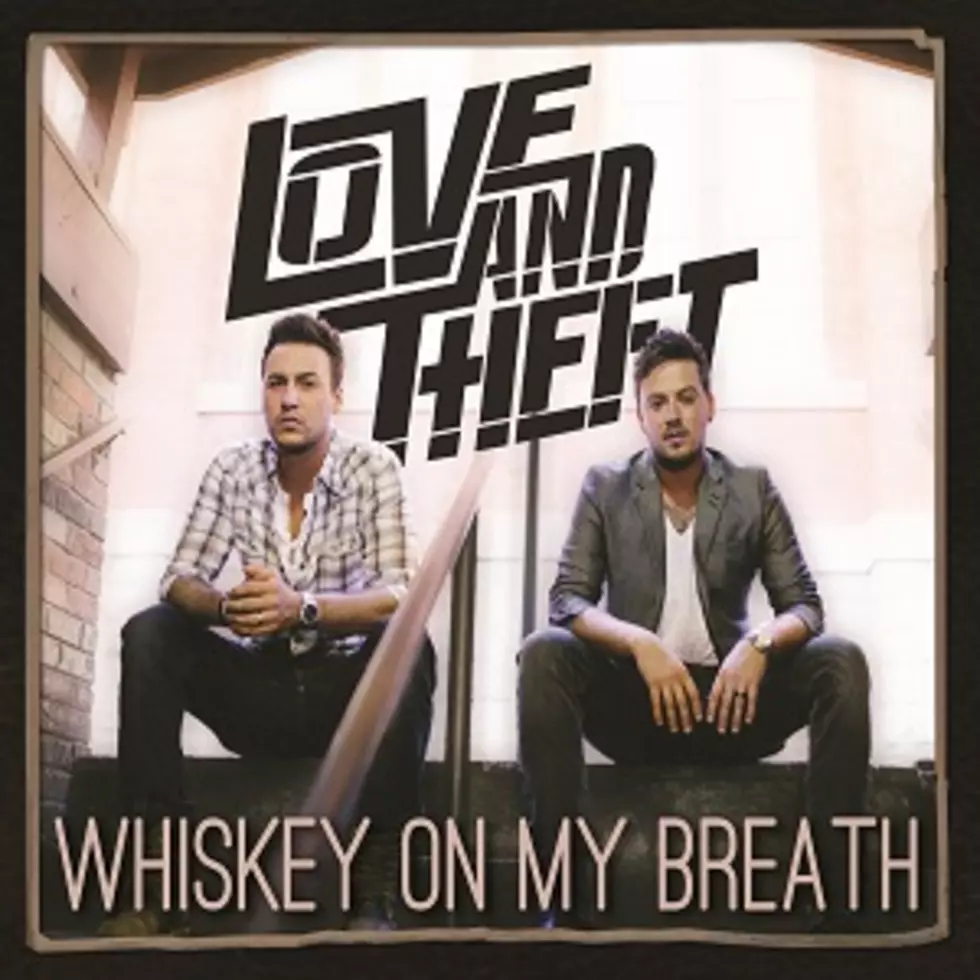 Interview: Love and Theft's Stephen Barker Liles Shares the Inspiration Behind New 'Whiskey on My Breath' Album
Courtesy of Vector Management
Love and Theft's Eric Gunderson and Stephen Barker Liles have had a busy couple years since they released their self-titled album in July of 2012 -- and the biggest milestones have nothing to do with music.
In March 2013, Gunderson and his wife Emily welcomed their son Camden into the world. In May of that year, Barker Liles got engaged to his girlfriend Jenna; in December, she gave birth to their son Jett; and in August 2014, they celebrated their wedding.
That's not to say the guys weren't also working on music during that time. Gunderson and Barker Liles were doing plenty of writing, and they also released a single, 'Night That You'll Never Forget,' and hit the road in the back half of 2014.
The duo -- which actually began life as a trio; their third founding member, Brian Bandas, left the group in 2011 -- will release their third studio album (their second as a duo), 'Whiskey on My Breath,' on Feb. 10; it's available for pre-order on iTunes. They debuted the album's title track -- a darker yet hopeful tune, as Barker Liles explains -- in November of last year, its sound indicative of the more mature side that Love and Theft hope to show on the disc, in addition to the happier party songs they're more known for.
The Boot recently spoke to Barker Liles about the new album, its debut single and a few of its other standout tracks.
It's been a few years since the last album, and a lot has happened in between: You've had a kid and gotten married, and Eric also had a child. How have those big milestones, and the time in between albums in general, influenced this record?
Over time, as your life changes and your career changes, and you go through having a family and buying a house and all of that, I think ... songwriting, all that stuff, changes. The songs on the new album, some of them I wrote before having a child, so, you know, there's some party songs on the album, and there's also some very serious songs. So, we've got a little mixture, and I think the production definitely leans toward a more mature sound for us, something that we wanted to do on other records, but we just didn't have the creative control that we have now with this album.
We actually co-produced this with Josh Leo, and we didn't put any electric guitar on this whole album. We wrote every song on the new album, and we were able to co-produce it and kind of lean it toward a lot of the influences that we have -- some early influences like Jackson Browne and the Eagles and Three Dog Night and some other early stuff -- so that's kind of where it leans. And that's one thing that we're excited about with this record, because it really showcases us soulfully, and that's one of the reasons, you know, we first started singing together seven, eight years ago -- because we heard each other, we did a little demo of a song we wrote, put our harmonies on it, and I was like, "Man, Eric, we sound like we could make it." And that's one of the things our past production kind of overshadowed ... and this new record really leans toward showcasing us vocally, and I think that's one of my favorite parts about it.
What made you want to co-produce the album? What do you think you and Eric brought to the table in that situation?
It allowed us to invest more time in [the album] because our name's on it. It's more of a piece of art and a piece of work that we really wanted to, kind of, put our fingerprints on all parts of it, and Josh Leo's the perfect person to do that with. He's such a genius musically, and he was cool enough to say, "Hey, let's make this record together." So Eric and I had a lot of say in the end game of what it sounds like, which is very important to us.
This new record really leans toward showcasing us vocally, and I think that's one of my favorite parts about it.
It was really, really fun. I mean, this record was my favorite one we've made so far, and the most fun I've had making an album, so that's good. It was very enjoyable, and it was very laid back and easy, and you can kind of hear that in the music ... When I listen to it, it just feels laid back, and I hope people feel that same way.
Why did you select 'Whiskey on My Breath' as the first single?
We really wanted to put something out there that represented us vocally and showcased that we can sing ... We wanted to put out a song with depth, a song that really means something, a song that would touch someone in a personal place ... You know, I fell in love with country music because of songs that meant something, so for me, that song, it's got a lot of depth to it, and it meant something that we wanted to show, that side of us other than the party. Life's not always like that, and the thing about the song is that it tells the struggle of someone; it shows the struggle of an addiction, being addicted -- and it doesn't have to be alcohol, but people that are addicted, they really don't care about anything other than what their addiction is.
Even [the person in] 'Whiskey on My Breath' never really evolves. The only thing he really cares about -- he doesn't care that he, you know, lost his friends and his family and everything else; the only thing he cares about is, "Alright, well, when I do die, as long as I make it to heaven, I'm good." I think it really shows you how dark [things can be for] someone with an addiction, how dark it really is, and the guy's kind of in denial. And I think it shows how deep an alcoholic can really be, but he also still has that hope, and the only hope he has left is in Jesus, which also shows a positive side of it. So we wanted to come with that ... and I think it's good timing to have that song out there, and I hope it has that impact on a lot of people.
What was the inspiration for that song?
We were at my family cabin on a writers' retreat, and we were all up there hanging out. Each person split up into groups that day, and then we split up again, and then we made dinner and just started having some drinks and hanging out, and somebody brought out a guitar, and we were just messing around, and then all of a sudden someone had an idea to write that. So there's about five or six writers on it, but it's only because we were all hanging out in the living room, and if someone has a good idea, as songwriters, no one's going to go, "Hey, you guys write that really good idea, I'm going to go away," you know? But it's even cooler to share that with some of our friends, our first single and the title track on the album, so that's really special too.
The album also includes a cover of Martina McBride's 'Wrong Baby Wrong,' which you wrote. What made you decide to include that?
The cool thing about that song is, it was written from a guy's perspective. It was written from the perspective of a guy trying to pretty much be the rebound. So, like, this girl just got broken up with, and he's like, "Ah, don't worry about him, you've got me. I'm here" ... and then when Martina McBride heard it, she's like, "Oh, man, I can make that a girl's song," so it turns it: When a girl sings it, it becomes a totally different song. She's encouraging her friend to get over that guy, that jerk, like, "Don't worry about him, let's just have a fun girls' night. I'll be here for you."
So we've been playing our version of it since she put it out -- we've been playing it for so many years -- and actually, the way we recorded it sounds exactly that way. And we thought it'd be fun, something different, because it's almost like a different song when a guy sings it. So we thought it would be something cool to have on the album ...
If someone has a good idea, as songwriters, no one's going to go, 'Hey, you guys write that really good idea, I'm going to go away,' you know?
Which version would you say sounds most like your original version of the song?
Her recording sounds exactly like my recording, my work tape of it, other than a little change. She changed a couple words because she didn't want to sing about getting high ... and then the bridge, she changed something. The original words were "put your hand in mine" or whatever, and she changed it to something else that didn't sound like she was hitting on the chick [laughs].
But yeah, it was cool though that she did it, and she recorded it very similar to the way the work tape is and how we wrote it, which is cool. Sometimes you'll hear a song and go, "Oh, we can do this this way or this way," and then sometimes, if it ain't broke, don't fix it.
A couple other songs I was particularly interested in are the first song on the album, 'Can't Wait for the Weekend,' and the last one, 'Let's Get Drunk and Make Friends.' The last one is pretty blues-y, and the first one almost has a Beatles, old-school feel.
We love the Beatles, but you know, the musical influence and production for that first song, 'Can't Wait for the Weekend,' it sounds like a Three Dog Night song. I grew up listening to Three Dog Night, and it sounds very -- you know, it sounds like a '70s record, really ... And we wrote that, actually, with Josh Leo and Eric Paslay. We wrote it over at Sony, so we had a really fun time. We wrote it in a really small room over at Sony / ATV ... I think on the work tape, it's got Paslay singing it. But it's fun to, like, take a work tape and then go make a recording of it, bring it to life. So we gave it a little '70s feel to it, some of the high, tinnier guitar. I love the way it came out.
And 'Let's Get Drunk and Make Friends' ... we recorded it with a clip a couple times, and it just didn't feel right, so we went in, and we thought, "You know, let's just play it like you just walked into a saloon, and you see a band playing it. Maybe they've been drinking all night," that kind of vibe, and so it's a little more laid back. And so we recorded it without a clip, straight, live with a band and all that, and that was kind of the vibe we wanted. We wanted it to feel like you walked into a bar, and the house band's playing it, you know?
And we wrote ['Let's Get Drunk and Make Friends'] with the same guys that we wrote 'Whiskey on My Breath' with the next night; we wrote two nights in a row. So we all wrote during the day, and then at the end of the night, I think Trent [Tomlinson] said something like, "Hey, man, this is fun -- you know, makin' new friends, gettin' drunk," and that turned into that song ... We've been playing it on the road, and it's got kind of a timeless feel to it -- you know, like 'Family Tradition,' where people will literally sing along by after the first chorus ... and that's definitely one of the more fun parts of the night.
I like honesty in music; I think that's one of the reasons I fell in love with country music.
Have you guys been playing other new songs during your sets?
Yeah, we do. We've been adding more and more songs as we go. We play six of the songs on the album live now. You know, we've been playing 'Wrong Baby Wrong' for a long time ... and then 'Let's Get Drunk and Make Friends,' we've been playing for a couple years now, and we just added 'Whiskey.' We play 'Everybody Drives Drunk' -- that's my favorite song on the album -- and, so, yeah, it's a little bit of a mix, and we'll add a couple more here, coming up soon.
What makes 'Everybody Drives Drunk' your favorite song on the album?
I like that song because people judge it before they listen to it. It's like judging a book by its cover or judging somebody by the clothes they're wearing before meeting 'em, and people assume. But they don't really know what it's about until [they listen to it]. You really can't know what it's about until you listen to it. And, for me, I like the vibe of it; it's got a little John Mayer feel, but it's also still true to what we were doing.
I like that it's a song about -- it's not about driving drunk, and we're not condoning drunk driving. We would never, ever do that, but that's what people think until they listen to it. So, it's a song about how everybody makes mistakes, how nobody's perfect. No one sin is great than another, and I think that it's such a powerful message, the message in that song. It's so genuine and deep and honest. I like honesty in music; I think that's one of the reasons I fell in love with country music, is because, at the core of what it is, and what it goes in and out of -- you know, the genre changes all the time, but it always goes back to honesty, and I think that's one of the reasons I love that song. And it's one of my favorite songs that I've ever written. It might be my favorite; I'm not sure, but it's definitely my favorite song on the album.
I also like to kind of cause a little controversy. I think that that's healthy for people to say how they feel about music, and that's what music's all about. You don't want songs that don't mean anything ...
So, after the record comes out, what are your plans for the rest of the year?
We're starting to fill up. We're gonna do a lot of fairs and festivals ... and then we're playing the Opry four times in February ... One of our biggest goals in our career is to become members of the Opry, so we literally said, "Put us on call, and we'll play any time, anywhere," so we're trying to rack up our numbers on that end ... It's just the biggest honor you can have, to play the Opry. That's where country music started, and we're just honored that country music is open enough to let us be a part of it, and I love that about the genre. And it's really fun playing with whoever's at the Grand Ole Opry.