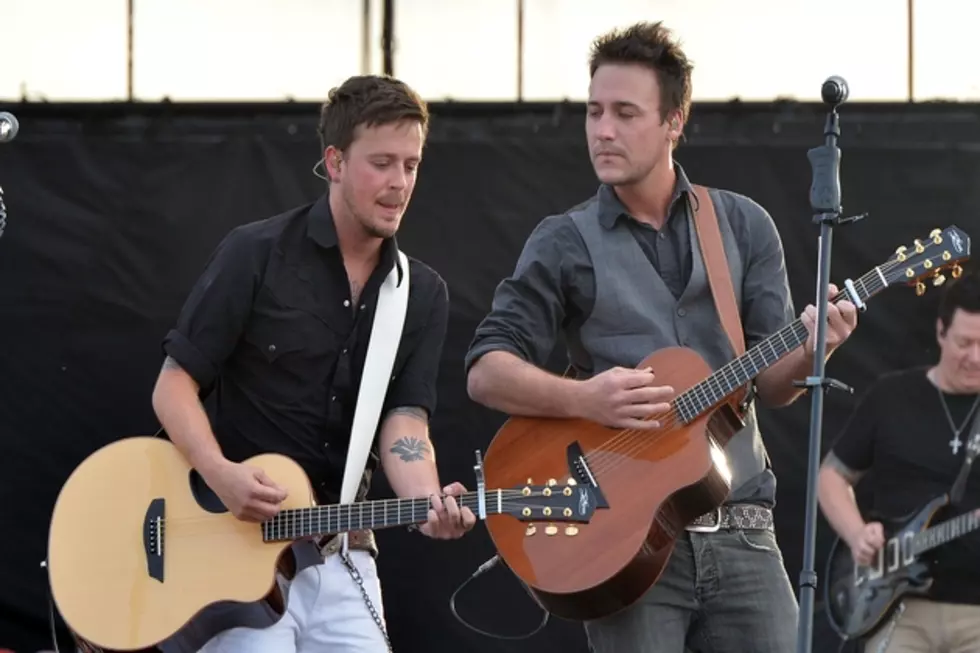 Love and Theft Reveal Fall Tour Dates
Rick Diamond, Getty Images
Love and Theft have announced the dates for their upcoming Night That You'll Never Forget Tour, which kicks off this fall.
The tour is set to begin Oct. 16 in Portland, Maine, and includes 25 dates before wrapping up in Ogden, Utah on Dec. 20. The tour will feature special guest Joel Crouse, with DJ Rod Youree and DJ DU appearing on select dates.
"We couldn't be more excited to get out on the road for these dates," says Stephen Barker Liles. "Joel is an awesome dude, not to mention a killer artist. Having DJ DU and DJ Rod Youree will add a great element to the shows, making this a tour we will never forget, and we are excited to share the experience with our fans!"
The upcoming tour takes its name from the duo's current single, 'Night That You'll Never Forget,' which is currently in the Top 40 and climbing. The song is the lead single from Love and Theft's forthcoming third studio album.
On sale information for the upcoming tour dates is available at the duo's website.
Love and Theft Night That You'll Never Forget Tour Dates:
10/16* - Portland, Maine - Asylum
10/17* - Boston, Mass. - Royale
10/18* - Fairfield, Conn. - Alumni Hall at Fairfield University
10/24* - Baton Rouge, La. - Louisiana State University
10/30+ - New York, N.Y. - The Gramercy Theater
10/31+ - Rochester, N.Y. - Water Street Music Hall
11/1+ - Lancaster, Pa. - Chameleon Club
11/2+ - Clifton Park, N.Y. - Upstate Concert Hall
11/6+ - Davie, Fla. - The Round Up
11/7+ - Sarasota, Fla. - White Buffalo Saloon
11/8+ - Daytona Beach, Fla. - Embry Riddle Aeronautical University
11/13+ - Roostown, Ohio - The Dusty Armadillo
11/14+ - Columbus, Ohio - The Bluestone
11/15+ - Morgantown, W.Va. - Schmitt's Saloon
11/20+ - Wilmington, N.C. - Ziggy's by the Sea
11/21+ - Charlotte, N.C. - Coyote Joe's
11/22+ - Kernersville, N.C. - Bucked Up Super Saloon
12/5+ Houston, Texas - Firehouse Saloon
12/11+ - Phoenix, Ariz. - Toby Keith's I Love This Bar and Grill
12/12+ - Rancho Cucamonga, Calif. - Toby Keith's I Love This Bar and Grill
12/13+ - Folsom, Calif. - Toby Keith's I Love This Bar and Grill
12/17+ - Bemidji, Minn. - Sanford Center
12/18+ - Lincoln, Neb. - The Single Barrel
12/19+ - Denver, Colo. - Grizzly Rose
12/20+ - Ogden, Utah - The Outlaw Saloon
*Special Guests are Joel Crouse and DJ Rod Youree
+Special Guests are Joel Crouse and DJ DU