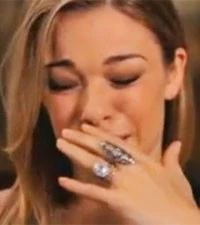 E!
It's been almost four years since LeAnn Rimes was caught having an extramarital affair with actor Eddie Cibrian, and the singer is still having to defend herself on what seems like a daily basis. It's a subject that continues to bring the 30-year-old star to tears, as seen Sunday on an E! network interview with Giuliana Rancic.
"I never in my heart want to hurt anyone. But I don't think anything can separate anything that's super-connected ... (We) might have had so many wonderful things with each other's (previous) spouses, but something along the way broke that. You can't break what's broken already," LeAnn said, referring to her first marriage to professional chef Dean Sheremet and Eddie's to model Brandi Glanville. She then paused for several seconds to collect herself, choking back tears before adding, "No one will ever understand how much thought and hurt, even towards each other, (was) put into our decision.
"All I wish is that everybody we hurt can be happy," she continued. "I wish I handled it differently because I wish I could have been better for me, for Brandi, for Dean, for Eddie, for everyone else."
Eddie joined his now wife of almost two years for a portion of the interview, coming to her defense over the incessant public criticism of their relationship.
"My heart goes out to (LeAnn) every single time she's getting bashed for something," he said. "It's unfair for her and it's unfair for us. [The affair] wasn't frivolous, you know."
Tabloid drama and social media bullying are partly to blame for LeAnn voluntarily checking herself in to a rehabilitation clinic earlier this year. "When you look around and you go, 'I'm crying uncontrollably; no one can help me,' that's when I knew I had to seek help ... I was incredibly depressed and not quite sure of who I was."
LeAnn found herself once again on the defensive when speculation started swirling about the cause for her rehab stay, which was rumored to be fueled by everything from an eating disorder to drug addition. But the singer only admits to emotional issues, denouncing all of the ugly rumors. "People are so quick to judge and make decisions for themselves about situations they know absolutely nothing about," she insists.
The Grammy-winning songstress will release her new album, Spitfire, on April 30. Watch her perform a song from the album that was inspired by the demise of her first marriage here.