Brad Paisley Tourmates Are 'Hungry'; Luke Bryan TV Time Heats Up + More: Country Music News Roundup
Disney/ABC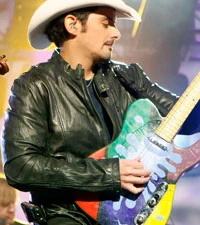 Disney/ABC
The Boot rounds up today's country music news from around the web.
Brad Paisley says Lee Brice and Chris Young were great additions to his upcoming Beat This Summer tour, presented by Cracker Barrel Old Country Store, because he was looking for artists to join him who were "hungry." "Those guys really are. Of course, you look for talent and you look for great songs -- and that hunger to put on a performance for people. I also think they're really nice people. I think it would be really fun to hang out with them." Brad will have his chance to hang with the two when the tour kicks off May 9 in St. Louis. The superstar entertainer will donate $1 from each ticket sold to Live Beyond, the Nashville-based nonprofit group that supports impoverished communities in Haiti, as well other parts of the world in need. [Ashley Mann on Music Row]
Is LeAnn Rimes headed for reality TV? Us Weekly quotes "a source" as saying that the singer "has been approached about doing both scripted and nonscripted shows." No further details on any plans just yet (or whether LeAnn's hubby, Eddie Cibrian -- whose ex is one of the "Real Housewives" -- will be participating), but LeAnn did tell Jay Leno late last year that "there's no reality in a reality show." More on the story is found in the magazine's March 11 issue on newsstands. [US Weekly]
Two icons of country and Americana music have come together for their first duets album, as longtime friends Emmylou Harris and Rodney Crowell team for the just-released Old Yellow Moon. Performing two songs, "Chase the Feeling," penned by Kris Kristofferson and "Dreaming My Dreams," for the Wall Street Journal's WSJ Cafe, the pair also sat down to talk about their enduring friendship and why they continue to work so well together. The pair also recently performed the latter tune, written by Allen Reynolds, on the "Late Show With David Letterman." [WSJ Cafe]
Don't forget to tune in to tonight's episode of "Malibu Country," starring Reba and featuring a guest appearance from Blake Shelton! Titled "Dear Brother," the episode has Blake, as Reba's wayward brother, hatching a get-rich-quick scheme involving BBQ sauce. "Malibu Country" airs at 8:30 PM ET on ABC.
Luke Bryan will release his next spring-break-themed album next Tuesday (March 5). The country superstar will launch Spring Break ... Here to Party with a release-day performance on the "Ellen DeGeneres Show." On Wednesday (March 6), he heads to "Jimmy Kimmel Live!" and on March 14, he'll make his first-ever appearance on "Conan."
Kevin Costner and his band Modern West will visit two of Russia's largest cities in April, with performances at the State Kremlin Palace in Moscow on April 10 and at State Concert Hall, Oktyabrsky, on April 11. "Kevin Costner is popular enough in his country, but it will be his debut in Russia," a spokesman said of the musician/actor's upcoming visit. In addition to extensively touring the U.S., Costner and his band have visited Europe, playing shows in Germany, Austria, Switzerland, Greece and Italy. [RIA Novosti]
Trace Adkins returns to the small screen this weekend for the first "All-Star Celebrity Apprentice," which begins Sunday night (March 3). The singer says maintaining his composure was one of the biggest challenges the first time he competed on the show (during which he ultimately placed second behind winner Piers Morgan). He also notes that the friendship he's developed this go-round that probably surprised him the most is one with magician Penn Jillette. In terms of going head-to-head with Piers Morgan again, Trace says with a laugh, "I try not to pay much attention to what Piers says or does. I don't want to give him the satisfaction of thinking he gets under my skin in the least -- but he does." [CMT]
Watch Brad's 'Southern Comfort Zone' Video