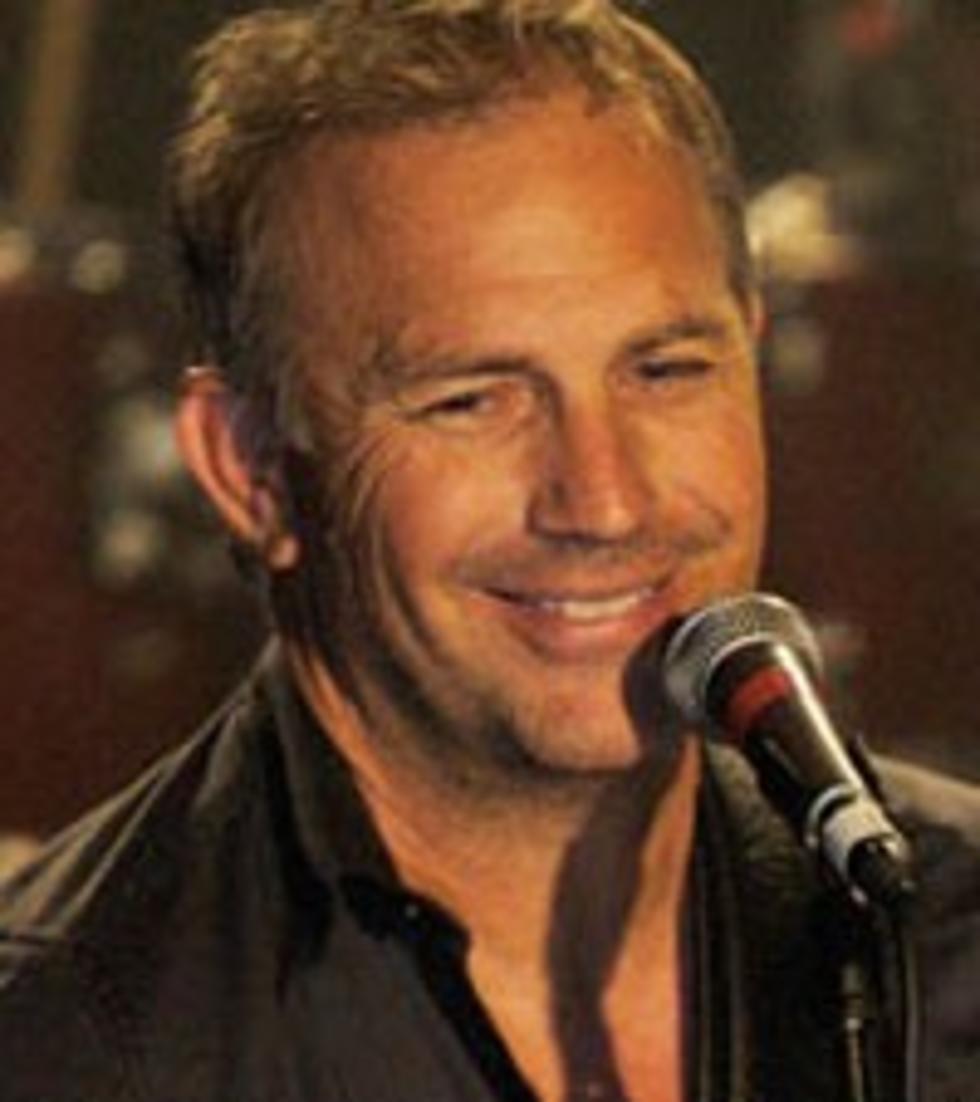 Kevin Costner & Modern West Tour Dates Announced for Spring
Universal South
Kevin Costner & Modern West will hit the road for a spring tour, beginning March 28 in Lakeland, Fla. The country-rockers will hit 14 cities in the U.S. and Canada, before wrapping July 1 in Grande Prairie, Alberta.
The Oscar-winning actor formed Modern West in 2005, after playing and writing music for more than two decades. Signing a major label deal in 2008 was a career accomplishment he never expected. "That wasn't my endgame," Kevin told The Boot in an exclusive interview just before his Grand Ole Opry debut. "My endgame was my wife saying, 'I don't know why you don't start playing music again, because you love to do it.' And that was kind of a two year process of her going, 'Why don't you take the trash out?' 'Ah, I'll do it tomorrow.' And after two years of her doing that, I said, 'Well, I'll start writing again with my friend and we'll just start playing.'
"I didn't decide to go commercial," he continued, "that almost came the way acting did, which is I just want to tell stories as an actor, so I started that way. The fact that there was some commercial success, I was grateful for it, but I was also surprised about it. So were my friends who went, 'How did this happen?' It happens when it's the work you like to do."
The band's debut album, 'Untold Truths,' was released in 2008, followed by 'Turn It On' in 2009 and 'Where I Stand' in 2011. In the past four years, Kevin Costner & Modern West have toured all over the world, including USO concerts overseas.
Kevin admits a lot of his audience members are there for the "curiosity factor," knowing they enjoy his movies but perhaps skeptical of his musical abilities. But he sees that as more of an opportunity than a nuisance.
"I don't try to run away from that relationship I've had for over 20 years with people in the dark," he insists. "The worst thing I could do would be to try to divorce myself of what I've done and show up in black leather pants and go, 'I'm a serious musician.' [laughs] That would not only not be who I am, I think that's a fundamental mistake. I love that we've had this relationship based on the movies. What we all hope for is for our relationships to expand and surprise us ... There are a lot of people who play music, and just because you're famous doesn't mean you should automatically be listened to. I understand the advantages of what I have, and I'm very cognizant of the disadvantages. And I can only try to make that that go away within the first minute of playing."
Kevin Costner & Modern West Tour Dates:
03/28/2012 Lakeland, FL - Lakeland Center

03/31/2012 Fort Pierce, FL - Sunrise Theatre

04/01/2012 Charleston, SC - Music Farm

04/03/2012 Annapolis, MD - Rams Head On Stage

04/04/2012 Annapolis, MD - Rams Head On Stage

04/05/2012 North Bethesda, MD - Strathmore

04/06/2012 Clifton Park, NY - Northern Lights

04/07/2012 Cranston, RI - Park Theatre

04/09/2012 New York, NY - City Winery

04/10/2012 Ridgefield, CT - Ridgefield Playhouse

04/11/2012 Norfolk, CT - Infinity Music Hall & Bistro

04/13/2012 Windsor, Ontario, Canada - Caesars Windsor

04/14/2012 Nashville, TN - Exit/In

06/30/2012 Regina, Saskatchewan, Canada - Casino Regina

07/01/2012 Grande Prairie, Alberta, Canada - Bud Country Fever
Kevin Costner to Speak at Whitney Houston's Funeral

#fivemin-widget-blogsmith-image-836693{display:none;} .cke_show_borders #fivemin-widget-blogsmith-image-836693, #postcontentcontainer #fivemin-widget-blogsmith-image-836693{width:570px;height:411px;display:block;}