Kelly Clarkson Plants Deep Roots in Country Music
AP
Kelly Clarkson's professional triumphs far outweigh her setbacks, but the original 'American Idol' has certainly weathered her fair share of career storms. First, there was her controversial third studio album, 'My December,' which was deemed too dark by her own record label. Most recently, the music superstar's upcoming project has seen continual delays. Despite her two-year absence from the top of the pop charts, the Texas native has managed to remain in the music consumer's peripheral vision, flirting with the boundaries of Top 40 mainstream and country music without completely abandoning her signature pop-rock roots. The Boot spotlights Kelly's ability to market herself as a believable country artist as the singer struggles to release new material to her core audience.
'Starstruck' By Nashville
After the mismanagement of her pending tour and very public battle with music industry icon and then-RCA label head Clive Davis, Kelly fired her management company, The Firm, signing with Nashville-based Starstruck Entertainment within a month of the release of 'My December.' Despite lackluster sales and limited label backing, Kelly was able to remain in the public eye with the help of her new personal manager, Narvel Blackstock, Reba McEntire's husband and business partner in the country legend's management venture.
Even before the partnership materialized in July 2007, Reba revealed that Kelly turned to Narvel for industry advice. "When you're hanging out together, you talk about the business," Reba told USA Today. "She would ask me my opinion, and I'd always say, 'The best advice I can give you is go ask Narvel.' So she did."
The singing superstars originally joined forces for an episode of 'CMT Crossroads,' but the onstage chemistry translated into a studio duet of Kelly's pop megahit, 'Because of You.' At the time, Reba confessed that her husband was the mastermind behind the track, which appeared on Reba's 'Duets' album.
"Narvel came up to the stage and said, 'Reba, you've got to record this for your duet project,'" Reba told Billboard after filming the 'Crossroads' episode. "I talked to Kelly and she said, 'Right on! Let's do it!' So we went back into the studio and recorded it."
Later that year, the duet reached No. 2 on the country chart, giving Kelly her first country hit and Reba her first Top 10 single in two years. Narvel capitalized on the tune's chart success, booking a segment on the 'CMT Music Festival: Country's Night to Rock' television event. The show marked the second major network-televised performance of the duet, and led to the conception of Kelly and Reba's 2 Worlds 2 Voices tour.
'Because of You' was nominated for the Best Country Collaboration with Vocals at the 50th Annual Grammy Awards, as well as Musical Event of the Year at the 2007 CMA Awards and Vocal Event of the Year at that year's Academy of Country Music Awards. The accompanying music video was nominated for three CMT Music Awards, including Music Video of the Year and Tearjerker Video of the Year.
2 Worlds 2 Voices ... One Stage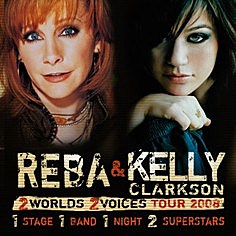 Starstruck Entertainment
Capitalizing on the duo's undeniable onstage chemistry, the two superstars blurred the lines between pop and country for the 2 Worlds 2 Voices tour. Despite her absence at Top 40 radio, Kelly joined Reba onstage beginning in January 2008, in between portions of her revamped My December tour, selling out the initial 15 dates of the first leg. Reba admitted that touring with the angsty pop star inspired her both on and off-stage.
"When she was doing songs like 'Miss Independent' and her other hits, it was like, 'Wow!'" Reba told The Boot. "I had more of an open mind when I listened to songs this time. I seemed to gravitate to sassy women's songs with an attitude."
The two ladies returned to the stage together in September of 2007, kicking off the second leg of the 2 Worlds 2 Voices tour. The 24-date run concluded in November. In the first leg alone, the two played to 2.3 million fans, grossing $7 million in ticket sales.
Ed Rode, Getty Images
Despite her status as a pop-rock artist, Kelly seems to distance herself from her Top 40 peers, living part-time in Nashville and making friends with country music's elite. Following Miranda Lambert and Blake Shelton's wedding ceremony, the 'Since U Been Gone' singer took to her official Facebook page to gush about the powerhouse couple's reception.
"So I went to Miranda and Blake Shelton's wedding last night and it was the greatest wedding/reception I've ever been to! I feel as though they should renew their vows every year and throw a party as well because everything about it was awesome! Cutest couple ever!" she wrote.
Kelly's friendship with the country superstar and 'The Voice' judge didn't end there. Weeks later, Kelly joined Blake and Reba onstage for the Oklahoma natives' tornado relief concerts. Blake and Kelly offered the crowd some playful banter before Blake stepped in to sing Jason Aldean's lead on 'Don't You Wanna Stay.' (Watch their performance below.)
The singer has also collaborated with country heavyweights Martina McBride, Ronnie Dunn of Brooks & Dunn, the Wreckers and Rascal Flatts, joining the trio on 'What Hurts the Most' during their 2006 ACM performance. To date, Kelly has performed a combined three times on the two major country music awards shows.
Although Kelly began writing for her latest yet-to-be released studio project as early as 2009 with hopes of a physical product in late 2010, the big-voiced singer reclaimed her title as a chart-topping artist with her Jason Aldean duet, 'Don't You Wanna Stay.' The tune, which appears on Jason's 'My Kinda Party' album, logged three consecutive weeks on the top of the Country Songs Chart, marking only the third time an 'American Idol' alum reached the No. 1. (Josh Gracin first went No. 1 with 2004 single, 'Nothin' to Lose,' followed by Carrie Underwood's 10 separate trips to the top beginning in 2005.)
On his collaboration with the pop star, Jason says, "She's an amazing singer, and was really cool to work with. I couldn't believe how easy it was to get it to happen. Dealing with record labels and getting through the red tape, that's usually the worst part of it. All we did was play her the song, she loved it and was all about it. It was pretty easy as far as that went."
The song, which also achieved Top 10 status on the Adult Contemporary and Adult Pop Songs chart, recently made digital history. As of July 21, 2011, it has sold nearly 1.5 million digital singles, becoming the most downloaded country music collaboration of all time.
In promotion of 'Don't You Wanna Stay,' Kelly remained visible without a released project of her own, performing with Jason on the CMA Awards, the 'Ellen DeGeneres Show' and her own launching pad, 'American Idol.' The dynamic duet partners will also appear on the televised 'CMT Music Festival: Country's Night to Rock,' scheduled to air August 14.
On the subject of her new project, Kelly says it was "influenced by Prince, Tina Turner, Sheryl Crow, Radiohead and there's a little bit of a country vibe/influence on a couple of songs."
Despite her current ties to Music City, leaked rumored tracks disprove any notion that Kelly will become a full-time country artist anytime soon. Fellow pop-singer-turned country songbird Michelle Branch does extend an offer if Kelly does change her mind. The former Wrecker recentlytold Popeater, "The Wreckers isn't over in my mind but it is for Jess [Jessica Harp], so I don't know. If I was to do the Wreckers, it would mean me finding someone to fill her shoes, which is a hard thing to do. I read in an interview that someone asked Kelly Clarkson if she'd make a country album and she said, 'I'd do it if I was in a band with Miranda Lambert or Michelle Branch.' If Kelly Clarkson called me, she could be my new Wrecker."