Kelly Clarkson, Maroon 5 Tour Dates; Kellie Pickler's Tattoo Pact + More: Country News Roundup
Michael Caulfield Archive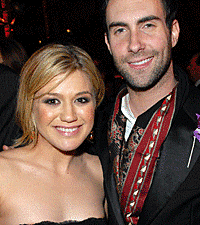 Michael Caulfield Archive
The Boot rounds up today's country music news from around the web.
Kelly Clarkson is set to hit the road with Maroon 5 this summer and early fall. The Honda Civic tour, which kicks off on Aug. 1 in St. Louis, will wrap Oct. 5 in San Diego. Both acts experienced a hugely successful 2012, with Maroon 5 front man Adam Levine returning to his role as coach on "The Voice" and Kelly releasing a greatest hits collection, which featured her duet with Jason Aldean, "Don't You Wanna Stay." See a list of their tour dates here.

Taylor Swift has a new celebrity fan. Lena Dunham, creator and star of the HBO series "Girls," shared her love for the singer via Twitter after attending her concert in Newark, N.J. on Friday (March 29)."The @taylorswift13 show tonight=most life-affirming thing I've experienced (NOT hyperbole. After all, haven't yet been to a gay wedding)," the actress tweeted, following that up with a post that read: "Tiny girls with sparkly signs (is the name of my new T Swift tribute band)." [E! Online]
You wouldn't normally expect a concert festival with headliners such as the Killers, Nine Inch Nails and the Cure to also include a country act, but when that artist is Eric Church, it's not as surprising. Eric is the only country artist on the bill for the three-day 2013 Lollapalooza, set for Chicago's Grant Park, Aug. 2-4. See the complete lineup here.
The Academy of Country Music has unveiled the list of country stars and TV personalities who will take part in the upcoming ACM Experience, the open-to-the-public, family-friendly country music lifestyle event slated for April 5-7 at the Orleans Hotel and Casino in Las Vegas, leading up to the ACM Fan Jam and the ACM Awards telecast on Sunday night. Among the celebrities who will be on hand to interact with fans during the ACM Experience: country hitmakers Greg Bates, Craig Campbell, Easton Corbin, Chris Janson, Dustin Lynch, Joe Nichols, Cassadee Pope and more, while TV viewers will have the chance to meet "Duck Dynasty" stars Willie and Jep Robertson, bounty hunters Dog and Beth Chapman of CMT's "Dog & Beth: On the Hunt" and GAC personalities Suzanne Alexander, Storme Warren and Nan Kelly. For more information, visit the official ACM Experience website.
The "Dancing With the Stars" and "American Idol" frontrunners have a pact: they'll get matching tattoos if they both win! Kellie Pickler and Kree Harrison are good friends back home in Nashville, and admit they're calling in votes for each other on their respective shows. If they both win, Kree says they will get inked together, but there's no word on just what the body art will be. [E! Online]
Tune-in Alert: The TV debut of Kacey Musgraves' next single "Blowin' Smoke," is set for Wednesday, April 10, when the singer visits the "Ellen DeGeneres Show."
Watch a Clip From Prom Night on 'Dancing With the Stars'
%VIRTUAL-globalVideoEmbed-{"videoIds":"517730904","width":"476","height":"298","sid":"577","relatedMode":"0","hasCompanion":"false","autoStart":"false","colorPallet":"#704000","videoControlDisplayColor":"#000000"}%