Blake Shelton Weighs In on Kelly Clarkson's Country 'Rush'
Getty Images for InStyle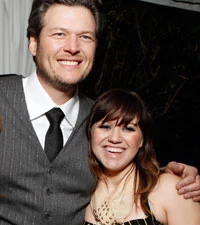 Getty Images for InStyle
It's no secret that Kelly Clarkson has country roots. In 2010, she topped the country charts with "Don't You Wanna Stay," a duet with Jason Aldean, had a Top 5 hit with Reba McEntire -- her future stepmother-in-law -- with "Because of You" in 2010, and even released a country mix of her pop hit, "Mr. Know It All," in 2011.
Sitting in the 20s on the charts now is her collaboration with Vince Gill, "Don't Rush," which she performed at the ACM Awards this past weekend, but will she ever "go country"?
"I think the way to get Kelly full on into country is for us to start letting her in. That's the trick," says Kelly's pal, Blake Shelton. "The Voice" coach, who will also officiate the songbird's wedding to his manager Brandon Blackstock, adds, "She's clearly shown an interest in it and it clearly means something to her. I've talked to her and I don't think it was until the 'American Idol' thing that she went down that road of rock and found her voice that way. She grew up a country music fan -- she'll be the first to tell you that and obviously a huge Reba fan."
The Texan isn't shy about her musical inspirations either, posting about her excitement to see George Strait, Trisha Yearwood and Garth Brooks at this past weekend's ACM Awards. "You should get Kelly going on the stuff she used to listen to in high school and growing up, it's country," Blake continues. "It's amazing that it hasn't happened already, because that's the music that she buys ... Kelly's excited and she's nervous and she's giddy about this. She wants it badly. I think she'll be there as soon as it's handed to her, she'll take off with it."
The Season 1 "American Idol" winner has seen a lot of acceptance from Music City, having even been nominated for the Female Vocalist of the Year title at the 2012 CMA Awards (which inevitably went to her friend, Miranda Lambert).
"So far, I know it hasn't clicked yet, but her single's starting to get some traction," Blake concludes. "I've seen this before where those singles come out and there a little bit slow and then all of a sudden they get some research in and find out that country fans do in fact worship Kelly Clarkson and we do accept her as one of us. I think we'll see that song take off."
Watch a Video on Kelly Clarkson's Wedding
%VIRTUAL-globalVideoEmbed-{"videoIds":"517737053","width":"476","height":"298","sid":"577","relatedMode":"0","hasCompanion":"false","autoStart":"false","colorPallet":"#704000","videoControlDisplayColor":"#000000"}%