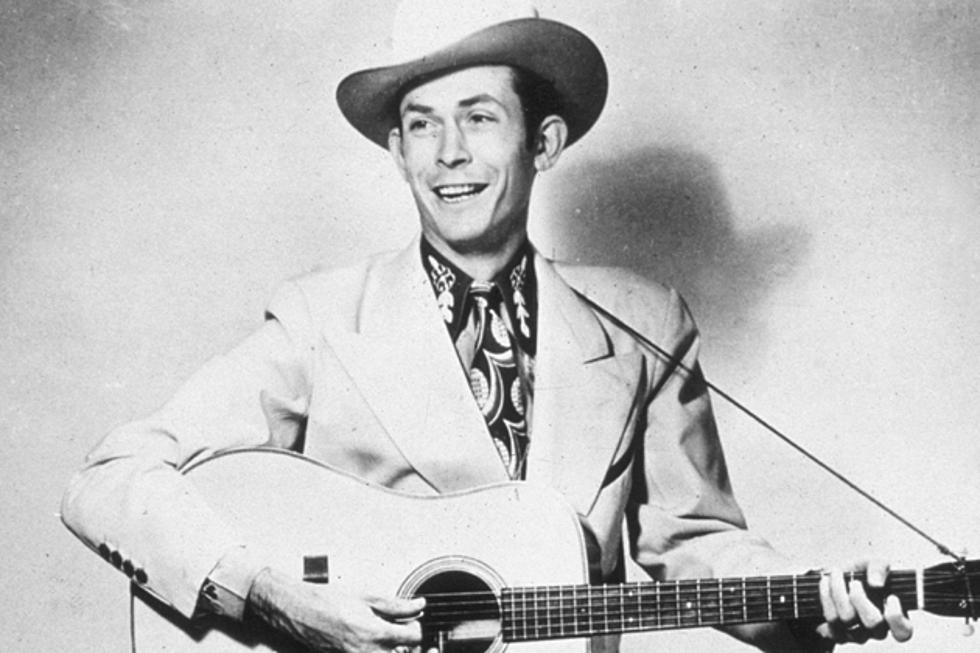 Jett Williams Works to Preserve Hank's Legacy (Exclusive Interview)
Getty Images
Hank Williams died on New Year's Day 1953, 60 years ago, and in the years since his untimely passing, an unfathomable amount of technological advancements have been made, especially within the recording industry. The iconic singer-songwriter's daughter, Jett Williams, marvels at what the man who sang about the woman on the party line in his song, "Mind Your Own Business" would think if he knew that Facebook has replaced the party line and nearly everyone has a phone that can take pictures.
No doubt Hank would also be amazed at not only the unwavering interest his legendary songs continue to generate, but also the great lengths to which individuals and companies will go to lay claim to, protect, preserve, collect and disseminate his material. There are, however, just two people, Jett Williams and her half-brother, Hank Williams, Jr., who together function as the Hank Williams Estate, and whose duty it is to make sure the best interests of their father's legacy are being served by the record labels and other businesses making his material available to the public. Yet, getting to the point of being able to work together has been a long, arduous journey, one that has taken them from sitting across a courtroom from one another to finally being seated on the same side.
The saga of Jett Williams began began just five days after the death of Hank Williams, with the birth of Antha Belle Jett, in Montgomery, Ala. The child, whose mother, Bobbie Jett, had a brief relationship with Hank between his two marriages, was adopted by Hank's mother, Lillian Stone, following a two-year legal battle. She would be raised as Catherine Yvonne Stone. Lillian Stone died at age 57, leaving the child a ward of the state of Alabama. Raised in foster homes, she was soon adopted again and was raised in Mobile, Ala., but a search for her true identity in the early '80s proved fruitless. She would soon meet Washington attorney Keith Adkinson, who would later become her husband. In 1987, after a lengthy court battle, she was declared the daughter of Hank Williams by the Alabama circuit court. Two years later, she would be awarded one-half of her father's estate. In 1992, she was awarded her share of Hank Williams' copyright renewal royalties as well. Jett made her performing debut in 1989, and would tour the globe backed by the Drifting Cowboys, the band that also backed her dad. An autobiography and her Grand Ole Opry debut followed, but for the woman who never knew her father but has come to understand -- and to fully embrace -- his legacy, perhaps no other pursuit is as important as keeping his memory and his music alive.
One project, The Lost Concerts, brings together two live shows Hank performed in 1952, just months before his death, in Niagara Falls, N.Y., and Sunset Park, Pa. The 20-track set also includes a rare, five-minute interview with the singer in 1951 in Wichita, Kan., during which he talks about songwriting, the Grand Ole Opry and his future plans. He also shows his more humorous side by talking about his questionable dancing skills, saying, "If Fred Astaire saw me, he'd swear out a warrant for me."
His gift for humor isn't the only aspect of Hank that has been overshadowed by the mythology surrounding his 29 years on earth. His daughter believes few people knew what a shrewd businessman he was as well.
"To hear the myth-spinners, ''ol' Hank, all he did was drink and all he wanted to do was play the guitar and sing and write sad songs,'" Jett tells The Boot. "They say he would stop and run to the jukebox, not to see if his song was on there, but to see who was singing one of his songs. He carried Billboard in his pocket and he kept up with where the songs were and how they were doing. He was savvy about the business. He wasn't one of these, 'just put me in the Cadillac and wherever y'all let me out, I'm gonna sing.' He really did pay attention, and he did follow his music, and follow who was doing it.
One artist who took Hank's songs to unexpected places was Tony Bennett, notable for cutting "Cold, Cold Heart" as a pop song while Hank was still living.
"That was a huge milestone for a hillbilly -- back then, that's what they called a country music singer or writer -- to be able to have that music jump over," says Jett. "I encourage younger artists that are starting, you've got to learn your ABCs before you write your doctorate. You may think you'll come to Nashville and you'll get lucky, or whatever, but there's a thing called staying power. This man, after 60 years, is still here, and you'll be lucky if you even get in the running with him. He set such a high bar that you have people from Bruce Springsteen to Bob Dylan to Norah Jones, all these people in all of these genres, that say, 'that's the man.'"
In addition to releasing these rare, never-before-heard live concerts, Jett and Hank Jr. are now working with a company called MUSICSYNK to make 150 recordings of their father's available for licensing to future film and television projects. For Jett, 60, working with Hank Jr. hasn't always been easy, but she believes they are both dedicated to the same end result.
"[We] have gone from fighting each other to fighting together against whoever we have to, to make sure that our dad's image and likeness and music and legacy is carried on," says Jett. "Fortunately, we haven't had to do that very often. But one thing that we both agree on and have always agreed on is that everything that we got involved with was first-class and something that we thought he would be proud of. As far as having a personal relationship, we don't have like a brother-sister relationship, but we do get along; we do business and I think the world does realize that both of us have our dad's best interest at heart."