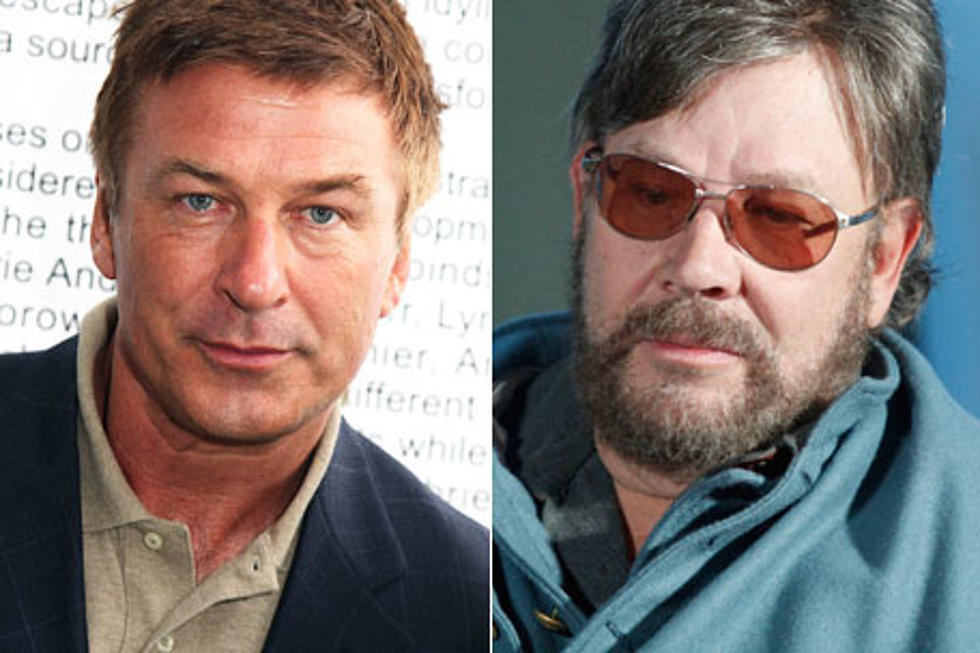 Alec Baldwin Calls Hank Williams Jr. a 'Senile, Racist Coot'
Getty Images
Hank Williams, Jr. has never been shy about his distaste for Democrats, and now his comments have infuriated a Hollywood star on the left side of the political fence. Actor Alec Baldwin has taken to Twitter to criticize the country legend for his outspoken and arguably outrageous comments about President Obama.
"If Hank Williams Jr wasn't such a pathetic, wheezing fossil, I'd have a talk with him," the "30 Rock" actor tweeted earlier this week, adding, "I think we need to call Hank Williams Jr what he is ... A broken-down, senile, racist coot."
Those tweets were most likely, at least in part, in response to Bocephus' latest political rant at the Iowa State Fair last month. "We've got a Muslim president who hates farming, hates the military, hates the U.S. and we hate him," Hank Jr. declared from the stage (quote via Country Weekly).
The singer also made similar comments more recently at a concert in Texas, saying, "We've got a Muslim for a president who hates cowboys, hates cowgirls, hates fishing, hates farming, loves gays and we hate him!"
So far, Hank Jr. has not responded to Alec's tweets. This isn't the first time he has been criticized for making derogatory remarks about the Commander-in-Chief. Last year, he compared the president to Adolf Hitler during a live broadcast of "FOX & Friends," which resulted in his termination from singing the opening song during ESPN's "Monday Night Football."
Hank's latest album, Old School, New Rules, hit shelves in July, and features several songs that share his views on America, including "Who's Taking Care of Number One." The lyrics, which question why the nation sends so many jobs overseas, send a message he proudly stands behind.
"I'm a mouthpiece for grandmothers who lost everything," the country star tells The Boot. "I'm speaking for them. There was an 11-year-old who wrote in and said her parents told her I was a good role model and could she have an autographed picture? It's been snowballing since 'Keep the Change' was released as a single. We have sold several-hundred-thousand dollars worth of T-shirts that say 'Take Back Our Country' on them. It's snowballing. This is not a Southern thing; this is the whole United States country thing."
Watch a Video on the Baldwin-Williams Controversy
#fivemin-widget-blogsmith-image-94701{display:none;} .cke_show_borders #fivemin-widget-blogsmith-image-94701, #postcontentcontainer #fivemin-widget-blogsmith-image-94701{width:475px;height:351px;display:block;}

try{document.getElementById("fivemin-widget-blogsmith-image-94701").style.display="none";}catch(e){}