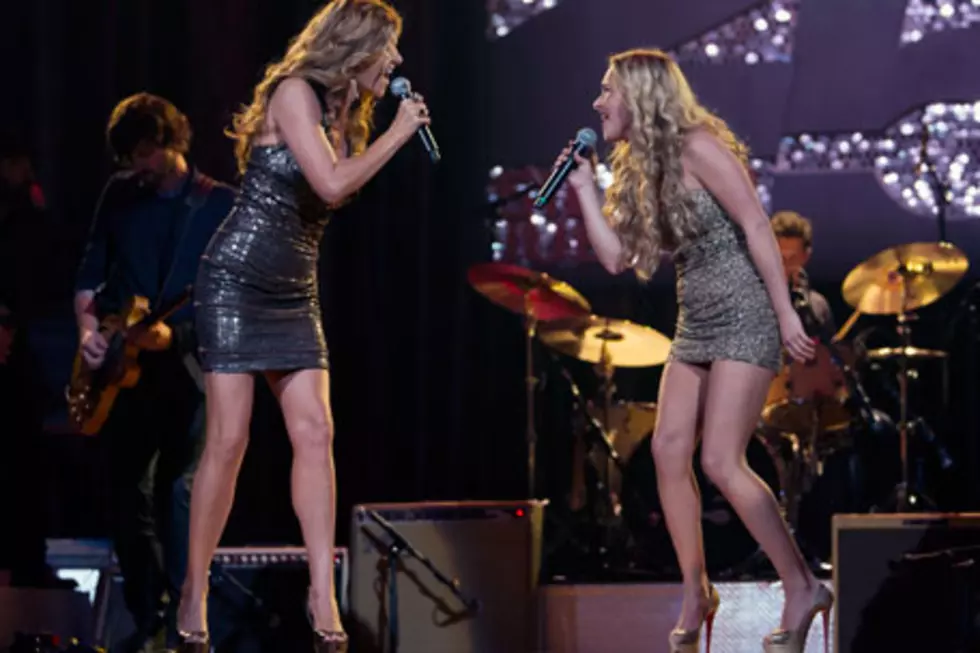 Country Music Hall of Fame Welcomes 'Nashville'; Kevin Bacon Drives With Lee Brice + More: Country News Roundup
ABC via Getty Images
ABC via Getty Images
The Boot rounds up today's country music news from around the web.
ABC's "Nashville" is becoming a part of country music history. The Country Music Hall of Fame and Museum will debut the "Nashville": Like a Country Song spotlight exhibition on April 5. Costumes worn by Connie Britton (Rayna James) and Hayden Panettiere (Juliette Barnes) during their performance of "Wrong Song" (pictured above), as well as the 2009 Gretsch G6121-1955 Chet Atkins solid body guitar and personalized strap used by actor Charles Esten (Deacon Claybourne) and a script of the show's pilot episode -- autogprahed by the cast -- will be included in the display, which runs through October 31, 2013. The show's creator, Callie Khouri, is the inspiration for the exhibit's name, saying the drama, "plays out like a country song. There's heartbreak; there's cryin'; there's drinkin'."
Is Keith Urban returning for another season of "American Idol"? The superstar's upcoming tour schedule includes several gaps, which could be used for filming the reality TV competition, but Keith tells USA Today nothing is set in stone. "We haven't confirmed anything, but we needed to leave some holes there, in case another season happens," he explains. "If we do another season, those would be where the audition cities would go. But nothing's confirmed at all." [USA Today]
Lee Brice has less than six degrees to get to Kevin Bacon. The actor, who is also a member of the country/folk duo the Bacon Brothers, divulged to CMT that you don't have to drive a pick-up to connect with the "I Drive Your Truck" singer. After calling the tune "one of the best songs" on his iPod, Kevin recalled the first time he heard the singer-songwriter's latest single. "I just happened to be driving -- not my truck, but my Prius -- and I heard it, and it's just got so much going for it, including a very strong anti-war message. I love that song." The star of the original "Footloose" also gave props to Blake Shelton's cover of the movie's theme song as well as Taylor Swift's songwriting abilities. [CMT]
George Strait took a moment during his concert in Greensboro, N.C., on Saturday night (March 23), to pay tribute to a retired Army sergeant. According to local CBS affiliate WFMY, the King of Country, along wtih retired Army Lt. General Leroy Sisco, presented Ryan Hamilton with keys to a new home. This marks the 17th house the Texan has given away on the Cowboy Rides Away tour as part of the Homes 4 Wounded Heroes porgram. Hamilton, who is a native of Winston-Salem, N.C., was injured in Iraq in 2007 by in IED. [WFMY]
Keith Urban will be on NBC's "The Tonight Show with Jay Leno" this evening (March 26). Tomorrow (March 27), Florida Georgia Line appear on "Live With Kelly & Michael," while Jewel serves as guest co-host on ABC's "The View." Blake Shelton splits his time between "Live With Kelly & Micheal" and NBC's "Late Night With Jimmy Fallon" on Thursday (March 28).
The city of Montgomery, Ala., is hoping to take over ownership of Hank Williams' grave. The Associated Press reports that a pending bill in the Alabama Legislature would give the capital city ownership of the cemetery where the country legend is buried. The city has maintained the gravesite since 2009 at roughly $5,000-$7,000 a year. The legislation would reimburse past and future financial burdens with a $125,000 payment from the state's Insurance Department. [AP]
Clay Walker, Aaron Tippin, Collin Raye, Larry Gatlin, Crystal Gayle, the Kentucky HeadHunters, Jett Williams, Lisa Matassa, the Whites, Ricky Skaggs, Mandy Barnett, Ronnie McDowell, Daryle Singletary are among the latest performers to be added to George Jones' final Nashville concert lineup. The show, scheduled for Nov. 22, is set to include Garth Brooks, Kenny Rogers, Randy Travis, Alan Jackson, Dierks Bentley, Mark Chesnutt, Charlie Daniels, Joe Diffie, Patty Loveless, Kathy Mattea, the Oak Ridge Boys, Pam Tillis, Randy Travis, Tanya Tucker, Josh Turner and many more.
Luke Bryan put Randy Houser to work on the Dirt Road Diaries tour during the "How Country Feels" singer's day off in Alabama. After performing his first No. 1 single, Randy joined Luke for a cover of Jason Aldean's "Dirt Road Anthem." Fans got another surprise, when the tune's co-writer, Colt Ford, also appeared on stage. (Watch below.)
Watch Luke Perform With Randy and Colt
'Nashville' Gushes Over Music City