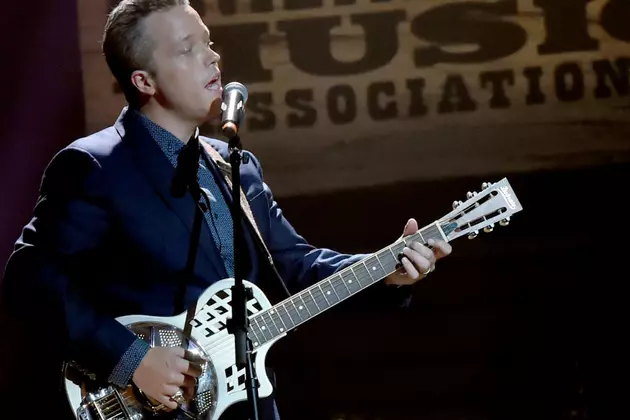 Jason Isbell Won't Be at the 2017 CMA Awards
Rick Diamond, Getty Images
He might have earned a nomination for Album of the Year at the 2017 CMA Awards, but Jason Isbell says he won't be at the ceremony on Nov. 8. The artist tells Rolling Stone that it's nothing personal, though -- he's just already booked up that night.
Isbell and his band, the 400 Unit, are scheduled to play a concert in Berlin, Germany, the night of the 2017 CMA Awards. They're overseas for shows in France, Belgium, the Netherlands, Norway, Sweden and Denmark until mid-November, and they're performing at the Columbia Theater that night specifically.
"For me to come back for the awards show, I'd have to cancel three shows in Europe on people who'd already paid for a ticket, so I won't be able to go," Isbell says. "But if I didn't have a show that night, I'd go just for the spectacle of it."
Isbell's wife, Amanda Shires, will be at the 2017 CMA Awards, however: In a tweet, the singer-songwriter and fiddle player revealed that she and friend Kelly Amber Garcia, a photographer and graphic designer, will be attending the show, "to represent for the 400 Unit and [Isbell]." Shires is a member of the 400 Unit, but she is not touring in Europe with the band, Isbell explains in a tweet, "because we're trying to balance doing good work with being good parents." Together, the couple has one daughter, 2-year-old Mercy.
Top 10 CMA Awards Moments
Test Your CMA Awards Knowledge!