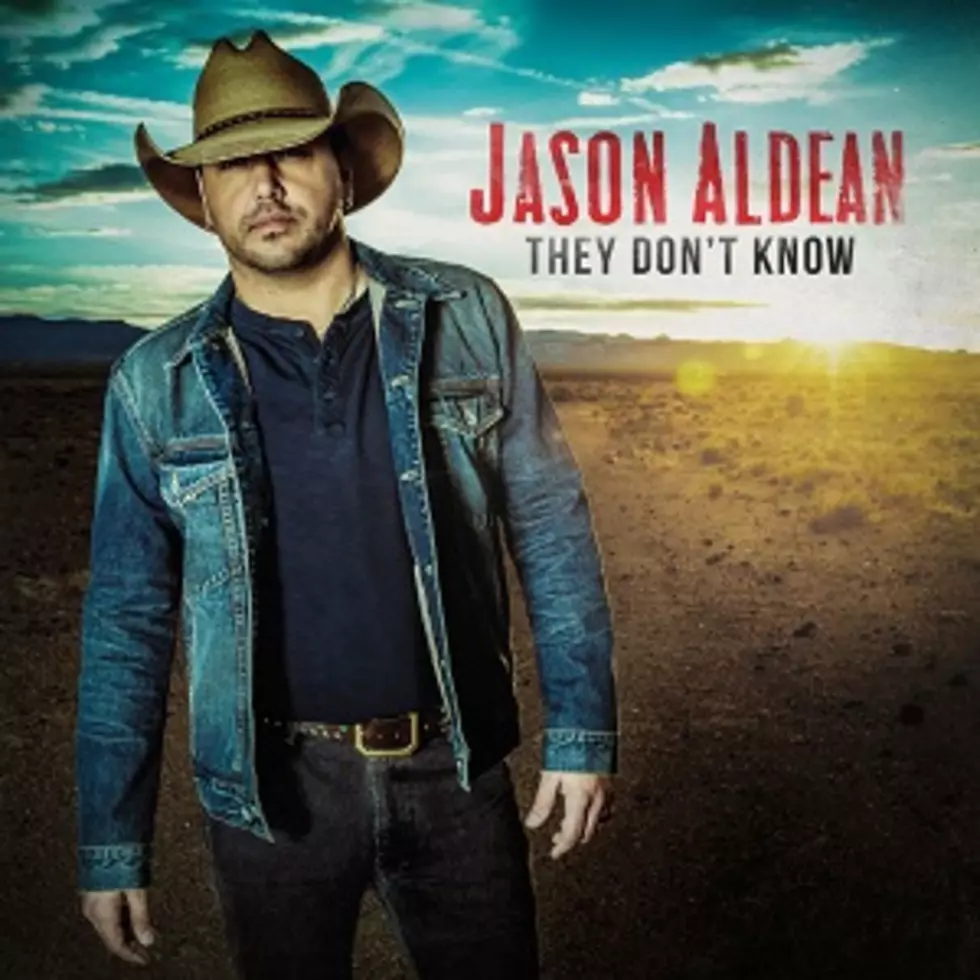 Interview: Jason Aldean Talks 'Well-Rounded' New Album, 'They Don't Know'
Broken Bow Records
Back in April, Jason Aldean shared the first single from his seventh studio album. "Lights Come On" was an instant hit, earning Aldean his 17th No. 1 song, and now, five months later, fans can hear the rest of They Don't Know. The reigning ACM Entertainer of the Year recently sat down with The Boot and other reporters to talk about his crazy year and his newest project, which dropped on Friday (Sept. 9).
Aldean met with media in Nashville on Sept. 1, just two days after the country singer was awarded the ACM Triple Crown Award, for his trio of wins as New Male Vocalist of the Year, Male Vocalist of the Year and Entertainer of the Year, at the 2016 ACM Honors; it was also just one day after he was snubbed by the CMA Awards with no nominations. Still, Aldean's attitude was relaxed and laid back -- happy with the album he and his team have created and excited to share it with fans. In many ways, he says, the album's title comes from the very idea of people deciding what they think about you without ever really knowing you.
"It's one of those things you can read into however you want," Aldean says of the album's name and its title track. "I think, a lot of time, people start trying to talk about things or judge things based on something they really don't know a lot about ... If anybody knows about that, it's me."
They Don't Know is Aldean's first album in two years; it follows his platinum-selling Old Boots, New Dirt record, released in October of 2014. And while Old Boots, New Dirt has filled Aldean's 2016 with big tours and big wins, the singer says that They Don't Know is a bit more balanced, returning to the root of who he really is.
"I think, on every album, we try to take it in its own direction -- every album has its own thing about it that's cool -- but at the same time, it's also about finding a way to tie them all together, where they kinda feel like they're 'me,'" Aldean notes, adding that while his sixth album strayed away from the signature "Aldean sound" in some ways, this latest release will bring it back in full force: "I feel like the things that we lacked on the last record, we found again on this record."
And while Aldean loved making Old Boots, New Dirt, many of those departures from past albums didn't go unnoticed.
"We just didn't have those big-anthem, rock, uptempo songs that we've always had to balance the record out. You know, it was a lot of [mid-tempo songs] and more ballads, and just, to me, it felt like something was missing," admits Aldean. "On this album, I feel like we got back to the Wide Open, My Kinda Party, Night Train records, where it was just a well-rounded album, and it had a little bit of all those things, and it's my sound."
A big part of Aldean's return to his signature sound is thanks to his longtime producer, Michael Knox, who discovered the singer in an Atlanta nightclub when he was just 21 years old. Since then, Knox has produced all of Aldean's studio records, and the two have become great friends and collaborators.
"I think, for the most part, my guys, I know what I'm getting out of them," Aldean tells Taste of Country of his choice to use familiar people for They Don't Know. "Michael [Knox] was the guy that discovered me. He brought me to town in 1998, and we've been working together ever since. He and I are on the same page as far as that goes. I mean, he knows me almost as good as I know myself at this point. We've been working together for so long."
Along with Knox, Aldean chose to stick with his touring band in the studio as well. For him, it's all about the comfort and communication he has with a band of musicians who have been with him for years.
"I've used these guys from the beginning, and I can communicate with them better than I can with anybody else," he says. "I can talk to my guys and get the point across in two seconds. They know what I'm saying; we play onstage every night together. So I think it's a communication thing, not to mention the fact that they're just great players ...
"If it ain't broke, don't fix it," Aldean adds. "I enjoy being in the studio with those guys, and I feel like when we're in there and do our thing, good things happen, so I don't want to mess with the system too much."
I think, a lot of time, people start trying to talk about things or judge things based on something they really don't know a lot about ... If anybody knows about that, it's me.
When it comes to Aldean's second single from the record, "A Little More Summertime," the singer's ease with his band rings true, giving him the confidence to create an inventive track inspired by legendary rock group U2.
"The second single was one of the first songs we found for the record, and to me, there was just something really cool melodically about it; it was a little different than some of the things we've had in the past," says Aldean. "The thing that really grabbed me was the U2 guitar stuff going on right before the chorus. You know, that was kinda the vibe I gave [the band] when we went in to cut the song; I was like, 'If there's a vibe we're going after, it's U2. Just think about that when you're playing it.' It was just really cool."
"A Little More Summertime" was written by a mainstay in the country music industry, Wendell Mobley. The Nashville songwriter has written No. 1 hits for everyone from Rascal Flatts to Kenny Chesney, and Aldean says that his demo of "A Little More Summertime" was pretty hard to live up to.
"He sang the daylights out of the demo, and it was one of those that you listen to and you go, 'Man, I hope my version sounds as good as the demo because his was really good,'" Aldean says, adding that this new track also speaks to his goal of creating a balanced album that combines mid-tempo ballads with anthemic country-pop hits.
"I think it gets back to one of the things I was talking about earlier that we were missing on the last album: It's one of those songs that tells the story and lays it out for you and sorta paints the picture ... and I feel like that's something we got away from before," he continues, "so putting this song out was kind of a way to get back on track with that."
Another collaborator that makes They Don't Know stands out is newcomer Kelsea Ballerini, who duets with Aldean on the track "First Time Again." Aldean admits he hadn't thought of Ballerini for the song until he heard the range and depth of her vocals in her recent single, "Peter Pan."
"Honestly, with ["First Time Again"], we were looking for somebody to possibly do this duet with, and her name came up," Aldean recalls, "and, really, it was when I heard the song she has out now -- the "Peter Pan" song -- that I kinda started to listen to her voice and go, 'Well, I haven't really heard her sing like that yet,' and so that was when it kind of caught my attention."
Aldean says that he loved working with Ballerini -- he just wishes their collaboration could have happened in the same town, let alone in the same studio.
"She was on tour with Rascal Flatts, and we needed the vocals, so we called Jay DeMarcus and sent the track out and just asked if he could record her singing it, and he did, sent it back to us, and we did everything else here," Aldean says, adding that he didn't even get to thank Ballerini in person until months later, at the ACM Honors.
"She's cool -- she's one of the coolest, nicest people in town, super sweet and obviously off to a great start in her career," he gushes, "and I was glad to be able to have her on the album and be part of it."
Aldean is also particularly fond of They Don't Know's heartbreak ballad, "This Plane Don't Go There." It's a song he was instantly drawn to because of its connection to the most timeless country theme of them all.
"Growing up and loving country music, that's just a part of it. Some of the best material you can have are the heartache songs," Aldean says. "I love that, man. I think that's what country music was built on -- songs like that -- so I love being able to do it."
I like to go out and turn it up to 10 and have fun and get loud, but also -- don't forget that, when it comes down to it, I can actually sing, too.
The singer admits that with his recent marriage to Brittany Kerr and all the success of Old Shoes, New Dirt, life over the past few years has been anything but heartbreaking. But he was able to sing the song with conviction simply by drawing on past experiences ... and relying on some surprising acting skills.
"I look at it like being an actor, man," he says. "I think anybody has probably experienced something like that over their lifetime, and you can relate to those things; it doesn't necessarily have to be how you feel now. I think it's just a matter of ... getting in character for the song. And it's the same thing onstage every night -- you know, you sort of put yourself in that spot so that you can sing it with a little more conviction and people can believe it a little more."
And when it comes to the arc of the album, Aldean says that "This Plane Don't Go There" fits perfectly into that well-rounded track list he was looking for.
"It's also just showing people that I like to go out and turn it up to 10 and have fun and get loud, but also -- don't forget that, when it comes down to it, I can actually sing, too," Aldean says. "It's not just the big-tempo stuff, and all kidding aside, I like showing that side, too, because I think that, sometimes, because of the other things we put out, people tend to forget that ... so it's cool for them to have those things to go back and listen to."
Learn Jason Aldean + More Country Stars' Real Names
Test Your Jason Aldean Knowledge!