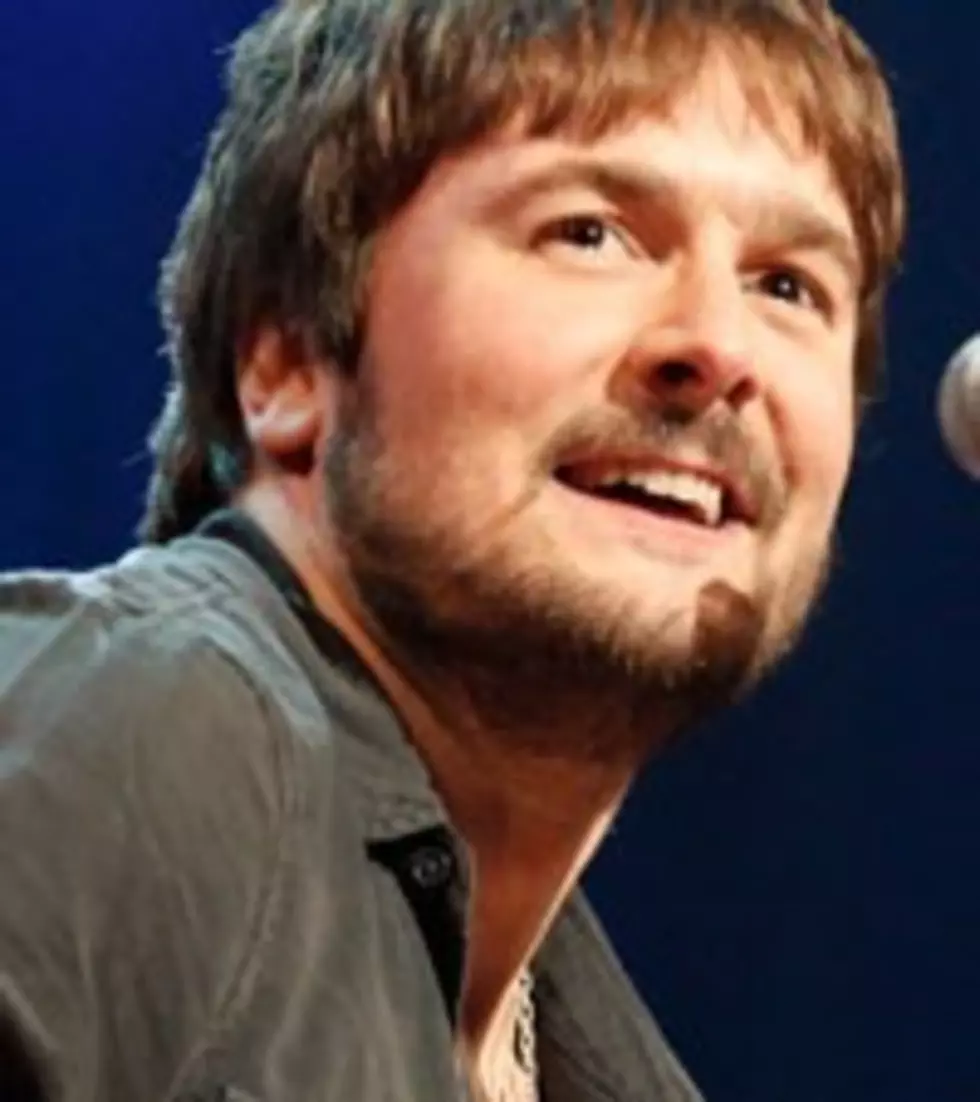 Eric Church, 'Drink in My Hand' Lyrics Keep Fans Coordinated
Ed Rode, Getty Images
Eric Church, who just celebrated his first No. 1 single, 'Drink in My Hand,' says the tune has developed a life of its own, becoming something of a group drinking game!
"It's really like synchronized drinking," the singer says. "My view [onstage] is different from everybody's view. I get to look out at the fans, and they're all looking. I'm up there by myself, but I'm looking at all of them. I can't believe how coordinated they are. When the cups go up or they go down or they go side to side, it almost gets humorous from time to time. I found myself laughing, this is really well-organized for it to be ... 10,000 drunk people out there."
Eric celebrated the No. 1 hit with his co-writers, Michael Heeney and Luke Laird, during an invitation-only party at the Nashville offices of BMI on Tuesday (Feb. 28). His wife, Katherine, was also celebrating but for a different reason -- it was her birthday. The crowd of well-wishers broke into a spontaneous rendition of 'Happy Birthday' for her.
Eric's friends and numerous music industry VIPs turned out to congratulate him on the milestone hit. Luke and Michael also had family at the celebration, whom they acknowledged and thanked as they accepted their awards.
"Nothing tests your faith more than writing a song," Luke told the crowd. "When I go into a writing session I just ask God to give me creativity. He has blessed me so many times."
Michael recognized Eric's band, saying, "They inspire us to write songs like 'Drink in My Hand.' Eric is a songwriter and a singer and an entertainer. More important, he knows who he is and he knows what's next. That makes him an artist."
While many awards were handed out to the writers, publishers and other music executives during the celebration, Eric and Katherine's son, Boone, received a special gift, a plaque commemorating his father's chart-topping. EMI Records Nashville also presented Eric with a statue of an Indian chief, in honor of his No. 1 album, 'Chief.'
Eric acknowledged his band, who were there to celebrate with him, when he stepped forward to make his remarks to the crowd. "I came here to be a songwriter and I've been to a lot of these [parties] but I've never stood up here," he told the gathering. "We've had a helluva year with a No. 1 album and now a No. 1 single. We want to be back up here on this stage again really soon!"
Among those who spoke about Eric and his recent chart triumph, Jody Williams of BMI talked of the singer's passion and his great live shows. "Eric has a fan base that doesn't care how high a single goes," Jody started out, interrupted by Eric, who shouted, "They just care about how high they are!"
"Eric is one of the best live touring acts on the road," Jody resumed after the laughter died down. "He continues to build his fan base, and they are all passionate about him and his music."
Eric related that his fans were the actual catalyst for 'Drink in My Hand,' explaining, "We were out on the bus one night after a show, and it just happened. I had some co-writers with me and we were talking about all the people with their beers in the air, and their cups in the air, and [they're] just there to party and that's really where the idea was born.
"It's fun now to look out and see that. The energy in that song has tripled now from the people. We're going to have to start filming it now because they really are coordinated."
Eric is in Portland, Maine Thursday (March 1), Lowell, Mass. on Friday (March 2) and rounds out the weekend with a sold-out show in Indiana, Pa., on Sunday (March 3).
Watch Eric Church Sing 'Drink in My Hand' Live in Our Studio
%VIRTUAL-globalVideoEmbed-{"videoIds":"517503952","width":"476","height":"357"}%