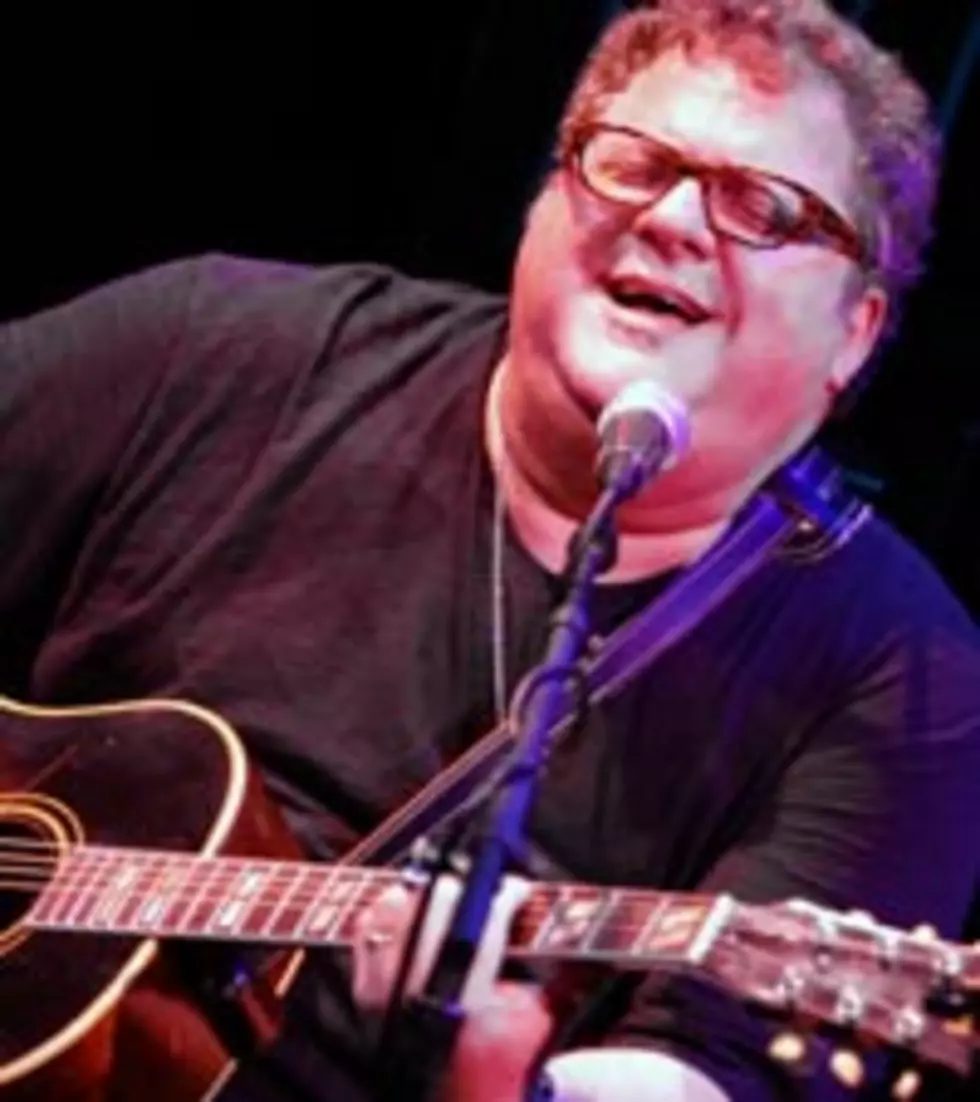 Bob DiPiero, Jamey Johnson Tell Tales Behind Hits in New York
Mike Coppola, Getty Images
"How y'all doin? Welcome to Nashville," Bob DiPiero joked before introducing fellow celebrated songwriters Jamey Johnson, Buddy Cannon and Kendell Marvel at the CMA Songwriter Series at Joe's Pub ... in New York City Wednesday night.
Now in its sixth year, the CMA series brings country to the city every few months, recruiting some of Nashville's finest songwriters to the Big Apple to tell the stories behind their biggest hits. "This is our country hillbilly outpost up here in Manhattan," continued Bob, whose laundry list of country hits include Tim McGraw's 'Southern Voice,' George Strait's 'Blue Clear Sky' and Vince Gill's 'Worlds Apart.'
For over 90 minutes, each songwriter alternated performing while giving some background on how their songs came to be written. Bob kicked things off with 'Mirror Mirror,' a song he co-wrote with John Jarrard and Mark Sanders for Diamond Rio. Jamey followed suit with the passionate 'They Should Have Named You Cocaine,' with fitting guitar accompaniment.
Throughout the set, it was Jamey who notably captivated the audience's attention, as the venue fell silent each time he sang. His voice reverberated on songs like 'Even the Skies Are Blue' and the award-winning 'Give It Away,' despite the apparent distraction of the subway below.
"Give me a minute. Let the rumble stop. It's kind of intimidating. S---, I've gotta come up with something to compete against that?" he said of the moving cars underneath him.
Whether he declined a beer from a fan ("I don't drink beer") or spoke of the first honky tonk he played at in Montgomery, Ala., ("First memory I have of this place is me and Darrell going in there to see if we could get a booking. Darrell comes back in looking like he had just seen a ghost. What he had actually seen was a Mexican hold a sawed-off shot gun on the owner"), Jamey was quite the entertainer.
His first trip to New York, Kendell Marvel told the crowd of his recent cab ride experience. "I went to see the Statue of Liberty today and I s--- you not, our cab driver fell asleep twice."
"This is my first song I ever had recorded by a fellow named Gary Allan," he continued before he began 'Right Where I Need to Be.'
A comical host and notable songwriter, Bob kept the audience intrigued.
"When you're writing songs, you're always looking for new ideas. So, I decided to write this song about my ex-wife's sister, Connie. Connie is, bless her heart, she is the girl in this song so much that I didn't even change her name. I think she's proud," DiPiero said before he began 'You Can't Take The Honky Tonk Out of the Girl,' a track made popular by Brooks & Dunn.
What was remarkable throughout the night was how at ease each songwriter was at singing his own song. It makes you wonder why they're not onstage every night performing, as their voices were just as powerful as the major acts.
Kendall also impressed with his deep vocals and powerful strumming on 'Startin' With Me,' a track he wrote with a buddy of his, Jake Owen. "He was an up-and-coming youngster, moved to Nashville from Florida. Pretty good singer. He had pretty white teeth. I liked him. We had a big ol' hit on this song."
And, what's a night of country music without the mention of rednecks?
"They make fun of rednecks. What about 'Jersey Shore'? You've gotta be kidding me. No wonder Bruce Springsteen wants to get the hell out of there in every song he sings. Makes me embarrassed for being Italian, and I'm Italian! Good God in heaven. This is as far from New Jersey as you can get. This is down in Apalachicola," Bob said before he introduced 'Southern Voice.'
It's not always easy being an established songwriter, Buddy Cannon explained. In 1981 he became friends with Dean Dillon, "one of the greatest songwriters ever." Cannon and Dillon were writing for different publishing companies at the time and Dillon's publisher wasn't too keen on him writing with others.
"He wanted to keep all of Dean's songs in his company," Buddy recalled. "One night Dean shows up at our office with a half a gallon of Jack Daniels and a real sad look on his face. His publisher had told him that he could no longer come over and write with us. There were three other songwriters in the room so we said, 'Why don't we write one right now?'"
The five songwriters sat down and wrote 'I Get Along With You,' which George Strait sang on his debut album.
"It had five songwriters, seven publishers and SESAC, BMI and ASCAP. Nobody made any money, but we laughed our ass off," Buddy said.
The remainder of the set saw Kendall perform 'Whoop a Man's Ass' off Trace Adkins' latest release, 'Cowboy's Back in Town,' Jamey's comical 'In This Honkytonk,' a track he wrote and said Shooter Jennings' label wouldn't let record and Bob's 'Blue Clear Sky.'
"I'm as big a fan as anybody in this room. I just love hearing and seeing everybody play," Bob said before closing the show.
With another CMA Songwriter Series showcase on November 2, Nashville doesn't seem so far away for New Yorkers.