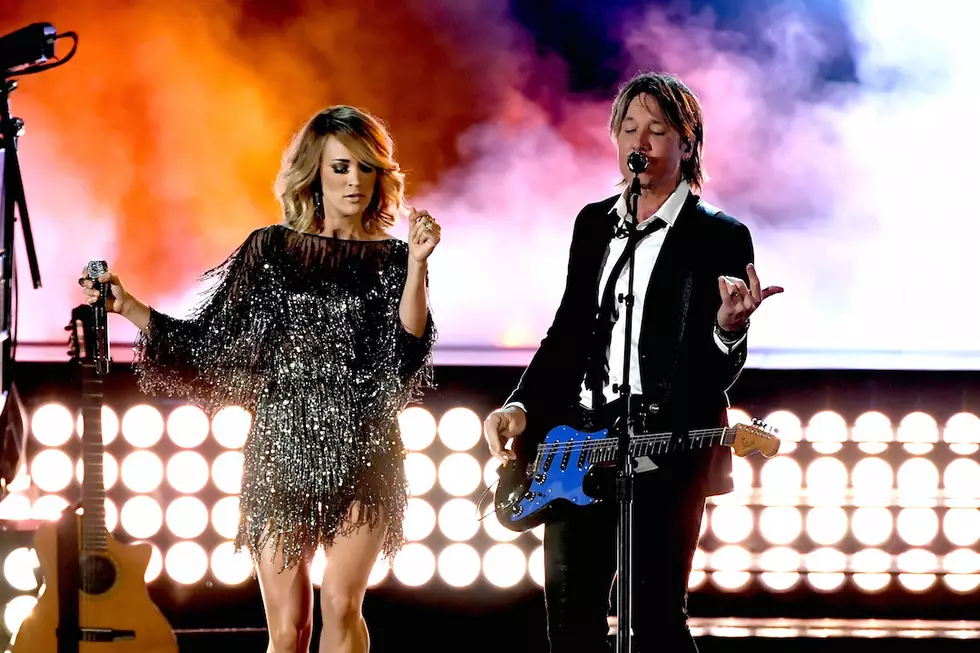 Keith Urban, Carrie Underwood Mash Up 'Blue Ain't Your Color', 'The Fighter' at 2017 ACM Awards
Ethan Miller, Getty Images
Channeling a similar vibe to that of the music video for his 2016 hit, Urban kicked things off with a simple and melancholy performance of "Blue Ain't Your Color." The lighting surrounding Urban during his performance practically made the singer look as though he was in black and white, but that didn't last long: Things got a whole lot brighter when he transitioned to "The Fighter," and the stage practically caught on fire when Underwood made her entrance. Also featuring the stellar dancers from the "The Fighter" video, Urban and Underwood managed to combine two very different songs with phenomenal results.
Urban wrote "The Fighter" with busbee. The song was inspired by the beginning of Urban's relationship with his now-wife, Nicole Kidman.
"That song, it just came out incredibly quick — probably the fastest song that I've written in a long, long time; the idea came very quickly," Urban says.
The addition of Underwood to "The Fighter" brings the song to a whole new level. Urban admits that he's "really happy" she wanted to team up for the track.
"I love her voice. She's really, really talented, and she's just really starting to discover what she can do as a singer ...," Urban tells The Boot. "It's pretty simple, too … It's not a traditional duet, where there's a lot for the girl to sing, but it's an important role in the song. It was written with that idea of a simple conversation, simplistic conversation, a very simple question-and-answer scenario in the chorus, which really appealed to me."
See Pics From 2017 ACM Awards Rehearsals, Pre-Show Interviews
How Well Do You Know the ACM Awards?