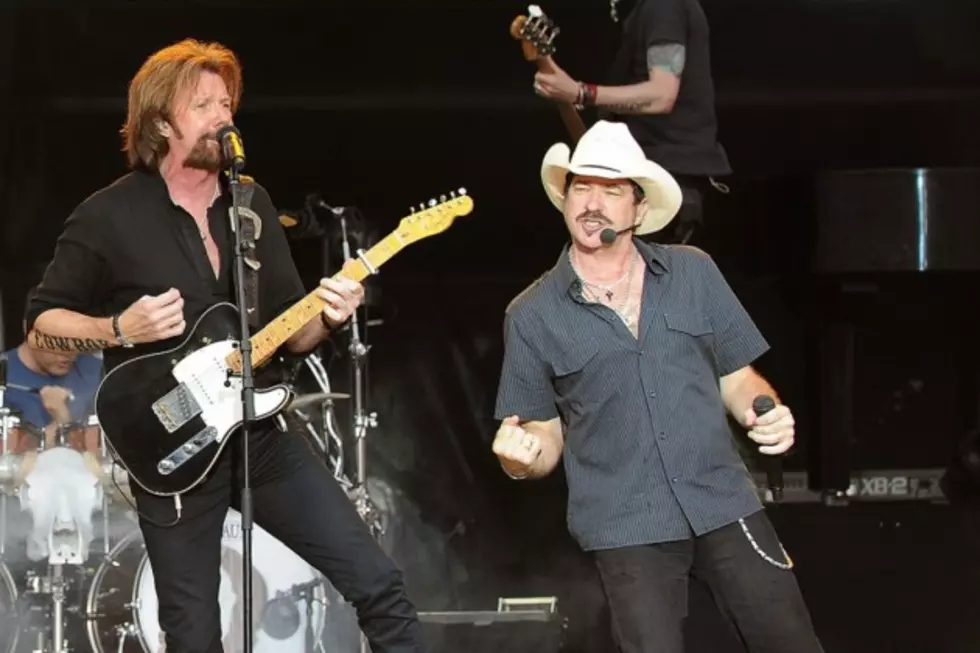 Brooks & Dunn Settle Rumors of Animosity
Rick Diamond, Getty Images
The breakup of Brooks & Dunn has been the source of much controversy and speculation in the years since the duo announced their split. Now, the pair is finally settling the score on where they stand.
When they first announced their decision to head in different directions, both Kix Brooks and Ronnie Dunn tried to be clear that there was no animosity between them. Still, rumors began to fly, and before long, some believed that the 20-year partners weren't on good terms. But with the announcement of their reunion dates in Las Vegas with Reba McEntire, they say that couldn't be farther from the truth.
"We've been going to dinners and going on vacations together, which is pretty amazing considering Ronnie and I hate each other and don't get along," Brooks jokes. "We love hanging out and playing music. We thought, let's do it somewhere besides the campfire."
That doesn't mean it's always easy to start working with someone you have so much history with -- and that's why they're happy that McEntire will be joining them.
"We needed a good referee," Brooks laughs. "[Reba] makes us both behave. It really is a great way for Ronnie and I to get back together. I think it's been a great break for both of us."
The duo maintains that their break from the industry had nothing to do with ill will toward each other.
"Certainly Ronnie and I always considered ourselves brothers more than friends," Brooks says. "We've never been afraid to express our differences of opinions to each other. We just hadn't swept a lot of stuff under the rug."
Adds Dunn, "There's never been hate or discord. We've never not been friends."
Now all three of the iconic country artists, who toured together in the '90s, have to face the job of putting together a show for Caesars Palace, which carries a lot of weight for everyone involved.
"This is the classiest way for us to come in and put a show together," McEntire says. "You can do things here that you can't do other places.
"It's going to be a challenge for us," she adds. "It's going to be the classiest, most entertaining emotional roller coaster we can put together."