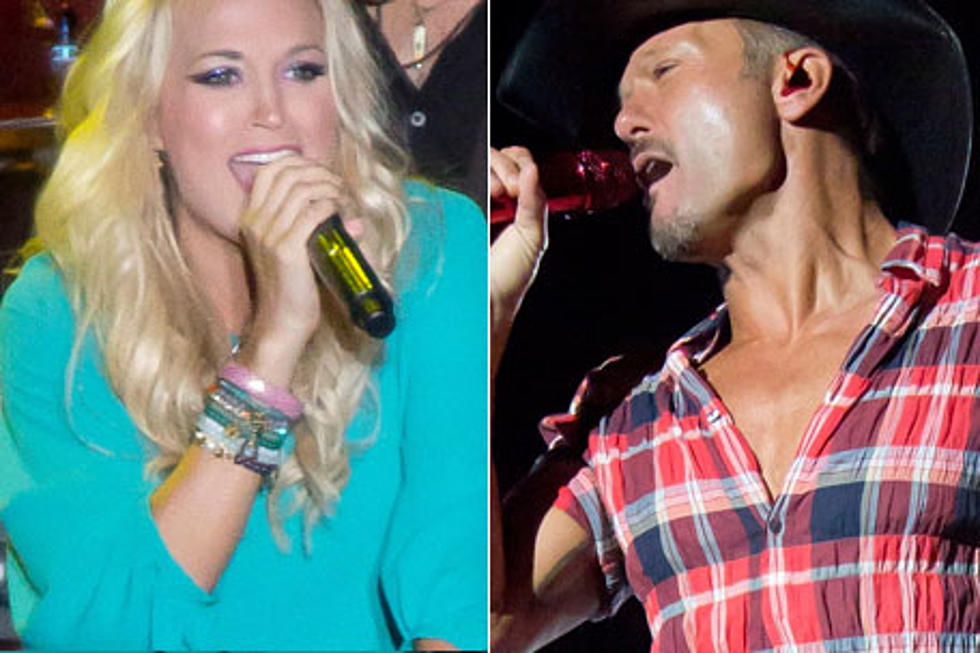 Boots & Hearts Festival Brings Muddy Country Fun to Canada
Scott Legato, Getty Images
Scott Legato, Getty Images
When organizers decided to name their annual country music and camping extravaganza Boots and Hearts, they likely had no idea just how much of both of those things it would take just to survive this past weekend's inaugural edition of the festival, headlined by Carrie Underwood, Tim McGraw and Kid Rock.
After two months of almost perfectly sunny and blisteringly hot weather, the heavens opened up over Bowmanville, Ontario's Canadian Tire Motorsport Park and poured biblical proportions of rain for three days straight. Thursday's (Aug. 9) downpour was so torrential that it flooded one of the main roads to the campsite and forced track staff to build a new road so that early-bird revelers could actually reach their campsites and start to prepare for the three solid days of country celebrations ahead. The weather didn't really let up until Sunday afternoon.
So boots, both cowboy and rubber, weren't just an appropriate fashion statement, they were a downright necessity for navigating the semi-flooded and muddy grounds. And heart was even more important, because the waves of wild weather, which only let up long enough to let your guard -- and maybe the hood of your poncho -- down, were so brutal that it could have broken many a fairweather fan and sent them packing for their warm and dry homes.
But the thousands of country music fanatics (organizers were hoping for up to 40,000 people, but the overflow of makeshift campgrounds and the absolutely packed main stage area would suggest their expectations were blown out of the water) who made the pilgrimage to see homegrown talent and international superstars alike were not easily deterred.
Friday kicked off on a relatively quiet note, as drizzle and downpour took turns drenching the afternoon crowds for Canadian acts such as Kira Isabella, the adorable and cover-happy Crystal Shawanda (who played a little something by everyone from Patsy Cline and Johnny Cash to Jessie J), and devout heartthrobs High Valley (who also jumped into the cover game with a Mennonite Low German take on the Backstreet Boys' "I Want it That Way"). Things picked up when the 9-to-5 crowd finished up at work and made their way to the park in time for a rambling and storytelling Kevin Costner and Modern West and a rain-soaked and boisterous set by Big & Rich. By the time Tim McGraw finally took the stage to treat the increasingly crowded hills and fields to a little "Truck Yeah," it was clear the festival was going to be an undeniable success. Rain or not.
Saturday continued in the same vein. Dismal weather was no match for sunny spirits during an afternoon of of music from Jason Jones, Shane Yellowbird, grunge rocker-turned-cowboy Dallas Smith (who did play one song from his old band, Default, during his set) and Phil Vassar. Sheryl Crow even gamely strutted up and down the main stage's long and uncovered catwalk, getting legitimately soaked as she sang "Soak Up the Sun." Old-school country rockers Alabama were particularly impressed by the intestinal fortitude of the crowd and delighted in the muddy mess their fans were kicking up as they played into yet another deluge of rain. American badass Kid Rock finished the night on a high note, working the crowd up into such a frenzy that they barely cared that they were soaked to the bone and getting cold -- or that Sheryl had already left, dashing everyone's hopes of seeing the pair do "Picture" together live.
Sunday's mainstage curtain jerkers Canaan Smith and Lauren Alaina and their faithful fans had to contend with the last showers of the weekend, but by the time Terri Clark took the stage and "Canadian Girls" singer Dean Brody followed her with a surprise acoustic set, the sun had finally arrived. Tragically Hip singer Gord Downie played his solo material with the Sadies backing him. Downie ran through a blistering set to an appreciative (and occasionally confused) crowd of Hip fans and rockers in the suddenly-searing sun. Paul Brandt enjoyed an equally summery time. Lionel Richie then brought the house down with a playful and cheeky set, inspiring the crowds of cowboys and girls to get down to "Brick House" and pretend to be Diana Ross during an "Endless Love" singalong. Carrie Underwood, praising the crowd for being such troopers all weekend, finished everything off with a rousing show that crammed every spare nook and cranny of the extensive grounds with absolutely enthralled fans.
Those fans deserved every bit of props they received from Carrie and her fellow performers. With all due respect to the artists on the stage, it was the population of Boots and Hearts' makeshift three-day village, packed with food stands, a ferris wheel, and tents and RVs as far as the eye could see, that truly made the festival thrive. At the risk of sounding like the most shameless, ripped-from-a-greeting-card country lyric, the people in attendance, with their boots and their hearts on display, were the real stars of the show.
Flip Through Photos of the 2012 Boots & Hearts Festival
%VIRTUAL-MultiGallery-162266|162164|161749|156190|159703|157115%