Vince Gill Talks Secret to a Happy Marriage They're music royalty in Nashville and seem to be the picture of marital bliss. Vince Gill and Amy Grant, longtime friends before they married in March 2000, certainly know the secret to a happy marriage and managing a blended family. (Theirs includes Vince's daughter Jenny with first wife Janis Gill, Amy's three children with first husband Gary Chapman: Matthew, Gloria and Sarah, and Vince and Amy's 8-year-old daughter Corinna.) When The Boot ran into Vince, sitting on a folding chair inside Studio A at the Grand Ole Opry, we asked him to share his insights on marriage and family.

If you could offer advice to a newlywed couple, what would it be?
I'd rather be forgiven than to be right. It's not that big a deal to be right. It took me a while to figure it out. Respect will go further than anything you can ever do.
What advice would you give to the millions of blended families?
Just be patient. Really pick your battles. Let the little stuff go. And with the kids, as an adult you have to let them come in their own time. You can't go try to be Mr. Wonderful. They'll spot you if you're a phony. I told Amy that these kids are going to see how I treat you, they're going to see how much I love you and how much I care for you. That's what their opinion of me is going to be. I just stayed the course and they all came in their own time. Some took longer than others, but I think really healthy relationships -- are they perfect? Probably not, but under the circumstances they're pretty darn great.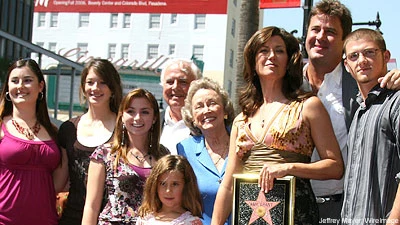 Would you and Amy ever agree to do a reality show about your home life?
Of course not! [laughs] The truth is there's nothing reality about them. Once you put a camera in the room, everybody acts differently. I don't care what you say, once a camera shows up, you perform for it. Somebody's watching and now it's not normal anymore. But it's so weird. It's the same in the studio. Everybody can sit and play, and there's a freedom when it's not being recorded. But once everybody says, 'OK, we're going in to record, try it again,' there's this little ounce of difference that there's somebody listening now, there's the pressure. You know what it is to me? It's an element of it that we're more interested in the worst in people.

Do you think marriage should be forever?
I think it should. Unfortunately sometimes it just doesn't work out. You can't un-ring the bell, so to speak. It's hard to know at 22 what you're going to feel like at 42 -- what life's going to do to you over the years. It's unfortunate they can't all last forever but it happens, and I'm a result of one of those and my life is a lot better.