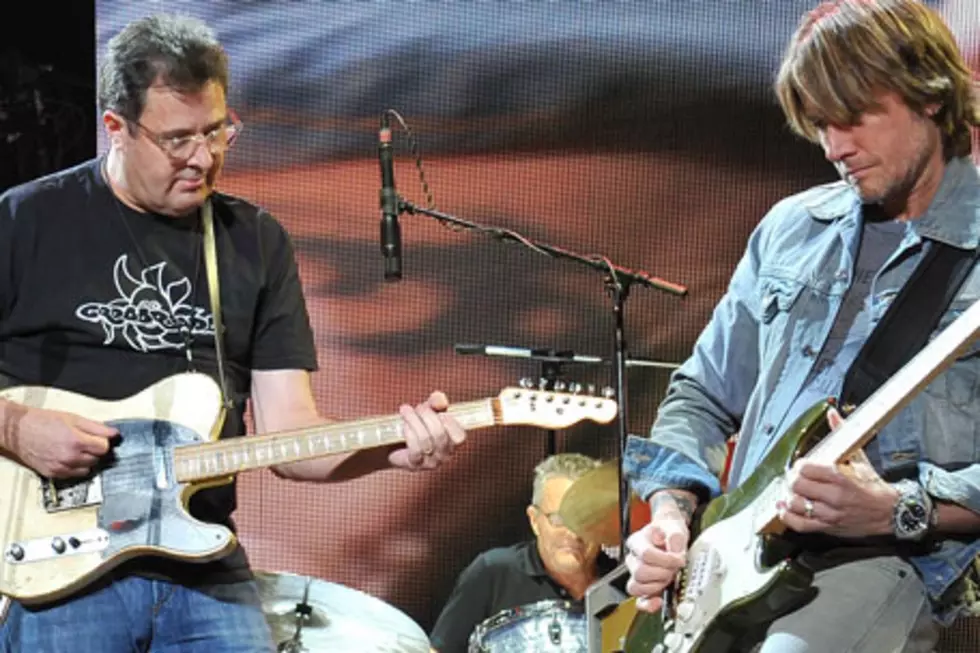 Vince Gill Gives Props to Keith Urban, Reflects on Hall of Fame Prestige
Larry Busacca, Getty Images
The 4th Annual We're All for the Hall concert, which happens tonight (April 16) at Nashville's Bridgestone Arena, has already raised more than $1.5 million for the Country Music Hall of Fame and Museum. And although the idea to have some of country music's biggest stars and living legends perform to raise money for the educational building began with Vince Gill, the singer-songwriter believes all the credit for the show's success goes to the evening's host, Keith Urban, who has worked tirelessly each year to make the event a success.
"Keith deserves the biggest pat on the back. He's the one that does all the inviting," Vince tells The Boot. "Keith caught it. He really understood it and got the message and the spirit behind it. With that, he came to the table in a big way. Bigger than anybody else. What he's accomplished over the last four years has been pretty remarkable. The people he's invited to be a part of this ... look at the cast of characters that have been here the last four years and it's pretty mind-boggling. That's the power of someone like Keith. He wields a big stick, because he's so popular and doing so well, that when he asks, people want to go, 'Yeah, I'll come and help you out.' He really deserves the lion's share of the credit. Not me."
The money raised for the Country Music Hall of Fame and Museum has helped fund several exhibits and projects, including allowing thousands of Nashville students to visit the museum each year. For Vince, that's why the show's mission is so important.
"That's where I first learned about music, as a little kid, first grade or second grade," he recalls. "They took us to town to hear the symphony play. I hope they do the same thing at the Schermerhorn [Symphony Center in Nashville], inspiring the creative side of our brains. It's now proven that people that are the most well-rounded and most normal ... are people that stimulate both sides of their brains. You've seen over the years with the economics of school and education, they have to make cuts. The arts and music and things like that are generally the first things to go. Any time you have the opportunity to see that light go off in a kid, it's the greatest thing in the world. It went off for me because somebody played and I went to hear it. Same thing for Keith. Somebody played it and he heard it and he was inspired. For some people that are of creative minds, that's what opens their heart and soul to the possibility of being inspired to want to do something."
Vince became an official member of the Country Music Hall of Fame in 2007, but admits he still has mixed feelings about his own induction. "They had put in a new rule that your career didn't have to start before 1975," he explains, adding that Alabama and George Strait preceded him after the rule changed. "I knew there would be a lot of people who would go, 'He's too young. He doesn't deserve to be in there,' and that bothered me. Not because I didn't think I deserved it, but that they might say that, would be pretty crushing. I did hear it from some people. They don't know it, but I did."
While Vince may have encountered some negativity after receiving the prestigious honor, he maintains he worked hard to earn his place in country music history. "I look back at my career, and I can, with a straight face, say, I don't see why I shouldn't [be a member]," he notes. "I kind of felt like I went in there as more of a different category, because I sang on hundreds and hundreds and hundreds of people's records, and played on hundreds of people's records, since the '70s. And I did make my first record, before 1975, so I guess I was legitimately eligible."
Still, while Vince defends his rightful place, he does have one regret about the experience. "One of the biggest issues for me was Emmylou [Harris] going in after me," he acknowledges. "That bothered me. I had a great career, and maybe even a bigger impact than Emmylou, in charts and hits and whatever you want to size it all up. But she was my hero. I said, 'She should be in there before me, by a mile.' There were a few people that I thought deserved to go in before me. But I had nothing to do with it, so I smiled and said, 'Thank you.'"