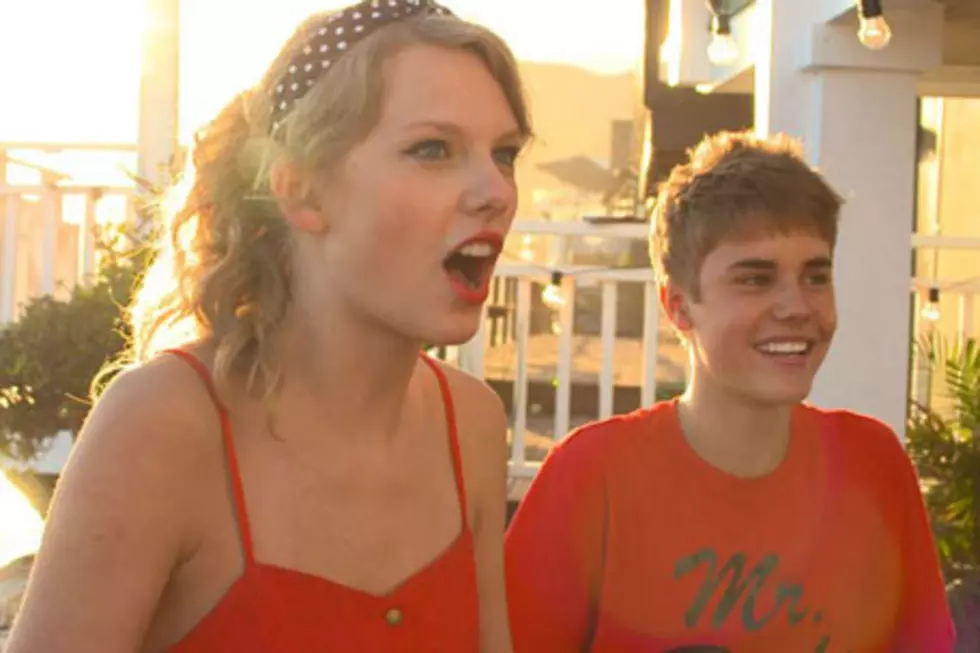 Taylor Swift, 'Punk'd': Justin Bieber Doesn't Have to Worry About Retaliation
bauergriffinonline.com
In country music, there is a tradition of pulling pranks on tours, and more importantly, getting people back after they've gotten you. However, Taylor Swift, who was the subject of Justin Bieber's shenanigans on MTV's "Punk'd," says the pop singer has no need to look over his shoulder.
"No, I'm not gonna do that to somebody!" she told CMT Insider (quote via MTV), when they asked if she'd flour-bomb him. "I love Justin. I would never do that to him, and I'm not really that girl that's like, 'I'm gonna get him! I'm gonna get him back!' ... He's too smart. I'd never be able to punk him. He'd figure it out, then turn the tables on me and then it would be Justin: two, Taylor: zero."
In the episode, the Canadian pop prince fakes a songwriting session at a beachside home in southern California to get Taylor to come write with him. Taking a break from their music, he convinces her to check out some Japanese fireworks. Although, as things tend to do on these shows, it goes horribly wrong.
The fireworks shoot out into the ocean, hitting a boat, on which a "wedding" is taking place. The bride, groom and guests -- all actors -- are forced to swim to shore, where they confront Taylor. "Thanks for ruining the best day of my life!" the "groom" says to the songstress in the second video below.
Apparently, even the First Family caught the hijinks. Taylor saw Sasha and Malia at the Kids' Choice Awards, and it was among the things they discussed. "They told me they saw the 'Punk'd' episode, so now I know they've seen me absolutely traumatized and terrified, so that was good," she jokes.
Watch a Preview of Punk'd
Watch Justin Bieber at a Taylor Swift Concert

#fivemin-widget-blogsmith-image-877893{display:none;} .cke_show_borders #fivemin-widget-blogsmith-image-877893, #postcontentcontainer #fivemin-widget-blogsmith-image-877893{width:570px;height:411px;display:block;}