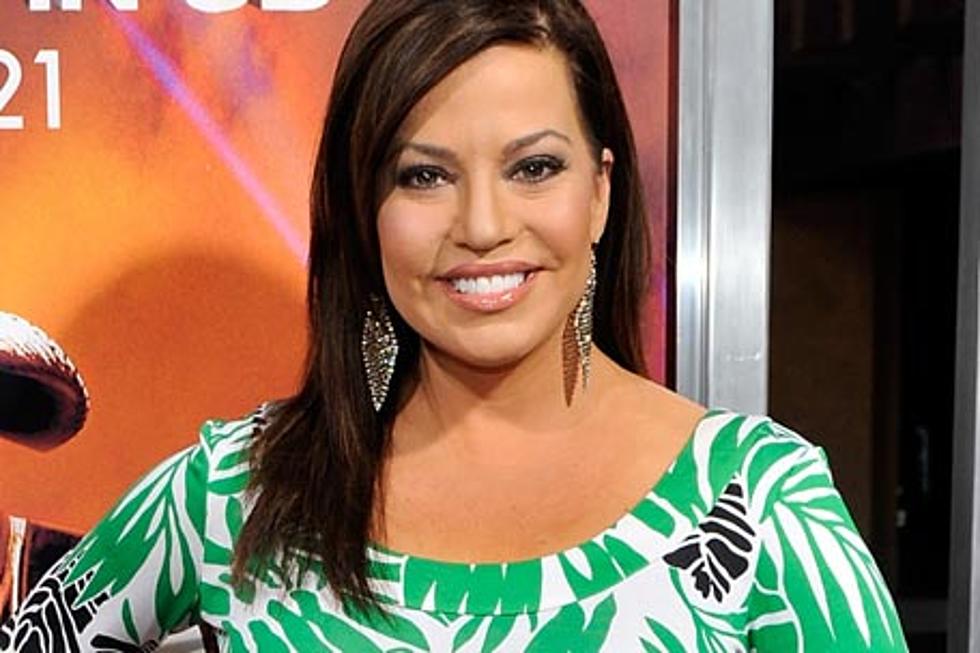 Robin Meade Takes 'Express' Train to Country Stardom
David Becker, Getty Images
Robin Meade jokes that she has a lot more viewers these days, now that several soap operas have been canceled. After all, 'Morning Express With Robin Meade' on the HLN network has lately been filled with real-life soap operas like the Casey Anthony trial, Anthony Weiner scandal and Arnold Schwarzenegger affair. But no matter how depressing the stories she's reporting, the Emmy-winning newscaster begins every show with, "Morning, sunshine!"
It's that signature sunny disposition that makes the Ohio native stand out amongst her broadcasting peers and also steers her writing style. And not just newswriting, but also her newfound talent, songwriting.
The daughter of a preacher, Robin grew up singing in church. As 1992's Miss Ohio, she sang her way into the Top 10 in the Miss America pageant. But it was her other love, journalism, that prevailed in the brunette beauty's career conquests. After working as a TV news reporter for local stations in Ohio, Florida and Illinois, Robin landed an anchor gig with HLN (a sister station to CNN) and has since become one of the network's most beloved personalities.
It was a chance meeting with one of her musical heroes that led Robin to not only revisit her musical roots but also learn how to craft a song. Once she learned, she was on a roll. She wrote so many songs, enlisting the help of famous friends including Kix Brooks, Sarah Buxton and John Rich, that she had enough to make an entire album. The result is the aptly-titled 'Brand New Day,' the news anchor's debut country project, with tracks that balance her cheery outlook with the dramatic realities she reports on television every day.
The Boot talked to Robin about her first foray into country, why she almost quit her day job (but not for music) and why she pokes fun of said day job in one of her songs. Plus, she shares two of our favorite tracks from the project for you to listen to below.
You're known for telling other people's stories, but this album is a big exposure of who you are. What's it like revealing yourself to your fans in a way you never have before?
I was really looking forward to showing the creative, musical side of me. Some people who know me really well know that I've been a singer all my life. But I wanted to share this with people who watch me everyday and also new viewers, or rather new fans. It's funny, because in the music business you call them 'fans,' but in the news biz you call them 'viewers.' I've had to make that transition!
I've been chomping at the bit to put the music out there and get people's feedback. Because I had a hand in co-writing about half of the tunes on this album, I wanted people to find something in each song that meant something to them. So it wasn't just about me, it's about them and how can I transport them emotionally through the lyrics I've written.
Being a storyteller by trade, is that why you gravitated towards the country genre?
I didn't grow up listening to country. But I do remember the moment that I said, "Wow, I love this country music! I'm going to listen to this now." It was back in 1993 and it was a Mary Chapin Carpenter CD. I'd been asked to sing 'I Feel Lucky,' and that was her big hit at the time. So I listened to the entire CD and fell in love with her storytelling and songwriting, not to mention her beautiful voice. That was the start of my love of country music.
As a journalist, it's my job to tell a story about people's lives -- their triumphs and their losses. Music is another kind of writing, but it's still storytelling. So it's journalism, too, just in a musical form. You're still talking about the human condition.
When did you start songwriting?
It wasn't until I encountered Victoria Shaw, who produced this album. Victoria was judging 'The Next GAC Star,' a competition show, and I had been asked to guest-host it. I recognized her name immediately, because I had read the liner notes to the first Lady Antebellum album. I said to my husband, "I want to work with her someday! She's a fabulous writer and a Nashville heavy-hitter." And lo and behold, here I was guest-hosting 'The Next GAC Star,' and she was a judge! So I asked her, "I really want to learn how to write songs. Would you help me?" She probably thought it was just one song, so she said yes! [laughs] But we kept getting together to write, and I'd drive in from Atlanta on weekends and vacations to write with her. Sometimes she'd bring in her friends, like Gary Burr, a Hall of Famer. Or I'd bring in my friends, like John Rich and Billy Dean. Before we knew it, we had a project going. It wasn't just "Robin wants to learn how to write country songs."
Victoria says I stalked her. [laughs] But I say I got her to drink the Kool-Aid. When she said yes to helping me write songs, she didn't know we were going for a full album!
One of the songs you and Victoria wrote with John Rich is 'Put My High Heels On.' What was the inspiration behind it?
We wanted to write a song about what women go through every morning. I thought, "I can't be alone in that when I wake up in the morning, I'd rather go back to bed. I can't be alone in the fact that nothing in the closet is speaking to me. I can't be alone in dreading the drive to work. And I certainly can't be alone in that when I put my high heel shoes on, I'm ready to kick some major arse!" That was the inspiration -- my own routine, and probably a lot of other women's routine.
Listen to 'Put My High Heels On'
You cover the Don Henley song, 'Dirty Laundry,' which pokes fun at newscasters. A lot of people are talking about the irony in that!
I wanted 'Put My High Heels On' to be the first single, especially since I co-wrote it and I want to tell stories about people through my music. But then Big D & Bubba, a syndicated radio team, and Blair Garner ['After MidNite With Blair Garner'] and a few other interviewers ... all they could talk about was 'Dirty Laundry'! Both of those shows told me, "No, no, no, you need to put out 'Dirty Laundry,' since it's so surprising that you did that." I always wanted to do a remake of the song, even back in junior high school when I didn't know I was going to go on to be a newscaster. Now, it's a tongue-in-cheek way of looking at what I do for a living. Some people come to Nashville after making a name for themselves elsewhere, and it's almost like they disown [their past profession]. It's like, "Oh no, I'm not a world-famous actor. I'm only a musician." I wanted to be different and say, "Yes, I am a news anchor, but I want to do music at the same time."

So are you looking at music as more of a second job or as a hobby that you've finally made time to do?
I don't want to call it a "hobby," it's more of a passion. It used to be that you only did one thing -- you were a singer, or a school teacher or a journalist. And that was the only way you were allowed to present yourself to the world. But in today's world where we have Twitter and social networking, we get to see 360 degrees of each other. People get that you're more than just a journalist, you have other things you can do, too! It's like when you were in junior high school and you saw your teacher out of the classroom for the first time, and maybe she was in sweats at the grocery store. You're like, "What?! You're not allowed to wear sweats!" But in today's world, we see each other in many different angles of life and you can do more than one thing and still do them well. That's what I intend to do with music. It's not a one-off. There are already plans for a second album.
Really? Your album hasn't even been in stores a month, and you're already working on its follow-up?
We have it in the planning stages already, and we have a concept. I don't want every album to be the same.
I was flipping between HLN and CNN this morning, and CNN had a graphics crawl that said "HLN anchor Robin Meade releases debut country album." Is it safe to assume the network has been hugely supportive of your musical endeavor?
[gasps] A crawl, really? Oh my gosh, I didn't know that! I have the most supportive colleagues and workplace when it comes to this project. My bosses know that a lot of people watch me in the morning, but for the ones that don't, maybe they'll hear my music and then come sample my news, as well. The more platforms you're on, the better it is. So, widely, my bosses have been very supportive. They know music makes me happy, and it's important to have a happy anchor! They've been great about it, and I'm very appreciative.
I know your husband has been a big source of support, as well. How are you juggling news, music and family?
We've been married 18 years, and I've always been doing morning shows. We joke that we have a great marriage because we don't see each other very often. I go to bed around 6:30 or 7:00 PM and get up at 2:30 AM, and he doesn't get home until past 8:00 PM and then I'm gone when he gets up. So we only see each other Friday nights, Saturday and half of Sunday. But that makes for a great situation when we do see each other: "Yea! It's so great to see you. How was your week?" ... as opposed to "Get out of my face!" [laughs] He's been so supportive of both news and music.
There is so much positivity on this album. What's the significance of its title, 'Brand New Day'?
If people watch me in the morning, they know that I take it seriously that it's my job to get you emotionally ready for the day. So I have what I call the 'Cereal Test' on stories. If you're sitting there eating your breakfast and the story is going to make you want to spit out your food, then I'm not going to write it! Or I'm at least not going to include the details of horrible murders and such. We can just say it happened; we don't need the gory details. I feel like your emotional guardian, and I wanted this album to reflect this same thing that people already know me for. I didn't want to surprise someone with a song about something like me on a bar dancing naked or something. [laughs] Let's stick to what people know me for!
But so much news is bad news. Now that you've had musical success, you haven't had the slightest inclination to make music your full-time job and leave the Casey Anthonys of the world behind?
No, I would never want to leave news because of the types of stories that are told. But that's not to say I have never wanted to quit my job. Back when I was a local news anchor in Chicago, I wanted to quit because I was having panic attacks on the air. I thought I'd lost my ability to speak publicly in front of people. The panic attacks came because I was at that stage in my career where I wanted to be the perfect news anchor and never mess up, read like a robot. I felt like I was filling other bosses' prescriptions of what the perfect news anchor was, but in so doing, I had lost my authentic self -- which is what people are attracted to! So it manifested in my body in the form of panic attacks. My body was probably saying, "This is not the real you! I will be heard!" I wanted to leave news at that point, but not because I hated news itself.
How do you find music helps you calm your nerves?
Music has so much healing power. I used to hum on the way up to the news desk when I was in the middle of a panic attack. It's awfully hard to have a panic attack if you're singing, "I'm walking on sunshine!"
What song was running through your mind when you played the Opry for the first time?
I didn't want to think about the music so much that I didn't live in the moment. I wanted to just appreciate the moment, really soak it in. I shuffled around the stage, because I thought, "I am bound and determined to hit a spot on this stage where Patsy Cline once stood! If I move around this stage enough ... " [laughs] I sang a song called 'Welcome Home,' which was for the troops and the Veterans who were in the audience that night. They gave me a standing ovation, and I'll never forget that. Now, that was probably for the song and not necessarily for me, but getting a standing ovation on the Grand Ole Opry ... I just stood there in awe.