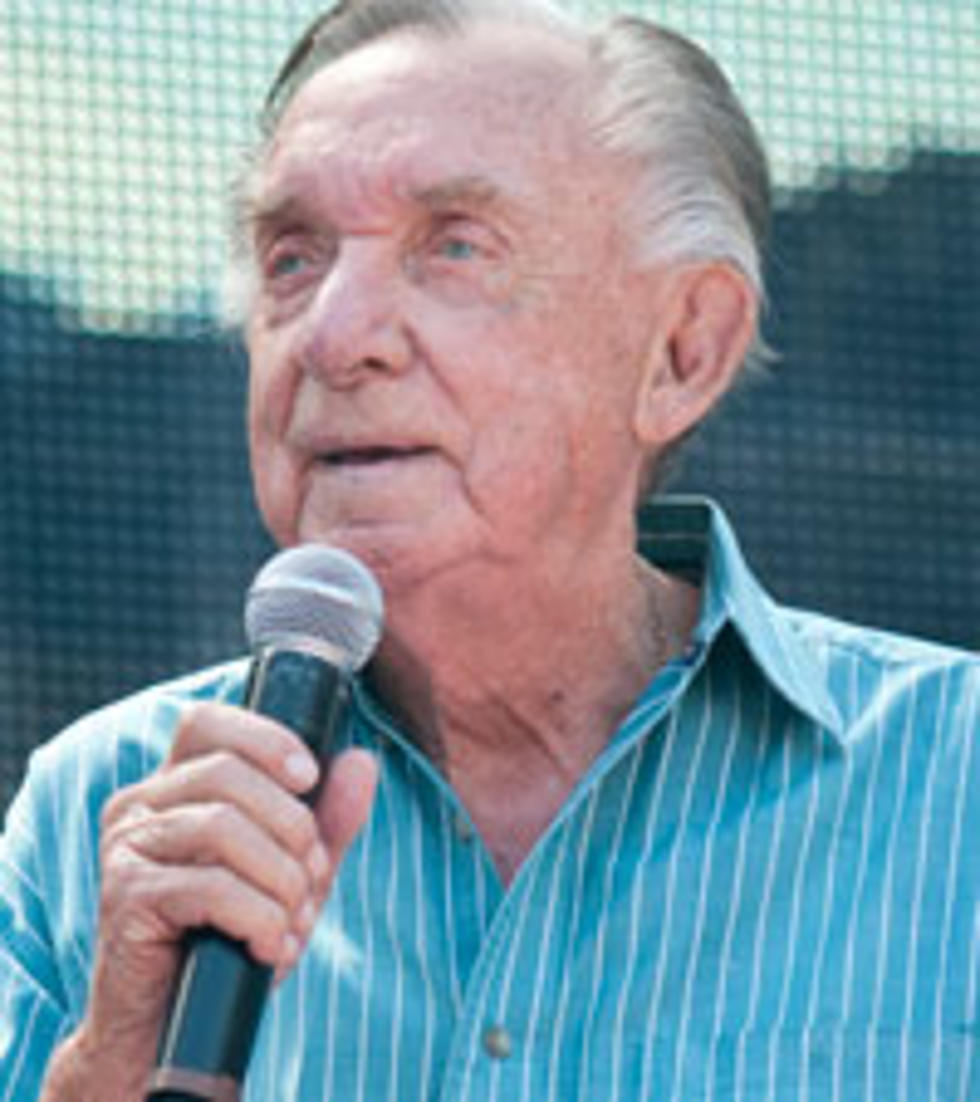 Ray Price Cancer Free; Phil Vassar's 'Love Is Alive' + More: Country Music News Roundup
Ebet Roberts, Redferns
Ebet Roberts, Redferns
The Boot rounds up today's country music news from around the web.
Ray Price is happy to report that his cancer is in remission! The 87-year-old country legend was diagnosed with pancreatic cancer last year, and after six months of chemotherapy is now cancer-free. The "Heartaches by the Number" singer hopes to go back on tour as soon as he completes physical rehabilitation to regain muscle strength. This was Ray's second cancer scare. In 2009, he underwent surgery to remove polyps from his colon. [Examiner]
Nashville's Country Music Hall of Fame and Museum is proud to feature a new exhibition called "Carrie Underwood: The Blown Away Tour," running from June 5 through Nov. 10, 2013. The exhibition will include pieces from the set of the country superstar's critically-acclaimed tour, along with costumes, instruments, microphones and more. The 2012 leg of the Blown Away tour, also featuring Hunter Hayes, entertained an audience of more than a half a million fans in 62 cities.
Chris Young will join Katie Couric on her daytime talk show, "Katie," tomorrow (Wednesday, Feb. 13). Chris joins a guest lineup that includes country superstar Reba McEntire and "Nashville" star Connie Britton. During his appearance, Chris will reportedly share a surprising secret with the show's host. He'll also perform his latest hit, "I Can Take It From There." The following day, Valentine's Day, the singer hosts a Livestream event from 5:30-6:30 PM ET, during which he'll serenade fans and also host a Q&A session. Click here for details.
Legendary Nashville honky-tonk Tootsie's Orchid Lounge will celebrate its 53rd birthday on Nov. 21, 2013, with a street party in downtown Music City. Hosted by GAC's Storme Warren, the event will kick off festivities to honor and celebrate another country legend, George Jones, whose final Nashville concert will take place the following evening, Nov. 22 at Bridgestone Arena. Tootsie's Orchid Lounge will extend their annual Birthday Bash to a two-day event with entertainment on the outdoor Broadway stage taking place on both nights.
The Key West Songwriters Festival presented by BMI and the Smokin' Tuna Saloon, is set for May 1-5. A destination for fans of some of the finest country and pop songwriters for 18 consecutive years, this year's event will feature country tunesmiths Jeffrey Steele, Paul Overstreet, Bob DiPiero, Lori McKenna, Bobby Pinson, Chuck Cannon, Keith Stegall, Liz Rose, Paul Jenkins, James Slater, Doug Johnson and Even Stevens and many more. Visit Key West Songwriters Festival for more information.
Phil Vassar's latest single, "Love Is Alive," has been released. The tune was co-written with Tom Douglas, whose credits include Miranda Lambert's multi-award-winning "The House That Built Me." "Tom and I had a blast writing this song," says Phil, who is finishing a full album, due for release later this year. "The message is really simple and crowds have really been getting into this song everywhere we play it." To listen to the new single, click here.
See Photos From Carrie's Blown Away Tour
%VIRTUAL-MultiGallery-166403|178466|176224%