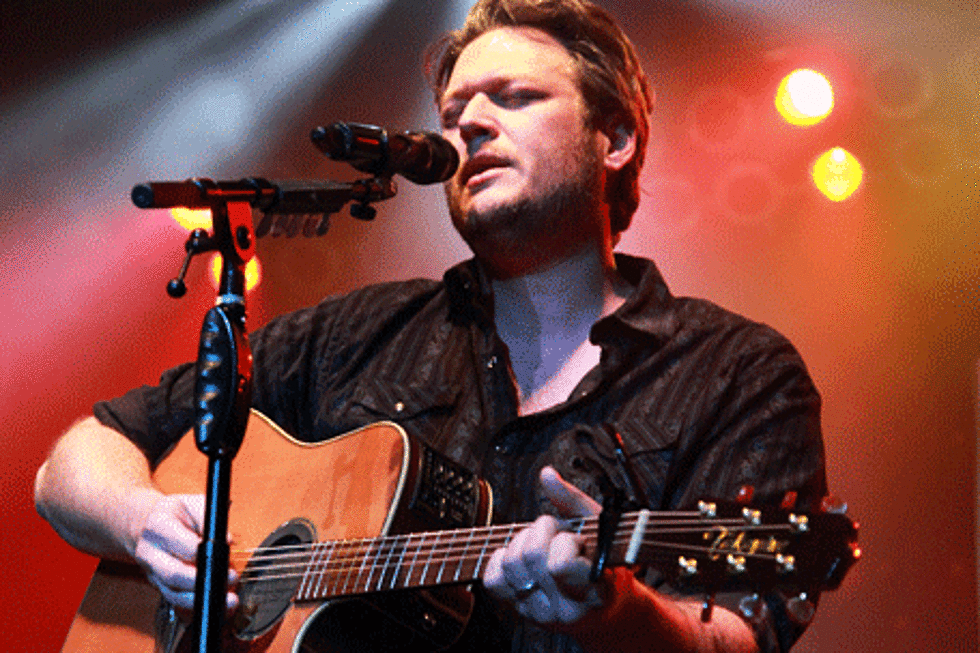 Nash Bash Brings Country to the Big City
Taylor Hill, Getty Images
After an absence of 17 years, country radio has returned to New York City. And what better way to celebrate than a three-day concert with some of country music's biggest acts?
Monday night (Feb. 18), Kix Brooks kicked off the celebration of New York's new country station Nash FM 94.7 with a stripped-down set of popular Brooks & Dunn hits, as well as songs of his own. Also the night's host, the "Moonshine Road" singer was happy to start the party. "Hell, yeah! I smell some badass New York partying coming on tonight," said a beaming Kix from the stage. "Coming from Louisiana, I thought all the good country music was down South but I'm wrong."
He wasn't the only one eager to begin the night. Hundreds of country music fans attended the Nash Bash at Manhattan's Roseland Ballroom. They went wild when headliner Blake Shelton called an unexpected guest onstage.
"I write songs. I don't always record songs that I write though," Blake told the crowd. Alluding to his CMA Song of the Year, "Over You," Blake hinted at his big surprise.
"I didn't actually record the song myself but I thought it'd be nice for the singer to come out if it's OK," he added as Miranda Lambert walked onstage.
The Ballroom erupted into deafening screams as the singer's wife joined him on the tearjerking song. Blake sat mid-stage on his stool and strummed his acoustic guitar while Miranda took the mic. As the song came to a close and Blake kissed her on the cheek, his wife expressed her delight that country music has come back to New York.
"We now have country music in New York! I love it!" she said.
Blake agreed. "So I talked Miranda into singing one more song with me because I like singing with my wife," he said. "This is a brand new song I have out."
With beautiful harmonies on "Sure Be Cool If You Did," Miranda brought out a new side to the song that fans were more than happy to hear.
Earlier in the night, Dustin Lynch, Lonestar and Randy Houser also took the stage for 20 minute sets. Each performed a slew of their hits as the crowd sang along.
"How many of y'all ever been on top of a tractor?" Dustin asked the crowd before he segued into "Crank My Tractor." While the energetic track impressed, it was the poignant "Cowboys and Angels" that captivated.
"My whole life changed this past year because of this song," he said. "I grew up as a songwriter behind the Bluebird Café in Nashville. You see all these bumper stickers that say, 'It all begins with a song' and it's true. I wrote this song about my grandparents. A true cowboy and angel."
Meanwhile, Lonestar played hit after hit and transformed Roseland Ballroom into their own living room with their acoustic set.
"We're honored to be a part of history," frontman Richie McDonald said. "New York is one of my favorite places in the world."
"Besides being one of the writers of 'Honky Tonk Badonkadonk,' this guy is one of the greatest natural born singers we've got in Nashville, Tennessee," Kix said upon introducing Randy Houser.
Performing his novelty song made famous by Trace Adkins, Randy had the room singing and dancing along.
"It's about damn time New York City had a country radio station! I had the incredible honor of being the first song ever played on Nash FM," he said before he began his No. 1 single "How Country Feels."
It may have been 17 years since the Big Apple had country blasting from its airwaves, but from Nash FM's kickoff concert Monday night you'd never know it. New York country fans proved that they know exactly how country feels.