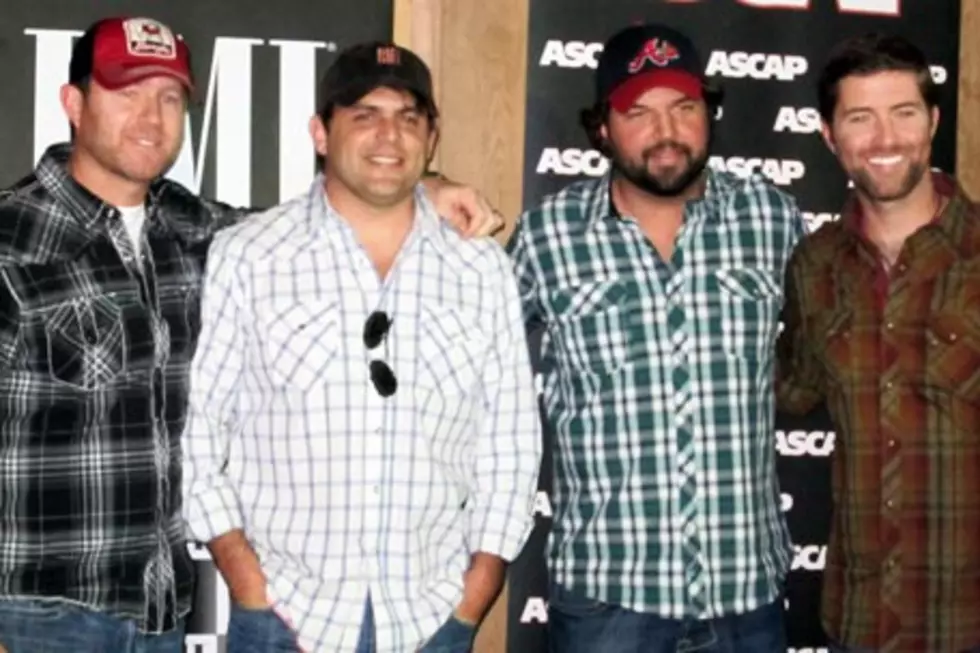 Josh Turner and Friends Celebrate 'Over' His No. 1 Song
Alanna Conaway
Josh Turner celebrated his second chart-topping single of the year, 'All Over Me,' on Tuesday, November 2 at Rooster's Texas Style BBQ and Steakhouse in Nashville. The room was filled with friends, family and supporters, including Josh's pregnant wife Jennifer, Jamey Johnson, Bobby Pinson, and of course the men responsible for the song, writers Ben Hayslip, Rhett Akins and Dallas Davidson (pictured above with Josh).
"Most everybody in this room played a part in getting us here today, especially these three guys behind me who wrote the song, because that's where it all starts," Josh said following the handing out of plaques presented by BMI, ASCAP, the CMA and other organizations. "I knew from the very first time [I heard the song] that it had potential. I really felt like it could be a hit, and I always love when I'm right!"
After thanking the key people in his career, Josh turned back to the song's writers who are known around town as the Peach Pickers (as they all hail from the State of Georgia) to acknowledge them once again. "I've been thinking for a while of what I can give you guys. I knew you guys were going to get a lot of plaques today, so I wanted to get y'all something that related to the song. Right before the first chorus [of the song], it talks about grabbing your shades and your string bikini, and I couldn't find any Coppertone 45, so I got Neutrogena 45."
The room filled with laughter as Josh handed out the items to Rhett, Dallas and Ben as they posed wearing their new shades and held up their T-shirts of a woman wearing a bikini. "I figured you guys didn't have any of those kinds of T-shirts," Josh said with a laugh. "They came all the way from South Carolina. They make that there; I'm ashamed to say that."
Ben took the mic next, expressing his gratitude for the support he's received from Nashville and his unique writing relationship with Rhett and Dallas. "Rhett and I grew up together. We wrote our first song together when we were like 14 years old. It was the Beastie Boys before there was the Beastie Boys," Ben joked. "We were pretty dadgum good! We wrote rap songs, and then we moved here and Rhett got a record deal. We started writing and stayed together. About five or six years ago, he kept talking about this guy named Dallas, and I kept hearing the songs they were writing together. I was thinking, 'This guy just moved to town; he can't be this good!' We all got together, and I not only saw how good Dallas was, but how good we are together. We consider ourselves spokesmen for the real way of living. I'm very thankful for my fellow Peach Pickers."
"To be able to do this for a living, we are truly blessed," added Dallas, who has been responsible for five chart-topping songs in a record-breaking 217 days. "I want to thank my Peach Picker buddies here. I've said this before, but not only do they bring out the best in me as a writer, but also as a man. It's a series of miracles to have a No. 1 song. I've been stuck at No. 2 a couple of times, and to get there, I know how much hard work you do. Thank y'all for actually getting it up there."
"Dallas has written five [No. 1] songs in 217 days, and I've written five No. 1 songs in 10,735 days," Rhett quipped as he took the podium last. "But I'm still here in this town because I've written with all you people. All I've ever wanted to do is write songs and sing songs, so thank you to everybody in this room who I've written with and people who I've canceled or people who have canceled on me. I've learned something from all of you, but mainly I want to thank Ben and Dallas.
"I remember praying one night," Rhett continued. "I was like, 'God, I want to find somebody or a group of people that I just write songs with and we click.' I don't know how long it took for my prayer to be answered, but it wasn't long. Me, Dallas and Ben pretty much began clicking right off the bat."
Rhett had double the reason to celebrate Tuesday, as his 20-year-old son Thomas Rhett became an official songwriter with the release of Jason Aldean's fourth album, which includes a song penned by the young Akins. "It's pretty cool to have a No. 1 party and your son have his first cut with a big artist like that on the same day," Rhett said proudly. "It's a good day."