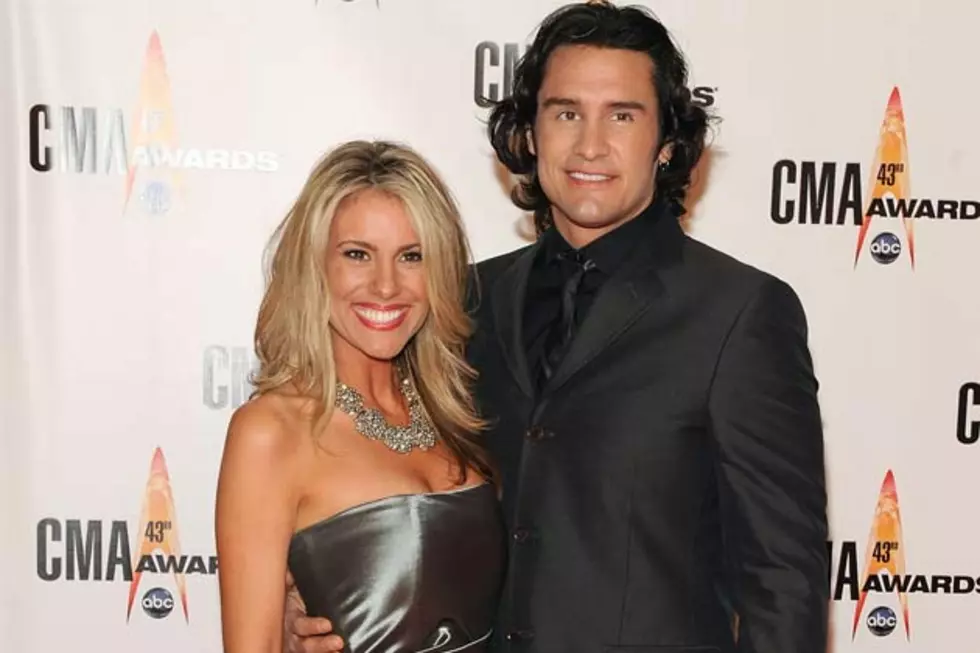 Joe Nichols, 'The View': Singer and Wife Heather Share Baby Joys and Challenges
Frederick Breedon, Getty Images
Joe Nichols and his wife, Heather, struggled through several years of infertility before they welcomed baby girl Dylan River Nichols on April 17. The couple sat down with the ladies of ABC's "The View" to talk about their unimaginable low points -- and how excited they were to finally have their baby in their arms.
"The first thing I went through in the delivery room when she came out, the first time I saw her, it was just amazing, the joy," the proud dad gushed. "I've heard everyone talk about the delivery room experience is tremendous and overwhelming joy, but that's the first thing I thought of. This is the most exciting moment of my life. I looked at Heather, and she couldn't see past the curtain, but I could see her crying and her face was just exploding with joy. I cried like a little girl, and I made a fool of myself in the delivery room, but they said it wasn't the first time."
Heather, sporting skinny jeans and stiletto heels while holding their adorable infant, talked about overcoming an auto-immune condition which contributed to her multiple miscarriages. "It's like my body was allergic to babies, really," she explained. "Every time I would get pregnant, it would immediately start fighting the pregnancy. Through various different ways, my body will do that. My body would treat the baby as if it was a cold or a virus."
Thankfully, the tenacious couple never gave up on their dream of becoming parents, and ultimately found a cure for Heather's illness, seeing a series of six specialists to find out more information.
"Each pregnancy we learned more and more what was happening," Heather recalled. "At first, after the second pregnancy, I thought, OK, something is up. This is not just the one in four women who will have a miscarriage. There's something going on. Obviously after the third one, I know something is happening. But everyone kept telling me, 'you're young and you're healthy and there's nothing wrong.' Normal tests would come back normal, but in fact there were a lot of things that were wrong with me."
Flip Through Photos of New Moms in Music
%VIRTUAL-MultiGallery-153098|155241|135336|145605|140553|138856|136853|135336%
While the hopeful mom's struggle was difficult, it also took a toll on her doting husband.
"For me, just standing back, watching her be the toughest person I've ever met in my life, going through these treatments -- we're talking about a physical regimen that seemed to me impossible," noted Joe. "I know, for me, I couldn't do it. So I've got that much more appreciation and respect for her, because she's extremely tough."
The Arkansas native, who is already a father to 13-year-old daughter Ashelyn (from a previous relationship), tried to be strong for his wife. "Every time I had the feeling of this is not fair, I said, 'God I can only imagine, I'm not even close to the feelings she must be having," the 35-year-old explained. "To hear the questions come from her, like once she starts asking about herself and questioning, 'What is my purpose in life if I can't have children?' Those things just shook me, because that's just not who she is. She's a tough, loving, giving, caring person, and the best person I know in my life. So to hear her doubting that about herself, about her own life, was just heartbreaking. To show that would have made everything even worse. So I tried to be as strong as possible and supportive, and anything she needed or wanted, I tried to give."
Joe and Heather recently relocated to Texas to be closer to Heather's family, and they look forward to focusing their energies on being the best parents possible. "I [have] wisdom -- from my own pain, from my own trials and from my own success -- that I can offer a child," Joe told The Boot. "I've got a lot of love to give, too."
The singer-songwriter, who recently left his label, Show Dog-Universal, may need to get a bigger tour bus to accommodate the growing family. He has several shows scheduled this month. See his concert schedule here.