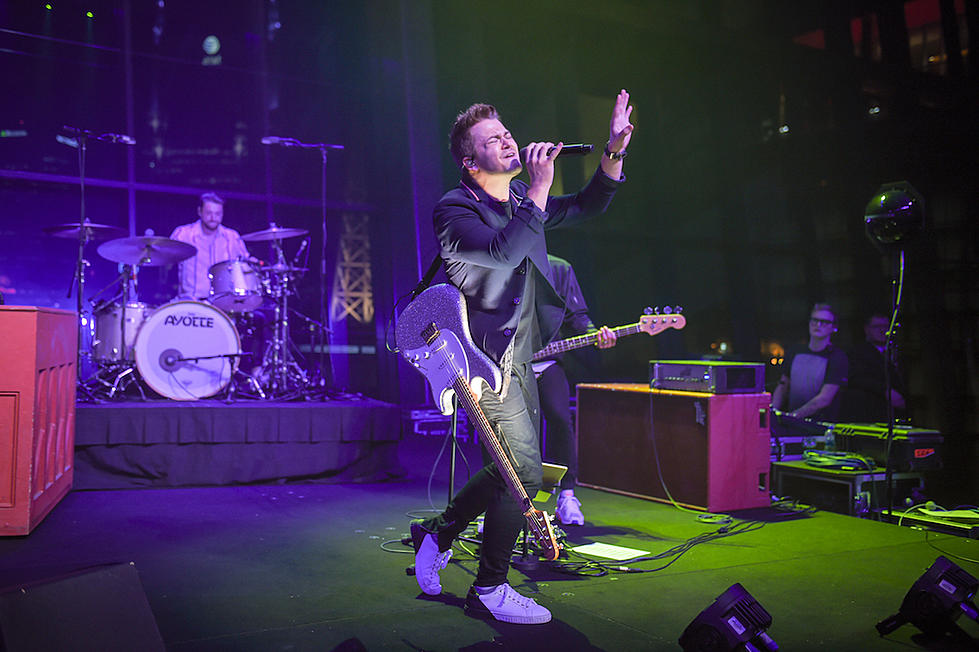 Hunter Hayes' 'One Shot' + More New Music Videos You Need to Watch
Jason Kempin, Getty Images
Country music videos run the gamut from dreamy, ethereal southern scenery to the glamorous and hot nights of Miami, with plenty of other fun-loving imagery in between. Read on to discover all the lates music videos in country! 
Hunter Hayes, "One Shot": 
Hunter Hayes takes a playful turn in the animated music video for his new song "One Shot." The tongue-in-cheek lyrics (written by Hayes) follow the singer through a night of highs and lows that he wouldn't remember, if not for the social media anthology that tracks the whole evening. From taking "just one shot" of alcohol to one shot at a time, photo-documenting the adventure, the upbeat tune plays on that feeling-good-about-feeling-bad  moment that we've all had.
"I really wanted the video to portray the humor in looking back at some of my most embarrassing moments and highlighting the fact that it's really okay to not take yourself so seriously." Hayes tells Billboard. "So many hidden Easter eggs in every frame of this have their own long story, so I'm proud of taking my shame and turning into something hopefully everybody can get a kick out of."
Michael Ray, "One That Got Away": 
Michael Ray has no regrets in the music video for "The One That Got Away." Ray says that the video, which was shot in Miami, Fla., plays on the idea of spending one night in the city with a stranger as a tour guide, creating a stand-out moment in time: An experience that might not ever be repeated, but certainly won't be forgotten.
"We wanted to treat Miami as its own character in this video because we felt that this city really had a personality and an energy of its own..." Ray says in a press release. "I also wanted to get outside of my comfort zone... what you see in this video was really us –experiencing all these things together; really just being in the moment."
Abby Anderson, "Make Him Wait":
Abby Anderson's music video for her debut single, "Make Him Wait," reminds viewers--especially women--of their self worth and value. Several women of different ages -- including Anderson's fans -- are featured in the video, and she handpicked them for the project."My hope is that "Make Him Wait" is a universal message that speaks to people of all ages," Anderson says. "This is a song about trusting your worth, with someone worth your trust. It's about dating someone who understands your worth and treats you accordingly. I'm a strong believer that you set the tone of any relationship. When you set the standards, and you set them high, people tend to rise to the occasion."
She wrote it with Josh Kerr and Tom Douglas, and says after Kerr began playing the chords, they created the song at lightning speed. "Honestly, everything my dad has ever taught me about dating and relationships started floating back. We wrote the song in 45 minutes. It honestly fell from the sky."
Jillian Jacqueline, "Sad Girls":
Jillian Jacqueline has revealed the music video for "Sad Girls," and the singer says its imagery is completely different than what she envisioned while writing it--but she approves. The only thing she doesn't approve of? The poison ivy she acquired during shooting.
The video takes place in the middle of a field, when the sun is at its most golden, and is filmed in one single shot. "When I wrote this song, the imagery I had pictured was definitely a rainy city street at midnight," Jacqueline says, "but when I came to my longtime collaborator and friend Patrick Tracy to direct this, we both gravitated towards the visuals of a soft romantic image we had seen of 1970s models in a field of flowers. It's the first time I've shot something quite so ethereal in nature and I think it fits the song beautifully. Side note: I did in fact get poison ivy from laying in this field. It sucked."
"Sad Girls" is from Jacqueline's new EP Side B. Co-writers of the song are Jacqueline, producer Tofer Brown and country music hitmaker Lori McKenna.