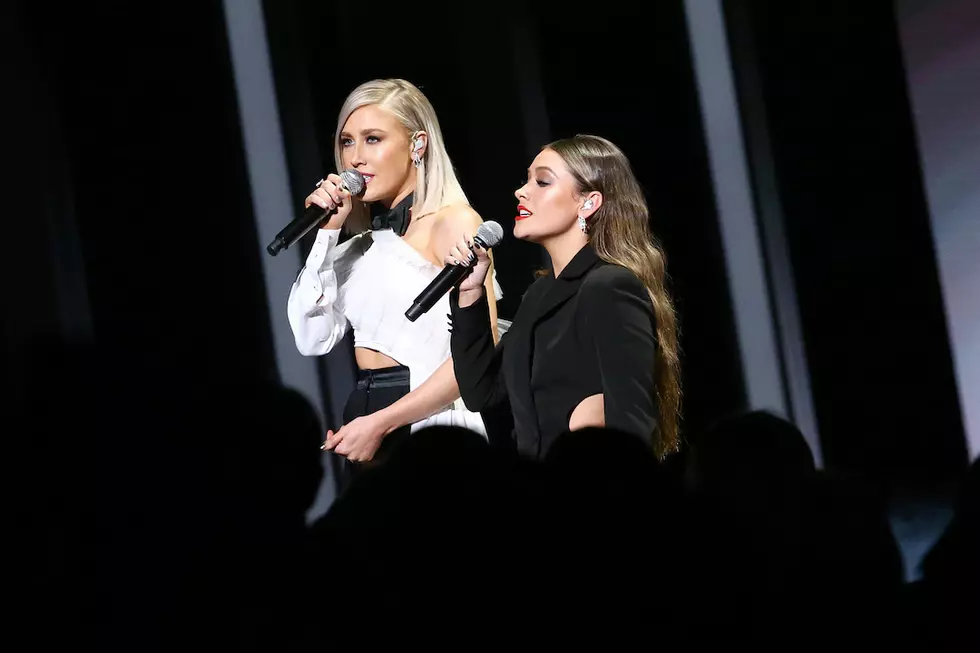 Hear Maddie & Tae's 'Have Yourself a Merry Little Christmas' + 7 More Festive Country Tunes [LISTEN]
Terry Wyatt, Getty Images
If you break out the Christmas music first thing after the Thanksgiving holiday, you're not alone: Plenty of country stars are getting into the seasonal spirit with special holiday releases! From festive originals to long-cherished classics, there's something for every country fan's stocking in this extra-merry round-up. Read on to get to know all the tunes you'll be wanting to add to your Christmas playlist this year.
Maddie & Tae, "Have Yourself a Merry Little Christmas":
Maddie & Tae have joined the long list of artists that have tried their hand at "Have Yourself a Merry Little Christmas." For their rendition of the holiday classic, the duo start things off slow with instrumentals, setting the cheery mood before joining in with beautiful harmonies. The Christmas classic was first released in 1944 by Judy Garland. Bing Crosby made the song incredibly famous in 1962 and it has since been recorded by the likes of Sam Smith, John Legend, Kelly Clarkson and Whitney Houston. Maddie & Tae's "Have Yourself a Merry Little Christmas" comes off as caring, sensitive and genuine. -- CC
Brandy Clark and Charlie Worsham, "Merry Christmas, Darling":
Brandy Clark is sharing her own dreamy take on a Christmas classic with the release of "Merry Christmas Darling." Charlie Worsham joins Clark on the 1978 song made popular by the Carpenters. "I love the holiday season and I love the Carpenters. So, 'Merry Christmas Darling' is a double favorite of mine," explains Clark in a tweet. "I hope you enjoy listening to it as much as I enjoyed recording it with Charlie Worsham. Merry Christmas Darlings." -- CC
Cam, "I'll Be Home for Christmas":
Ahead of releasing new music in 2020, Cam is sharing a stripped-down version of a holiday classic with fans. The singer has released her own vulnerable version of the well-known "I'll Be Home For Christmas." In addition to being a holiday staple, Cam ranks it as her overall favorite Christmas song. In a press release, she explains that the song holds even more meaning to her this year, because her baby is due just one day after the holiday. Cam concluded her statement in the release by thanking her fans, saying "I want to say a heartfelt thank you for allowing me the time to explore, digest and perfect this new album. The universe says we're right on time." -- CC
Clare Dunn, "Step Into Christmas":
Christmas is a happy and exciting time for Clare Dunn. In her new release, "Step Into Christmas," Dunn is inviting listeners to experience the fun of the holiday season with her. "I remember when we were kids, waking up early, exchanging gifts with my sister and parents, then us all bundling up and going out and taking care of cattle," Dunn reflects in a press release about the upbeat song.
"By the time we came back in we were all frozen, trying to shake off the cold, scraping snow off our boots and jeans, and waiting for the ice to melt out of clumps of our hair while we packed up all the food into pickups and got ready to make the 50-mile drive down a dirt road to my grandparents' house in Oklahoma," the singer continues. "Step Into Christmas" was originally released (and penned) by Elton John in the 1970s. -- CC
The Lone Bellow, "Marshmallow World": 
The Lone Bellow are painting a picture perfect world with their release of their festive number,"Marshmallow World." In the cozy song, the group -- comprised of Zach Williams, Kanene Donehey Pipkin and Brian Elmquist -- sing about the idyllic surrounds of the season. In this instance, the holiday is the perfect time for love. "It's a yum-yummy world made for sweethearts / Take a walk with your favorite girl / It's a sugar date, what if spring is late / In winter it's a marshmallow world," the trio sings. "Marshmallow World" will be included on A Dualtone Christmas. -- CC
The Oak Ridge Boys, "Don't Go Pullin' on Santa Claus' Beard":
If The Oak Ridge Boys want you to know one thing this Christmas season, it's to not pull on Santa's beard! "Don't Go Pullin' on Santa Claus' Beard" is a fun and catchy song that is bound to put anyone in the holiday spirit. Throughout the tune, the boys sing about all the things that you can do with Santa and that one that you absolutely cannot: "You can wrap your arms around his neck / Hold his hand maybe sneak a peck / Get your picture made / Make a face that's weird / But don't go pullin' on Santa Claus' beard," they sing. "Don't Go Pullin' on Santa Claus' Beard" is available now. -- CC
King Calaway, "Happy Christmas (War is Over)":
King Calaway are the latest artists to release their own rendition of "Happy Xmas (War Is Over)." The incredibly popular song was first released in 1971 by none other than John Lennon and Yoko Ono. For their version of the iconic song, the men of King Calaway take turns delivering the powerful lyrics while beautifully layering their individual voices into one cohesive sound. The group explained their decision to release the song, saying "We really tried to convey a message of hope and happiness in our debut album, 'Rivers,' and we wanted to continue that message in the holiday season with our Christmas single "Happy Christmas (War Is Over)." -- CC
Dylan Scott, "Winter Wonderland":
The iconic "Winter Wonderland" has gone country with the release of Dylan Scott's rendition of the song. Scott's warm, southern voice pairs nicely with the rich instrumentals of the song, and helps create the vivid imagery featured throughout the holiday staple. "Winter Wonderland" is just one of ten tracks that Scott included on his brand new holiday release, Merry Christmas. "Christmas is my favorite time of the year," Scott recently told Taste of Country. "I grew up listening to the holiday classics, and to be able to record and perform some of these songs is a dream come true." Merry Christmas is out now. -- CC