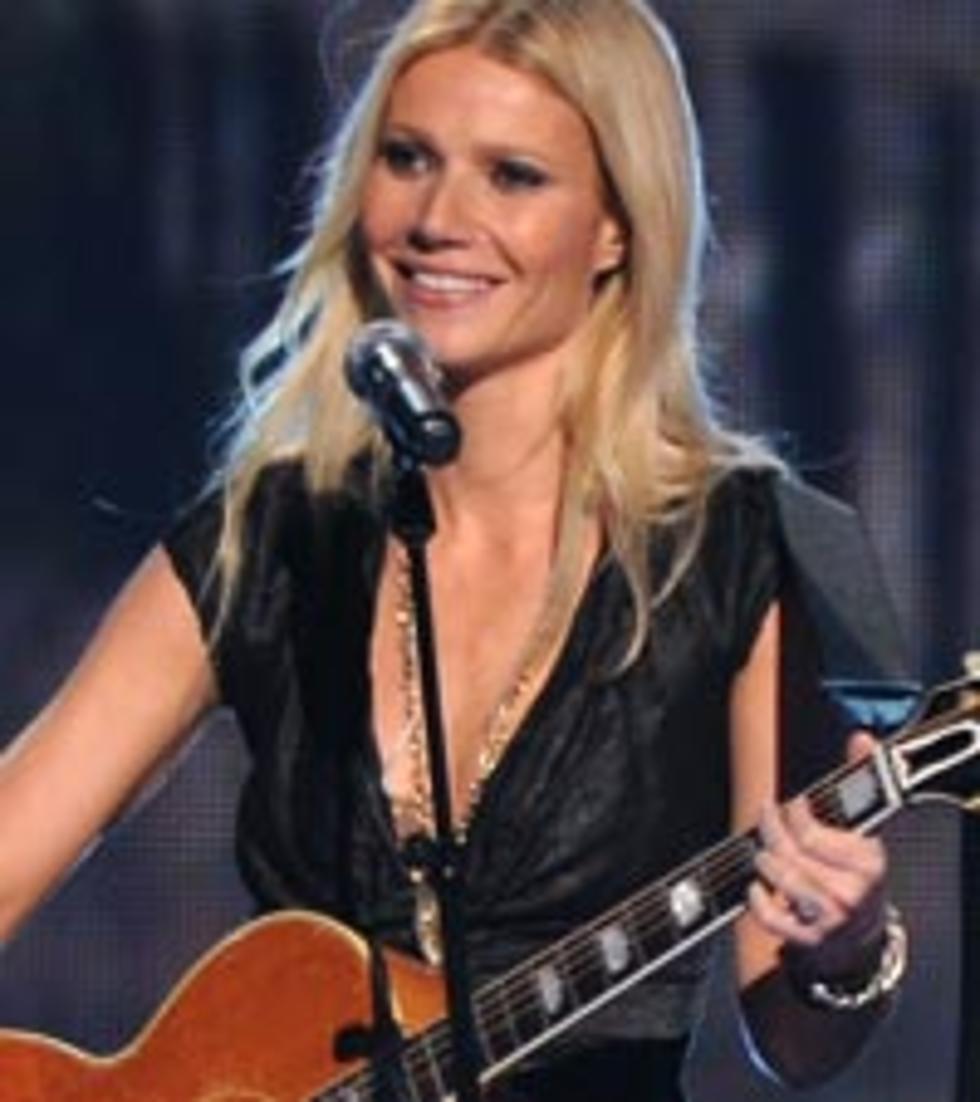 Gwyneth Paltrow Mulling Over Possible Record Deal
Bryan Bedder, WireImage
Gwyneth Paltrow has remained pretty mum about a possible singing career ... until now. She revealed just before Sunday's Academy Awards that she is currently mulling over a record deal.
"We're talking about it now," she told Access Hollywood on the red carpet. "So, we'll see."
Gwyneth attended the show to perform her Oscar-nominated song, 'Coming Home,' from the film, 'Country Strong,' which she said was her most nerve-wracking performance so far. "This [performance] feels hard, because the Grammys [were] so much fun and it was silly. This is very serious. I'm like, 'Geez, it's a serious song and I'm by myself up there.' I hope it's alright!"
Gwyneth has given fans a taste of her lovely vocal chops throughout the years, having charted a hit single with Huey Lewis on a remake of 'Cruisin'' from the film 'Duets' in 2000. She also happens to be married to Coldplay's Chris Martin, who co-wrote 'Me and Tennessee,' a duet with 'Country Strong' co-star Tim McGraw, which is the new single from the film's soundtrack.
The actress made her awards show singing debut at the CMAs last November, with a live performance of 'Country Strong,' the first release from the film of the same name. She also performed with Cee Lo Green at this year's Grammy Awards on his huge hit, 'Forget You.' The Oscar-winning actress performed the rap star's Record and Song of the Year nominated tune on 'Glee' in November, and reprises her role as substitue sex-ed teacher Holly Holiday on the March 8 episode of the popular FOX television show. She is set to perform a duet of Prince's classic hit, 'Kiss,' with castmember Matthew Morrison, as well as singing lead on a cover of Fleetwood Mac's 'Landslide.'
When she was making 'Country Strong' early last year, Gwyneth had no idea it would turn into her making numerous appearances on awards shows to perform, as well as the possibility of hearing herself on the radio. "I just did the film and did the music expecting it to just be in the film," Gwyneth tells The Boot. "I didn't expect [former Sony Music Nashville chairman] Joe Galante of all people to say, 'No, wait! We want to put this on the radio. We believe in you as a singer.' And it was like, 'What?' I still feel like someone needs to pinch me, it's so bizarre."
Being accepted into the music side of the entertainment business and garnering praise for her a foray into music, especially in the country field, it's not surprising the actress/singer has already been approached to make a full album. "I really loved doing this, and I discovered a whole side that I didn't really know that I had," explains Gwyneth. "It was an amazing process. I would never rule anything out, but my favorite part was getting to have Vince Gill sing with me. I love that sort of harmonizing. I think I'd rather sing backup with someone than put myself front and center."
Gwyneth Paltrow - 'Country Strong' Video