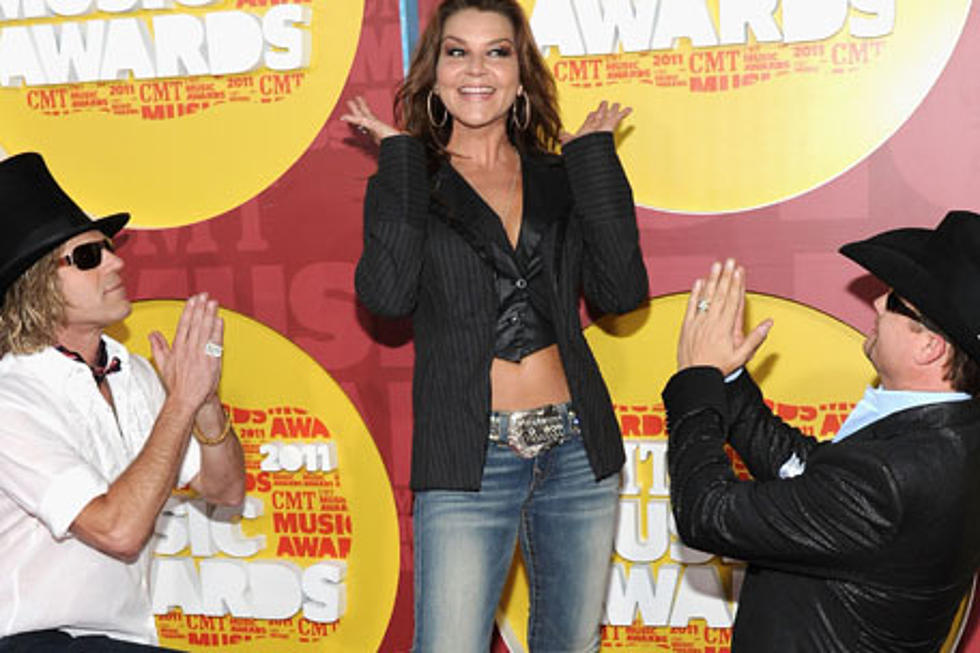 Gretchen Wilson Takes Credit for Reuniting Big & Rich
Mike Coppola, WireImage
After months of speculation regarding whether Big Kenny and John Rich would ever reunite to record and tour as Big & Rich, the two men announced earlier this year they were hitting the road together with Gretchen Wilson for the Xtreme Muzik tour. With the duo previously on hiatus (so that Big Kenny could recover from back surgery and both could concentrate on their solo careers for a while), the surprise Big & Rich reunion appears seamless and mutually enjoyable so far -- and, according to Gretchen, they have her to thank.
The 'Redneck Woman' shares a manager, Marc Oswald, with Big & Rich, and asked him to help her convince her two buddies to reunite. "I said, 'Tell them I want them to do it for me, and that I said they have to,'" Gretchen recalls to Nashville's Tennessean newspaper. "I said, 'I'll be the sweetie between them.'"
Gretchen can certainly say "I told you so."
"The crowds have been outrageous," John boasts of their joint tour. "People never sit down, and it's almost a two-hour show. That's what we thought the energy would be like when we put this tour together, just all these big characters and big, powerful, aggressive country music. We're having more fun with this particular show than we've probably ever had."
The cross-country tour includes opening acts Cowboy Troy and and Two-Foot Fred, before Gretchen, Big Kenny and John all hit the stage together for a couple hours of non-stop music, with one band backing both artists. "I don't think you'll ever see a show like this, because I don't think most artists would be comfortable sharing a stage and a band and a spotlight like MuzikMafia does," says John. "It's always been about sharing the spotlight and sharing the stage, and that same magic that was with MuzikMafia early on is still there, just with bigger crowds."
Until their recent single, 'Fake I.D.,' it had been more than three years since the guys charted a song together. That caused a bit of trepidation going into the tour, but they were pleasantly surprised. "We wondered if not having a hit song at radio for three years, if we would still have a crowd out there and, sure enough, they are," John adds. "They are still jumping up and down and going crazy. [Our fans] don't care how long it's been since they heard us on the radio, they just want to see Big & Rich. The same is true for Gretchen Wilson fans. They just want to see her. She stands for something, and Big & Rich does, too."
Seeing her two friends perform together is as rewarding for Gretchen as performing live herself. "I've been standing on stage having to try and catch myself," she admits. "I know I look like a proud mom on stage when they're doing their thing down at the front. It's just nice to see them facing each other on the front of the stage again and singing some of those amazing songs that they wrote together. When it comes down to it, as different as they are from each other, they are a really talented couple of guys and they've written some of their best music together because of that."
The Xtreme Muzik tour heads to Nashville tonight for a special show at the Fontanel, with 100% of the proceeds benefiting Operation Finally Home. Keep track of their tour schedule here.