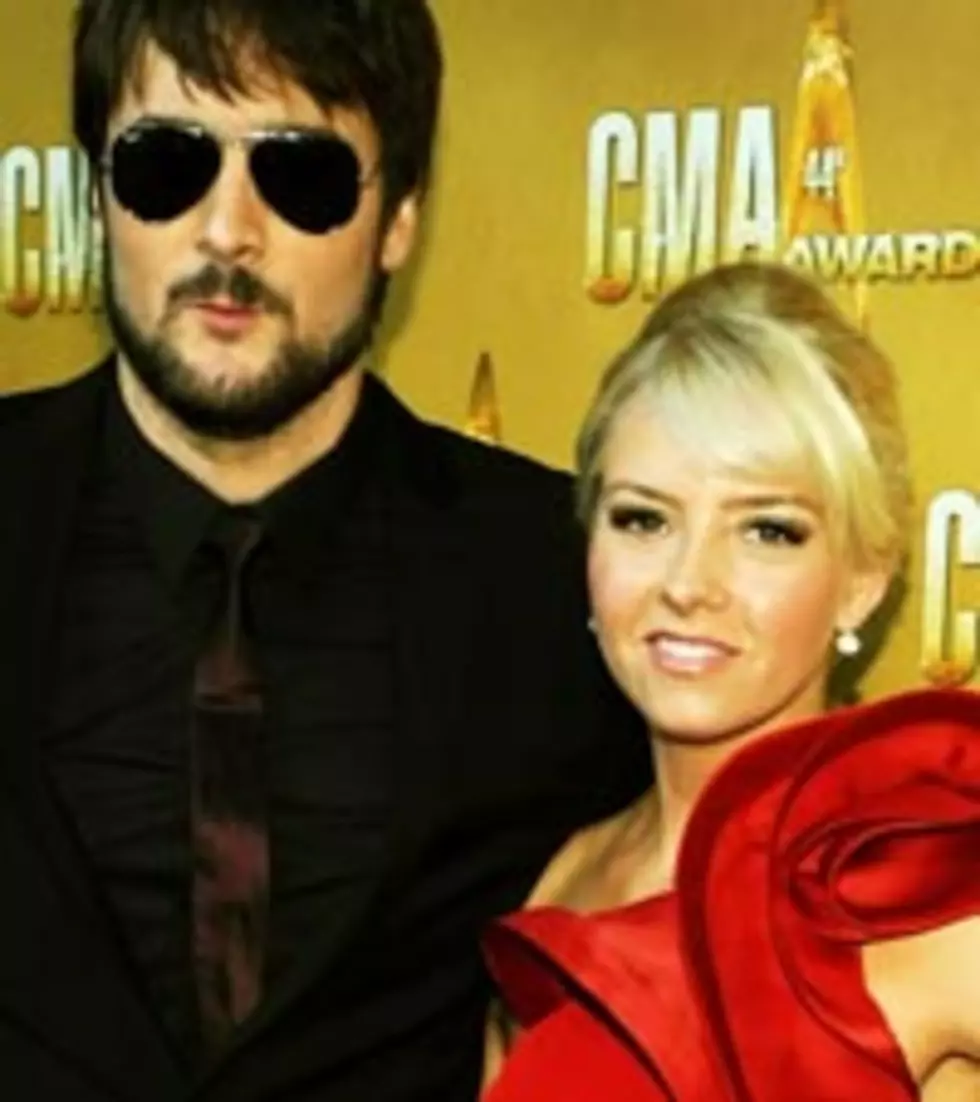 Eric Church Baby News Brings 'Two Pink Lines' Full Circle
Larry Busacca, Getty Images
A positive pregnancy test can sometimes catch couples off guard. Eric Church and his wife, Katherine, can relate to that feeling of unexpected euphoria.
"We're still new at it and still in shock," Eric tells The Boot of the couple's first child due in October.
So just how did his wife of three years break the happy news? "I came back from the grocery store and she was real quiet," Eric relates. "She said, 'Honey I've got something for you,' and she handed me the pregnancy test. What was funny is I stood there, of course, like every guy married or not, it's always a moment. I kind of stood there and I had no response. She goes, 'Well?'
"Then she handed me the other one and then ... she handed me the third one. She had taken three because she didn't believe it. She said, 'I can tell you don't believe it either,' so I started laughing. We were happy. It wasn't as if it wasn't planned. We just weren't really trying. We were just letting it happen, so it's been a cool thing."
Eric has been finishing up his third album, working again with Jay Joyce in the producer's basement studio. Since the album was nearly complete when he got the news, none of the songs on the upcoming record will deal with impending fatherhood. "[There's] nothing on this record," he says. "I don't think it will affect me. I don't know. I'm not going to let it soften the music up."
Now that he's had time to digest the thought of impending fatherhood, how does he feel? "I love it, but it's scary," he says with a smile, taking another sip of beer. "I think it's great. I was joking with somebody, I put out a song called 'Two Pink Lines' as the second single and it all comes back around."
Eric says he and Katherine plan to find out the sex of the baby before the birth. "My wife is a planner," he says.
Hopefully baby Church will inherit his parents' mutual love of music. "She found Josh Turner, got him signed and has had a bunch of success on her own," Eric says proudly of Katherine, who is a music publisher. He trusts her instincts and gets her input on the songs he puts on his albums.
"She's great to bounce songs off of because she's the first person to say, 'You can do better.' She knows what I can and can't do and she pushes me. I think that makes my music better. She's one of that inner circle of people that helps pick [the songs for] these records. All three records she's been involved in. It's good to have her. She just loves music and that's what I love about her, all kinds of music. She likes weird stuff. She even likes stuff from the '80s, which I think was the lost era."
With the baby due October 11, it could arrive in the middle of the Locked & Loaded tour with Toby Keith. "I have to talk to the big dog daddy about that one," he says with a laugh. "I'm excited. I really am. I was ready. It felt like the next thing for us. I'm glad it came when our career was a little more stable. A couple years ago, we played well over 200 dates a year, clubs, honky-tonks, anywhere we could. We've got a better touring schedule and radio has been good to me over this past year, so I feel comfortable. We can back off a little bit and I can have some time to be a dad and not just go, 'Hey, see you ever now and then.' I don't want it to be that way."
Eric will be in Biloxi, Miss., on Saturday (April 23). For more of his upcoming tour dates, check here.
if(typeof AOLVP_cfg==='undefined')AOLVP_cfg=[];AOLVP_cfg.push({id:'AOLVP_906243936001','codever':0.1,'autoload':false,'autoplay':false,'displaymnads':true,'playerid':'89761511001','videoid':'906243936001','width':476,'height':357,'playertype':'inline','stillurl':'dynamic','videolink':'#','videotitle':'dynamic','videodesc':''});