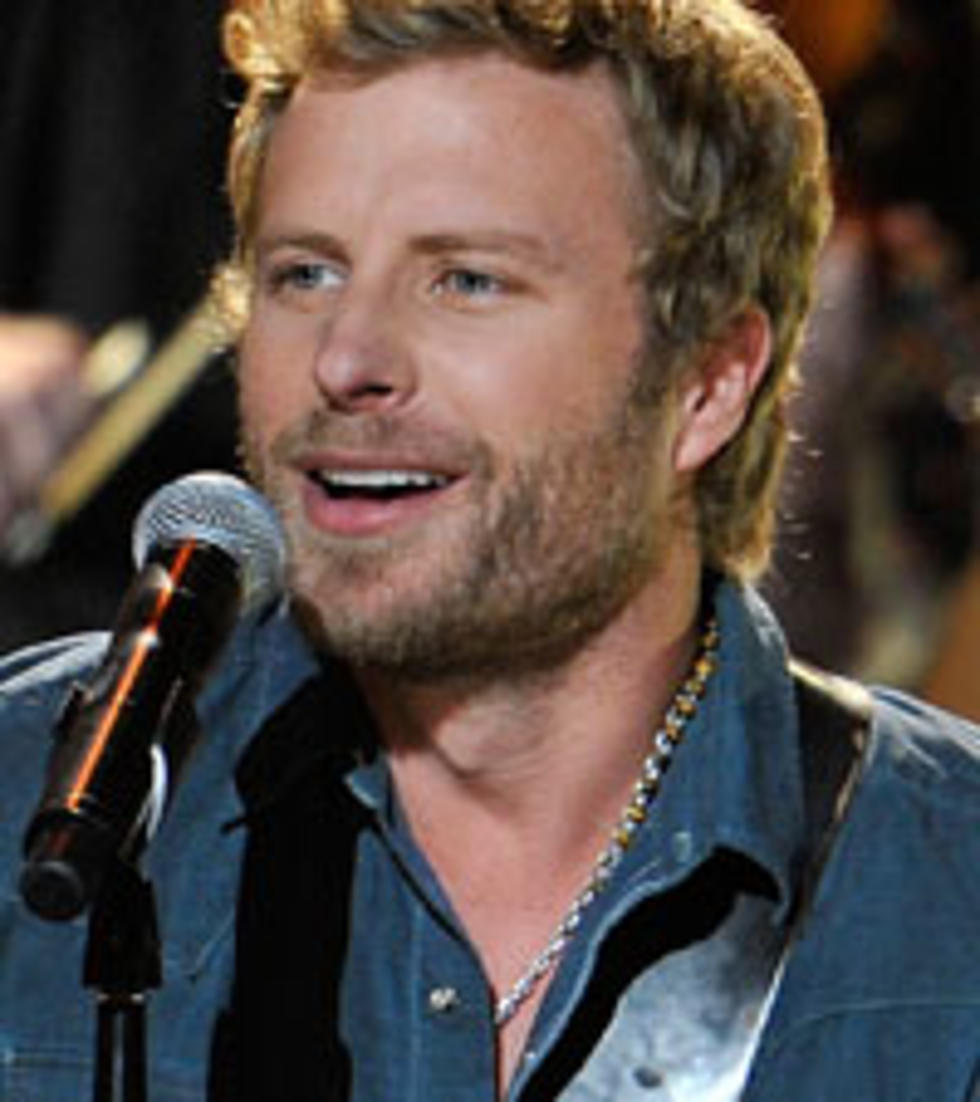 Dierks Bentley, Miranda Lambert Tour to Be 'Like a Jungle Gym for Adults'
Frederick Breedon IV, Getty Images
"It's fun, it's like a big jungle gym for adults," Dierks told The Boot and other Nashville journalists at an event previewing his new live show. "This is one of those tours where we have the chance to go back and relive those high school days, because we've been out with Miranda and her camp before. We wanted it to be a great tour, so I got the checkbook out and started writing checks! We have a new set and for the first time, video screens. We talked about what we wanted to do and decided to pretend it was our last tour."
Thankfully for fans, it is far from Dierks' farewell tour, but they reap the benefit of that thought process with a multi-level set, new lighting and videos that enhance the music. The "Tip it on Back" singer says he is "pumped" to have consistency between shows, as last year he played several different types of concerts, in several different countries.
Dierks gives Miranda credit for the tour name and hints that they will share the stage each night. "My tour in 2006 was called Locked and Loaded, and Miranda approached me in a bar in Las Vegas and said we needed to go back on the road together and call it the Locked and Reloaded tour. She said we would take my show, her show and do a few things together. She had a few ideas for collaborations, and I told her a few I had.
"We will do a few things the fans will expect, but there might be a few they won't expect to hear," he continues. "We both love traditional country music, but our music goes different directions from that. In our hearts we still love that music and feel like there is some duty for us to represent that in some way in our shows, especially when we are together on stage, but also have fun and do some different things too. Carry the torch and surprise people at same time."
Another unexpected twist will be footage in the video screens behind him. Dierks will change that up from city to city, trying to find local video to incorporate.
"One of the cool things with the video element is you can include stuff locally for song like 'Home.' As a fan, when I go to show, I like to see that. I remember seeing a band play at Ryman [Auditorium], and they never mentioned where they were or that they were in Nashville. I was like, 'Dude, you're playing Nashville at the Ryman. I know you are on the road and shows run together, but when you're at the Ryman, you have to talk about it.'
"Every show we do, we want it to feel like it's the one show, and make it personal for the fans. When the Black Keys were here, they mentioned Nashville a thousand times. When U2 played here, they talked about Johnny Cash and June Carter and hanging out with them. So I want to find a way to incorporate that city we're in, by using the video element to help songs have an impact. I want them to have a good time and get drunk, but I want them to cry too!"
The tears may flow during the live show's background video for 'Home,' which the singer says features a photo of his late father. Dierks also plans to debut a new song he wrote about his father, telling the story of moving to Tennessee for the first time, back in the early '90s.
Lee Brice, Randy Houser and Thomas Rhett are opening in various cities with Dierks and Miranda. Dierks says it's a great combination of talent for the tour, and he's looking forward to perhaps doing a collaboration with them, as well. "When the people on the ticket are good friends and the camps are good friends, it becomes an organic and fun tour," he says.
The singer-songwriter admits a bit of nerves as the tour opens, but realizes he should be nervous! "I remember Minnie Pearl or Roy Acuff said, 'If you don't get nervous playing the Grand Ole Opry, you shouldn't be there.' I think you should always be nervous or anxious. If you're not, you shouldn't be doing it. To be able to live that dream of recording and performing, when there are others more talented than you ... you're lucky it worked out for you. So yeah, I get nervous and all those other crazy feelings you have before you go onstage."
Dierks' only regret about the tour is leaving his wife and two daughters behind. But he uses that sadness as motivation to play a show that's worth sacrificing time with his family. He says knowing his girls are missing him gets him "more fired up , more emotional." And he assures the Bentley ladies will join him on the road from time to time. In fact, oldest daughter Evie may just sneak on stage.
"She did that about four times last year and she loves it," recalls the proud dad. "I love having them be around it. It's such a gift to get to do this, and to share with our kids is awesome."
The Locked and Reloaded tour travels to Knoxville, Tenn., on Friday (Jan. 19), and Roanoke, Va., on Saturday (Jan. 20). See a full list of Locked and Reloaded tour dates here.
Watch Dierks Bentley's 'Tip It on Back' Video