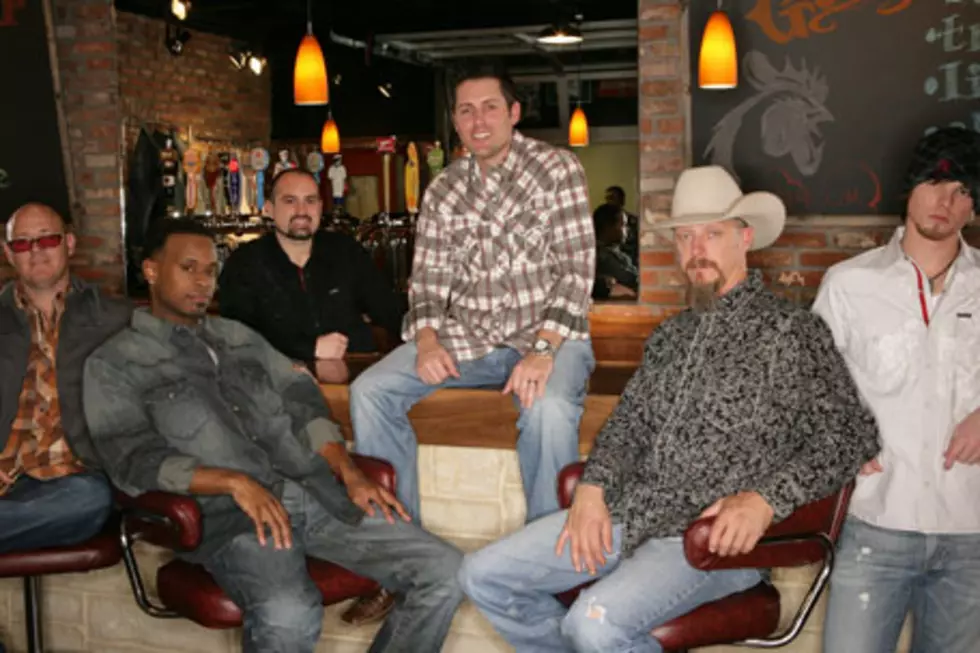 Casey Donahew Band Finds Fans Living 'Double-Wide Dream'
Almost Country Records
For Casey Donahew there was never any question he was making his music for the fans. Casey himself was a fan of acts like Pat Green and the Randy Rogers Band for years before deciding to strike out and launch his own music career. The hardworking Texan has spent the past nine years pouring his indomitable, can-do, indie spirit into his music and building a devoted fan base across the Southwest and beyond with his infectiously fun, off-the-chain live shows. And the fans are definitely connecting with the grit and gumption his songs possess, from the wildly popular redneck tale, "White Trash Story," to his new single, the raucously rebellious anthem to his home state, "One Star Flag." The Boot sat down recently with Casey to chat about his ability to laugh at life through his songs, his subtle attempts to hijack the Red Sox roster, and how Garth Brooks figured into his backup plan if his own music career didn't pan out.

Your latest CD "Double-Wide Dream" is your fourth. What can fans expect that might be different on this one from your previous three?
I think I've definitely progressed as a songwriter and a musician, but I still write songs the same way ... I try to find something that appeals to me. If I find myself thinking, "Hey, this is cool, I'm singing along to it in the shower," then maybe I've got something to work on. So then I try to work something up on it, get with the band, and if they have the same kind of feeling about it, we'll keep pushing forward. But I don't do anything out of the ordinary that I haven't been doing for the past nine years, really.
The video for the album's title track, "Double-Wide Dream," is hilarious and looked like it was fun to make! What was the funniest part of that shoot for you?
We did that at my wife's father's house. He had this empty trailer beside his place, so we used that for the shoot, and the neighbors beside the trailer, these guys were the real deal -- they were definitely living the double-wide dream! They were out there shooting guns in the backyard all day long. We got there at 8 in the morning and these guys were pounding tallboys at 8 a.m., so they were inspiring us to get it going. [Laughs] But we just wanted to try to get a bunch of friends together and have a good time. It's kind of like everything else we do, we don't take ourselves too seriously, we just let it go. And it was really fun.
Garth Brooks and Pat Green were big inspirations to you musically, and you met Garth recently. What do you think it was about those guys that inspired you so much and informs your music?
The biggest thing I picked up on from guys like Garth and Pat was the way they handled a crowd and were able to draw people in and really want to get people involved. That made fans feel like they were part of the show. I just went to a Garth show, and he's better than ever. I'm ready for him to get back on the road. I hear some rumblings that they're putting together some staging and getting the 18 wheelers rolling again. I hear some rumors -- I'm not starting any! [Laughs]
But it's crazy how someone like that, it's baffling -- he was at the top of the food chain, there was no one bigger than Garth Brooks, and he was able to just say, "You know what, I'm gonna go home and hang out with my family for a decade." And when he comes back out, he'll be the biggest thing out there again. It's just amazing. That just goes back to strong fans and great music. He's got timeless hits. I always say if people quit coming to watch the Casey Donahew Band, one day we'll start a Garth Brooks tribute band and get all decked out and play corporate parties and stuff -- a backup plan in case this thing fails. [Laughs]
What would be your favorite Garth song to play in that band then?
Oh my gosh ... there's so many! I could tell you 15 or 20. There's a song he wrote that he plays called 'Wolves' that I really love.
You're a huge baseball fan. We hear there are a few major leaguers who have been known to show up at a Casey Donahew Band concert or two.
Yeah, I met Clay Buchholz in Beaumont, he's from there, and Josh Beckett's from the area also. I've known Clay for three years, we've become friends at shows and then kind of kept up through the seasons. I'm a crazy baseball fan. I'm a Ranger fan though, don't get me wrong. I was trying to talk all of these guys into coming down to Texas, so the Red Sox nation I'm sure will be angry with me. [Laughs] But all of these guys are Texas guys. I saw John Lackey with them at an event in Steamboat and got to hang out with them for awhile. It turns out John lives right down the street from my house. So we've kind of kept up this repertoire.It's crazy how all these athletes want to be singers and all these singers want to be athletes. But there are a lot of similarities to what we do -- the traveling, being away from home, the criticisms, and the praises, and dealing with media. A lot of similarities.
You started playing down at the Fort Worth Stockyards, and have sold out Billy Bob's Texas several times. What does it feel like playing to that home crowd of 6,000 people?
I love being on that stage. It's usually one of the more stressful days of my year, though. Out of the 150 or 160 shows we play, it's always hustle and bustle.When we have a lot of media involved it gets hectic. There's a lot that goes into a Billy Bob's show -- hundreds of people, family, friends who call and want to come, so it's an event. But we always enjoy it.
There's a rodeo that goes on down the street from Billy Bob's every weekend -- you grew up roping. Are you still into rodeo?
I am! I still like to team rope. We find some places where we can get set up and fixed up with some horses on the road. When we go to El Paso we've got some friends out there who have a big arena, so they have horses and steers ready to go when we show up.
You're a big fan of '80s and '90s country -- but if you could choose anyone from today's scene to collaborate with, who would you pick?
I've gotten lucky and played a few shows with Blake Shelton, and really enjoy what they do, they're a great band. He's one of those guys who really does a great job of entertaining the crowd. There are some great songwriters out there ... Lee Brice does a great job of writing a song, so he'd be one I'd like to sit down with and try to hash one out.
Your fans are just rabid! They come out and sing every word back to you. They seem to know the words to every song, which is amazing. What does that feel like?
It feels good, there's no getting around it. That's why you do music, you're trying to connect with people, and for people to get it and appreciate it and have that passion about the song you wrote makes it all worthwhile. It's definitely been a build ... and it's still building, and hopefully it keeps growing. People are definitely singing along to "Double-Wide Dream," and I hope they will to my new one, "One Star Flag," too. I think more and more people across the country are starting to take notice of what's going on in Texas. And you can't deny the fans.