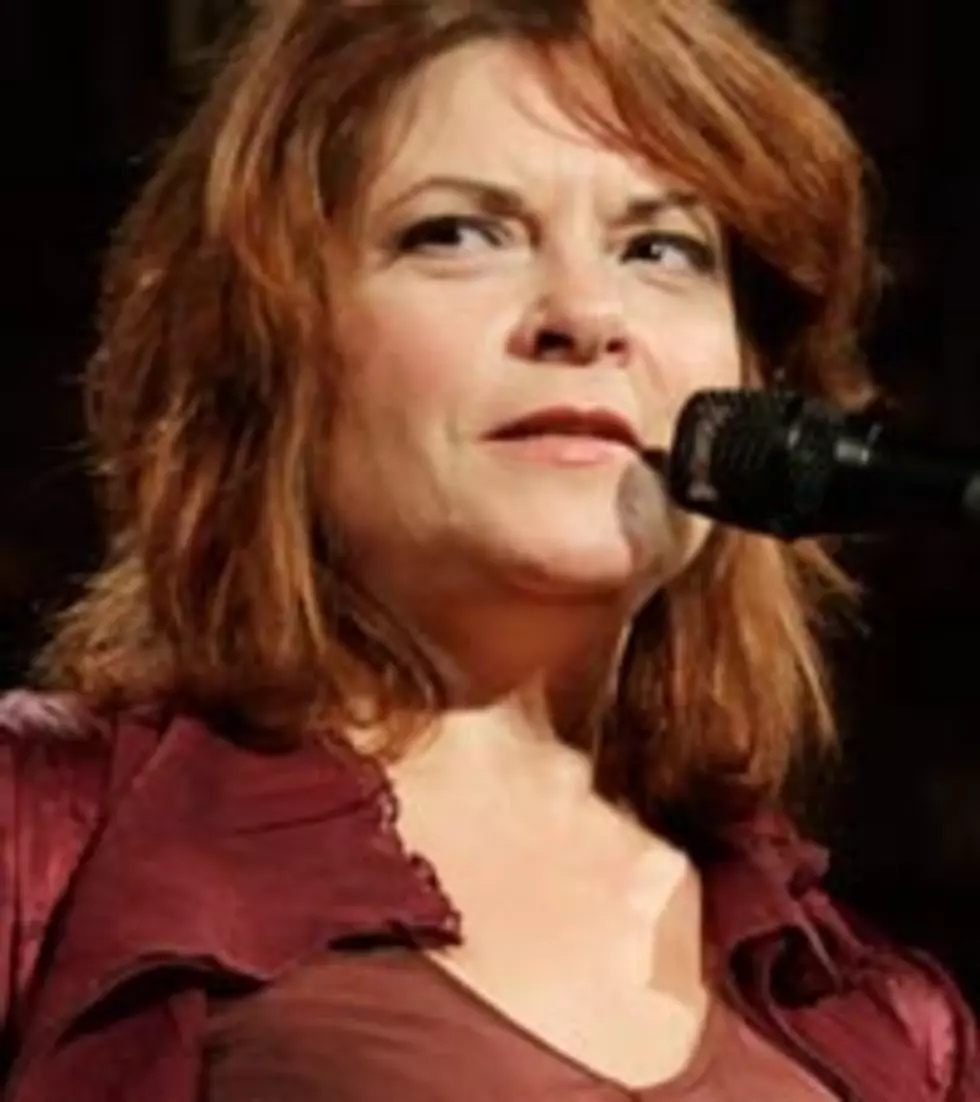 Rosanne Cash Honors Father at Americana Awards
Frank Hoensch, Getty Images
Rosanne Cash couldn't get through her speech without shedding a few tears Thursday night at the Americana Awards when she came forward to receive Album of the Year honors for her disc, 'The List.' The basis for the album was choosing songs from a list of 100 tunes that her father, Johnny Cash, gave her when she was 18, telling her those were the 100 most important songs to listen to if she intended to be a singer and songwriter in country music.
"This was such an emotional project for me," Rosanne said as she accepted her award. After thanking a number of people, including her husband and producer of 'The List,' John Leventhal, she said tearfully, "I want to thank my dad for making this list for an 18-year-old girl who had a dream to be a songwriter."
Rosanne later performed a song she said would have been on her dad's list had he made one for the years 1973 forward, 'Ode to Billy Joe.'
'The Weary Kind,' co-written by Ryan Bingham and T-Bone Burnett and featured in the movie 'Crazy Heart' starring Jeff Bridges, was named Song of the Year. Accepting the award from Patty Griffin and Darrrell Scott, Ryan thanked T-Bone and all the people associated with the film, adding, "It was incredible to be a part of that project." Ryan also received the Artist of the Year honors, presented to him by the Courtyard Hounds duo, Martie Maguire and Emily Robison.
The Avett Brothers were named Duo/Group of the Year, while Hayes Carll was crowned New/Emerging Artist of the Year. Buddy Miller, who led the stage band for the evening, was named Instrumentalist of the Year.
Several Lifetime Achievement Awards were also presented during the awards show. Wanda Jackson, the rockabilly Queen of the '50s and '60s, received her award from rocker Jack White, who produced her upcoming album. Calling her the "Founding Mother of Rock & Roll," Jack said, "She opened the door for other female singers and gave the men a run for their money."
Wanda was as charming as ever, telling the audience, "You're gonna make me cry, and I worked so hard on this mascara!" as she was met with thunderous applause. On a more serious note, she continued, "I have been able to sing and perform for people all over the world most of my 72 years, doing something I like. I have to say the past five years have been some of the most exciting of my career, except working with Elvis of course. This award tonight is just topping on the cake, and it's all because Elvis talked me into singing rockabilly music!"
Rosanne presented John Mellencamp the Lifetime Achievement award for Songwriting, noting, "In John's songs you hear the heart of an American artist." In his acceptance, John noted, "A songwriter tries to write songs that become part of the fabric of the people who listen to them. Yet you wonder if people listen and care, and this award shows that there are people who are listening."
Brian Ahern, who has produced Emmylou Harris, Anne Murray, Neil Young and Ricky Skaggs, received the Lifetime Achievement award for Producer/Engineer, while Greg Leisz received his for Instrumentalist. Leisz was noted for his work on the steel guitar and pedal steel, and has performed and recorded with artists including k.d. lang, Joni Mitchell, Lucinda Williams and Willie Nelson. Luke Lewis received the Lifetime Achievement award for Executive. He heads Universal Music Group Nashville, of which the label he founded, Lost Highway, is associated.
The opening number, the Rolling Stones' 'Tumbling Dice,' featured Buddy, Sam Bush, Patty, Emmy, Don Was, Will Kimbrough, Greg, and Aaron Embry. Was produced the reissue of the group's album, 'Exile on Main Street.'
Other performers throughout the evening were John Mellencamp, Ryan Bingham, Corb Lund, Lucinda Williams, the Carolina Chocolate Drops, Minton Sparks, the Avett Brothers, Ray Wylie Hubbard, Wanda Jackson, and the show's host, Jim Lauderdale.
Attendees were treated to a surprise performance by Robert Plant, who together with his Band of Joy (which includes Buddy Miller, Patty Griffin, Darrell Scott, Byron House and Marco Giovino), gave a 30-minute performance of songs from their upcoming album.
The Americana Music Association awards show takes place during the Americana Music Conference and Festival, which continues through Saturday, September 11. The conference features seminars for those who work in the Americana genre of music and numerous showcases by artists including Dale Watson, Shawn Camp, songwriter Don Schlitz, Chip Taylor, Mary Gauthier, Corb Lund and Ray Wylie Hubbard.