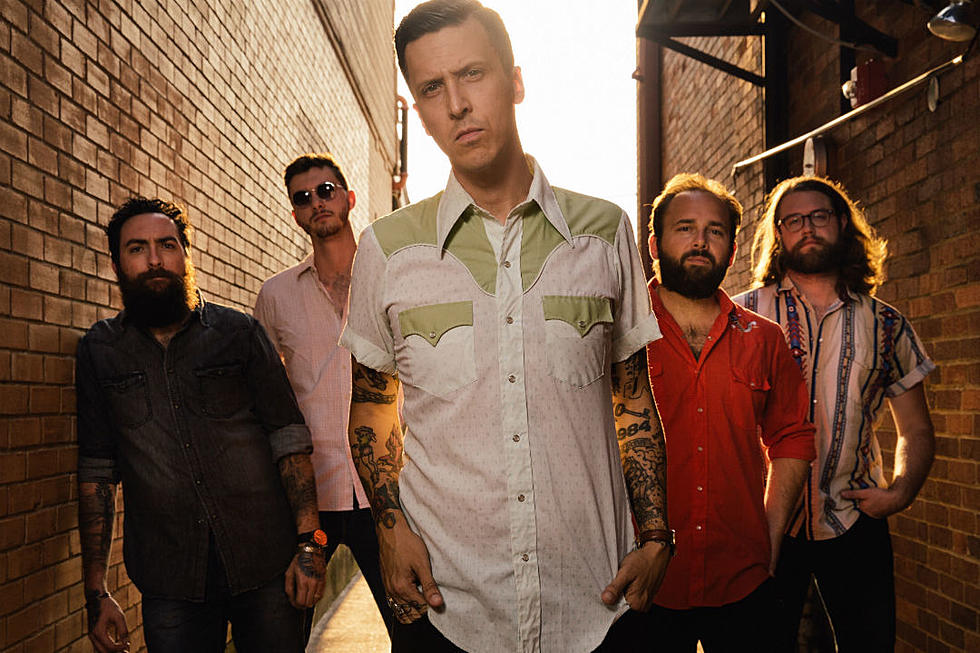 Everything We Know About American Aquarium's New Album, 'Things Change'
Cameron Gott
American Aquarium have announced the upcoming release of a new album, Things Change, due out in early June via New West Records. It's an appropriate album title considering that the band went through a complete turnover in 2017.
Of American Aquarium's previous lineup, frontman and songwriter BJ Barham is the only remaining member. It was an amicable split, however: Barham says that he considers his former bandmates among his best friends, and values the time he spent with them on the road. Nonetheless, Barham found a new cast of characters to round out the group and hit the road with him: Shane Boeker on lead guitar, Joey Bybee, drums, Ben Hussey, bass and Adam Kurtz on pedal steel and electric guitar.
Read on to learn everything you need to know about the "new" American Aquarium's upcoming release.
The Title
Barham couldn't have chosen a more poignant title for this album than Things Change. Not only is he re-inventing American Aquarium with entirely new bandmates, his personal life is changing also: He and his wife Rachael welcomed their first child, Josephine Pearl Barham, in early April.
The Release Date
Things Change is set to release on June 1.
The Record Label
American Aquarium will release Things Change on New West Records. The label recently signed Barham and company.
The Album Cover
The black background of the cover of Things Change plays host to the changing phases of the moon. It's a reference to the constant evolution of time and the changing seasons of life -- a perfect complement to this record's title.
The Producer
Things Change was produced by Oklahoma songwriter John Fullbright. In addition to production, Fullbright added his touch on piano, clarinet, mellotron, guitar and vocals.
The Songs
The songs on Things Change carry with them the experiences of Barham's past. "When We Were Younger Men" looks back on the early days of American Aquarium -- a tribute to brotherhood and the grind of touring relentlessly with the same people. Songs such as "Things Change" and "One Day at a Time" take a look at personal growth and learning from the past, while "The World Is on Fire," which Barham considers a highlight of the album, speaks to the political environment of our country.
 American Aquarium,  Things Change Track Listing:
1. "The World Is on Fire"
2. "Crooked+Straight"
3. "Tough Folks"
4. "When We Were Younger Men"
5. "One Day at a Time"
6. "Things Change"
7. "Work Conquers All"
8. "I Gave Up the Drinking (Before She Gave Up on Me)"
9. "Shadows of You"
10. "'Til the Final Curtain Falls"
The Tour
In late May, American Aquarium began a tour throughout the U.S. in support of Things Change. A complete list of tour dates is below, and more information is available on AmericanAquarium.com. The trek is expected to last until late June, at least.
American Aquarium, 2018 Tour Dates:
May 24 - Tulsa, Okla. @ Cain's Ballroom
May 25 - Oklahoma City, Okla. @ Tower Theatre
May 26 - Little Rock, Ark. @ The Rev Room
May 27 - Kansas City, Mo. @ Knuckleheads
May 28 - Chicago, Ill. @ City Winery
May 29 - Omaha, Neb. @ The Waiting Room
May 30 - Des Moines, Iowa @ Wooly's
May 31 - St. Paul, Minn. @ Turf Club
June 1 - Indianapolis, Ind. @ The Vogue
June 2 - St. Louis, Mo. @ Off Broadway
June 5 - Nashville, Tenn. @ The Basement East
June 6 - Columbus, Ohio @ Rumba Cafe
June 7 - Cleveland, Ohio @ Beachland Ballroom
June 8 - Pittsburgh, Pa. @ Mr. Small's Theatre
June 9 - Asbury Park, N.J. @ The Saint
June 10 - New York City @ Gramercy Theatre
June 12 - Boston, Mass. @ City Winery
June 13 - Philadelphia, Pa. @ Boot & Saddle
June 14 - Rocky Mount, Va. @ Harvester Performance Center
June 15 - Washington, DC @ 9:30 Club
June 16 - Richmond, Va. @ The National
June 21 - Greensboro, N.C. @ The Blind Tiger
June 29 - Birmingham, Ala. @ Saturn
More New Music Coming in 2018