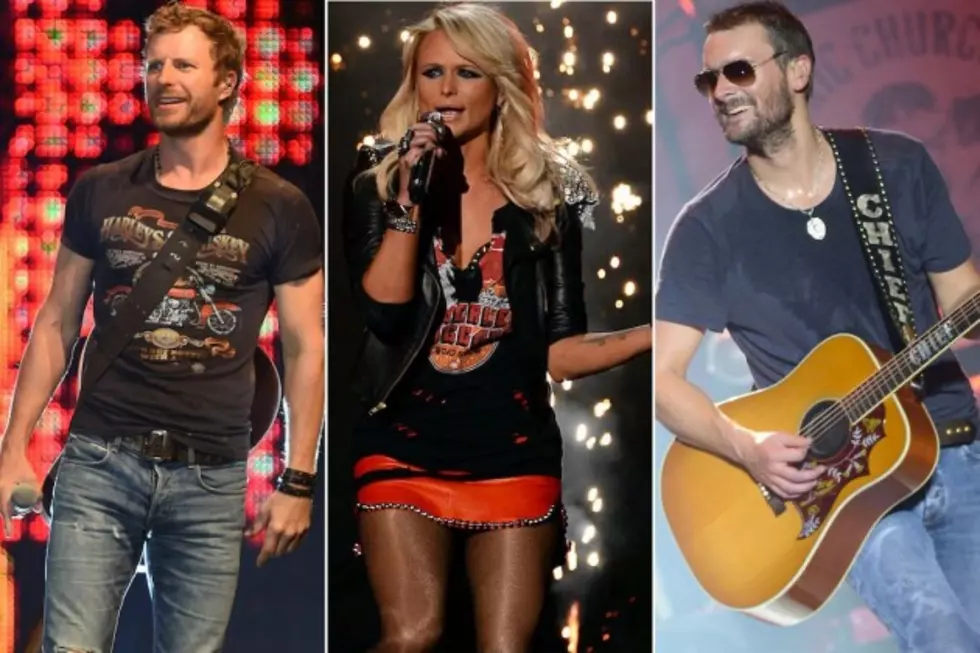 POLL: Who Should Win Album of the Year at the 2014 CMA Awards?
Ethan Miller(2) / Rick Diamond, Getty Images
Two of this year's nominees for Album of the Year, Eric Church and Miranda Lambert, have brought home the title in the past. But the remaining three are eyeing the prize, hoping to hear their name called. Who do you think should win Album of the Year at the 2014 CMA Awards?
Luke Bryan's 'Crash My Party' was certified platinum, became the third best-selling album of 2013 in the U.S. and has sold over 2 million copies, with hits like 'Play It Again' and 'Drink a Beer' delighting fans. But Australian-bred Keith Urban showed country fans that he's still got a 'little bit of everything' up his sleeve. His latest album, 'Fuse,' hit No. 1 and debuted atop the all-genre charts in the U.S., Canada and Australia -- the first time a male country singer has achieved that success.
Miranda Lambert is a force to be reckoned with. Her fifth studio album, 'Platinum,' made her the first country star ever to have all five of her records nab the No. 1 spot. With nine CMA Award nods, she'll be one to watch throughout the evening. 'Riser' from Dierks Bentley is his seventh studio album. Hits 'I Hold On,' 'Drunk on a Plane' and others flesh out the record, making him a definite contender in this category.
Eric Church won Album of the Year in 2010 with 'Chief,' and he's looking for another win with 'The Outsiders.' It's his second No. 1 album and was certified gold by the RIAA.
Who should win Album of the Year at the 2014 CMA Awards? Vote below as often as once an hour until the end of the day on Sunday, Nov. 2. We'll tabulate the results and use them for our 2014 CMA Awards winners predictions the week before the show.