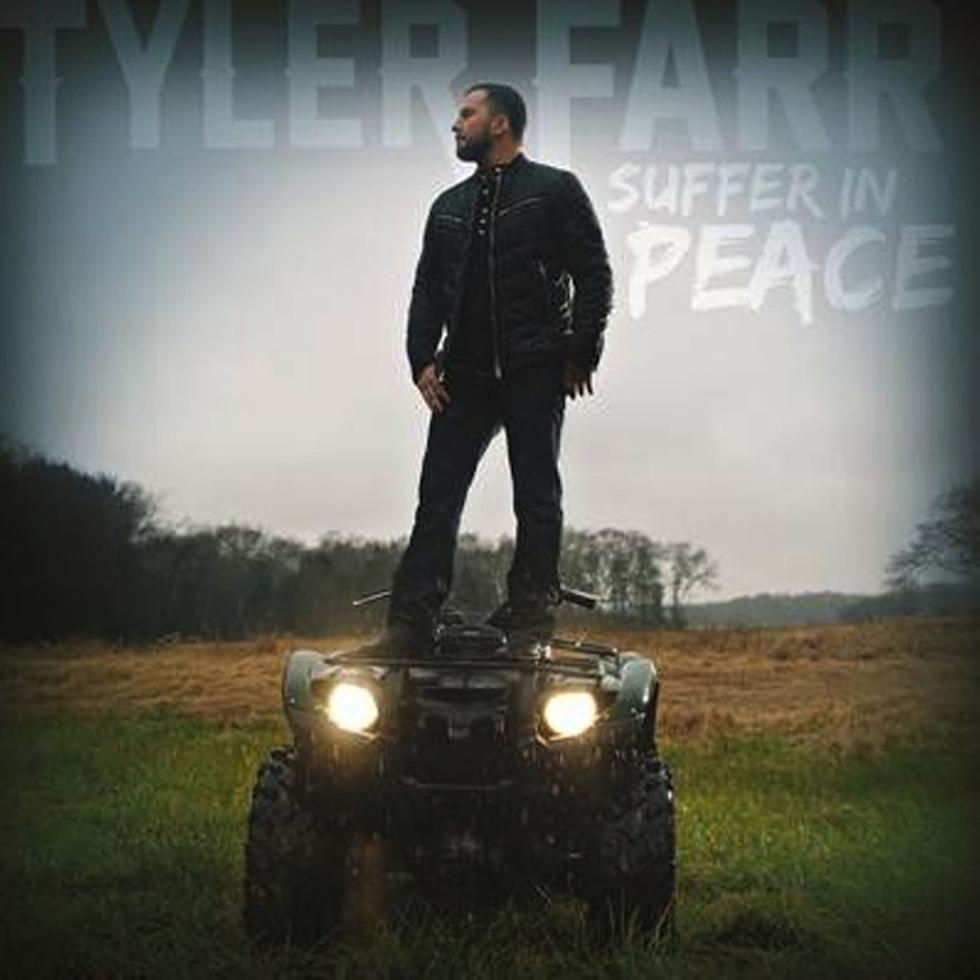 Everything We Know About Tyler Farr's New Album, 'Suffer in Peace'
Columbia Nashville
After Farr's debut album, Redneck Crazy, found favor with fans and spawned hits like "Whiskey in My Water" and the title track, fans have been jonesing for some fresh, new music from the Missouri-bred singer. Here's everything we know about Farr's upcoming disc.
The Title
Farr's second album is called Suffer in Peace, named after one of the album's tracks.
"I know people are like, 'Gosh, that sounds dark,' and I'm like, 'Well, it is a little bit dark.' Everybody's got a little bit of a dark side in them, I guess," Farr says, "and the reason I picked it is because it's not boring. It's like reading a book, and you want to keep reading to see what happens."
But the title track isn't at all like Farr's typical swagger-filled hits; in fact, it's quite the opposite: "Suffer in Peace" is a ballad describing a man who is left by his lover and heads to a remote cabin (to, of course, suffer in peace). He brings only the essentials -- a bible, a rifle, a rod and a reel.
The Release Date
Suffer in Peace is set to drop on April 28, and fans can pre-order Farr's new record in one of two special bundles through TylerFarr.com. When they buy, they will receive an instant download of Farr's studio version of "Sail," a song by AWOLNATION that the singer has been performing live.
Fans can also pre-order Suffer in Peace via Amazon and iTunes; digital pre-orders include instant downloads of "A Guy Walks Into a Bar" and "Withdrawls."
The Cover
The album's cover photo was taken at Farr's remote farm. It depicts him standing on top of an ATV, looking off into the distance.
The Single
The album's lead single, "A Guy Walks Into a Bar," has already made quite an impact and is in the Top 20 of Billboard's Country Airplay chart.
Late last year, to promote the single, Farr opened up about some of his best drinking buddies.
"Some of these stories, I would love to get into detail about, but I would put myself at risk, along with every one of my friends," he told Rolling Stone Country. "TMZ would be parked outside of my house."
But we did learn that Farr's bar pals include Jason Aldean ("He drinks tequila, I drink whiskey — tequila and whiskey together equals bad"), Lee Brice ("I think Lee wears the crown"), Randy Houser ("Randy can hold his own, don't let him fool you") and Jerrod Niemann ("I remember back in the days of playing the honky-tonks in Nashville and Niemann literally bringing moonshine into the bar").
The Songs
There are 11 tracks on Farr's sophomore album, and though he hasn't specifically spoken about all of them, he has opened up about a few.
Of course, fans already know "A Guy Walks Into a Bar," written by Melissa Peirce, Jonathan Singleton and Brad Tursi. That's the second song on the record, but the disc ends with three tunes co-written by Farr with hit writers like Dallas Davidson, Rhett Akins and Phil O'Donnell: "Poor Boy," "I Don't Even Want This Beer" and "Why We Live Here."
"I write country music for country music fans. I write about the country lifestyle and what I know about," Farr has previously said of his songwriting. "I don't know if I'll ever completely figure out women. Actually, I know I won't."
Suffer in Peace also includes "Damn Good Friends," a duet with Farr's buddy and fellow country star Aldean, and Farr calls it one of his favorite songs on the album.
"The main gist of the song is that you have a couple hundred buddies but only a few damn good friends," he says. "... It's an edgier take on "You Find Out Who Your Friends Are.""
Suffer in Peace Track Listing:
1. "C.O.U.N.T.R.Y."
2. "A Guy Walks Into a Bar"
3. "Withdrawals"
4. "Damn Good Friends" (duet with Jason Aldean)
5. "Suffer in Peace"
6. "Raised to Pray"
7. "Criminal"
8. "Better in Boots"
9. "Poor Boy"
10. "I Don't Even Want This Beer"
11. "Why We Live Here"
The Producer
Just like Redneck Crazy, Suffer in Peace is produced by Jim Catino and Julian King.
The Record Label
Far will again release his record with Columbia Nashville.
The Vibe
Although Farr hasn't talked exclusively about the inspiration for Suffer in Peace, he did mention last summer, "Yeah, with the new single "A Guy Walks Into a Bar" and the one with Jason, it is going to be a bit deeper."
But it won't be all seriousness and no fun.
"I live in Chapel Hill, Tenn., which has the largest tractor pull in the South, and there's not a lot more that you do on the weekends than drink and party. And I write what I know about. So I am gonna have songs that have partying and hot girls and pickup trucks," Farr says. "There's only so much you can write about. If I don't know anything about vacuums, I'm not gonna be a vacuum salesman. It's as simple as that."
So it sounds like Farr's new album will be an eclectic mix.
See a Childhood Photo of Tyler Farr
Tyler Farr Plays "Frozen or 50 Shades of Grey?"