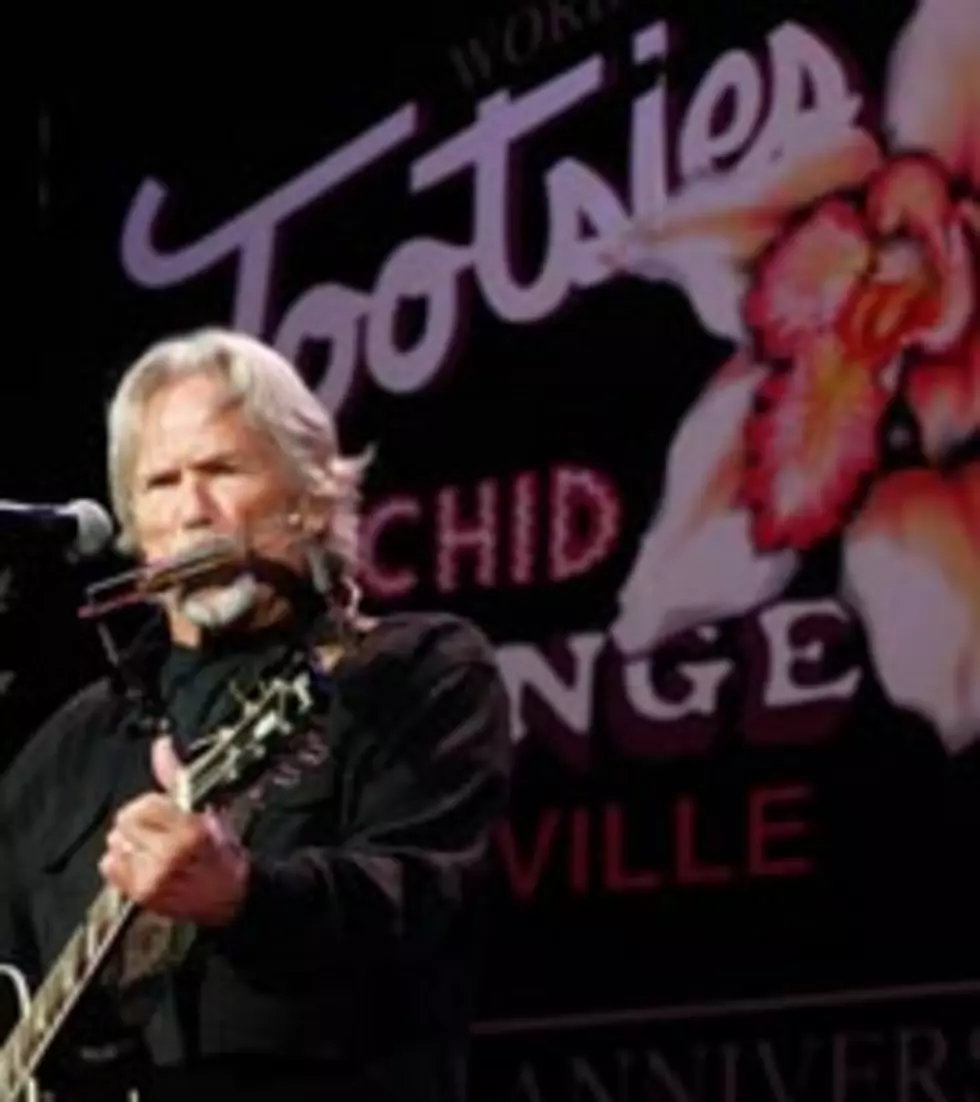 Tootsie's Celebrates 50 Years of Tradition
Ed Rode
Kris Kristofferson, Mel Tillis, Randy Houser, Jamey Johnson and several more of their famous friends painted the town purple Sunday night, November 7, showing up in full force to help celebrate the landmark 50th anniversary of Nashville's historic honky-tonk, Tootsie's Orchid Lounge. Held at the Ryman Auditorium, which is a mere 37 steps down the alley from Tootsie's, the star-studded concert retrospective was a love-fest to the legendary dive, and fans were treated to some stellar performances in unique tribute to the longtime Music City institution.
Bluegrass staples the Grascals kicked the evening off with a rousing version of the Monkees' 'Last Train to Clarksville,' and Mayor Karl Dean read a proclamation honoring Tootsie's longtime heritage and tradition, setting the tone for the importance of the night to come. President Barack Obama sent well-wishes to the celebration, along with Tennessee Governor Phil Bredesen and Senator Jim Cooper. In the spirit of late owner Tootsie Bess, who would often lend a hand, a few dollars, or a bowl of chili to down-and-out struggling artists, contest winner Nathan Young got his moment in the spotlight to perform Johnny Cash's 'Ring of Fire' on the Ryman stage.

Little Jimmy Dickens lived up to his name when he took the stage, cracking jokes and one-liners, doing what he's done best for the past 70-plus years. Dickens would often step across the alley following an Opry show on Saturday nights during the 1960s and early '70s. Tootsie's became home (sometimes literally) to artists like Kris, Willie Nelson, Roger Miller and other struggling songwriters. Dean Miller paid homage to those lean and mean years by performing a spot-on rendition of his dad Roger's devil-may-care anthem, 'King of the Road' for the sold-out house. Taking a familiar spot on stage at the Ryman where she starred in the musical, 'Always ... Patsy Cline,' Mandy Barnett then left the crowd breathless with her version of 'Crazy,' channeling Patsy's spirit flawlessly as only she can do.
Jostling the crowd out of its enchanting retro-spell for a moment, Colt Ford offered up his rap-country hybrid, 'Chicken & Biscuits,' followed by Ronnie McDowell, who acknowledged the more mature females in the audience with his crowd-pleasing 1981 hit, 'Older Women.' Newcomer Joanna Smith, who cut her musical teeth at Tootsie's for four years before signing a deal with Columbia, showed off her considerable chops and spunk with her new single, 'Getting Married.' Clad in a purple dress to mark the evening, the tiny dynamo then launched into a cover of 'Stand By Your Man' that would no doubt have made Tammy proud.
Another artist who owes her career start to Tootsie's, Terri Clark, recalled only being able to perform at the bar in the daytime hours under strict threat of her mom. "This is how I used to play at Tootsie's and it was a bit of a war zone down on Lower Broadway back then, a lot of people playing out on the street corners for tips. I played the 10:00 AM to 2:00 PM shift during the day, 'cause my mother said if I came down here after dark she was gonna drag me home by the hair on my head!"
"I've got butterflies," Terri admitted, pulling up a stool to the front of the stage with her guitar, as she's done the past few months on her acoustic tour. "I remember walking in Tootsie's as a kid from Medicine Hat, Alberta and I had just come 2300 miles from home. I'd spent a lot of time in the basement of my house during those cold winter months, learning a lot of songs by a lot of people. Little did I know what I was really doing was putting together my setlist for Tootsie's Orchid Lounge." Giving the crowd a little taste of those days, Terri proceeded to roll through covers of the Judds' 'Mama He's Crazy,' Patsy Cline's 'Walkin' After Midnight,' and even her best Joaquin Phoenix impression of Johnny Cash on 'Folsom Prison Blues,' and brought down the house with the first standing ovation of the night, just her and her guitar.
By the time Kris Kristofferson took the stage with harmonica at the ready for 'Me And Bobby McGee,' magic filled the air and a few bars into the smash hit the crowd was totally rapt. The legend possesses the uncanny brilliant ability to express so much in so few words, and his understated elegance, sheer sense of complete serenity, and quiet, humble confidence onstage transcends anything Nashville might hope to produce for decades to come. A few notes into 'Help Me Make It Through The Night,' the audience was utterly captivated, and by the time he inched his way through the classic 'Sunday Morning Comin' Down,' they were on their feet and literally begging for more. Kris' destiny is tied closely to Tootsie's -- Tootsie Bess fed him, nurtured his creative spirit, and even gave him a place to stay and a broom to sweep up the floors and earn his keep as he found his way as an artist.
Humbled by the overwhelming outpouring of love from the crowd that went on for minutes, Kris then brought old friend Mel Tillis onstage, saying, "I met this guy when I first came to Nashville and we got in a lot of trouble together. And I won't go into that. But to me, he's the closest thing, maybe him and Merle Haggard, the closest thing we have to Hank Williams on the planet today."
Mel thanked Kris for being his opening act, then wowed the crowd with a song and introduced himself saying, "I'm Pam's daddy!" He later brought out a new traditional artist he is helping, Kenyon Lochrie, who performed an old Jimmie Rodgers tune as the stage was being prepared for Lorrie Morgan's set. Lorrie started her set by acknowledging her father George and performing his signature tune, 'Candy Kisses,' then treated the crowd to her hit 'Something In Red,' before introducing her buddy, Randy Houser, to the stage.
Randy took the opportunity to treat the packed house to some special new songs he'd written, including a fun and rowdy tune about being in trouble with the missus, called 'The Doghouse.' That Tootsie's 50-year magic began floating through the Ryman air again when he called out old buddy Jamey Johnson, and the two launched into a hilarious and appropriately raucous version of Hank Williams, Jr.'s 'Dinosaur.' Randy then departed the stage, leaving Jamey up there alone with his guitar to perform his smash 'In Color' for the spellbound audience.
Several of Tootsie's current performers, including mainstay Jon Stone closed out the stellar night before VIP ticket holders poured into the honky-tonk across the alley to continue the party fit for a 50-year-old landmark. I perched against a counter in the back bar away from the crush of the crowd for a moment to look around the historic watering hole, and suddenly realized I was standing directly under Mama Tootsie's framed headshot from her brief recording career. In her rhinestone collared dress, with a photo of Porter Wagoner directly above her, she looked happy, and I wondered if she'd be pleased at the frivolity and fun-filled yet giving legacy she created all those decades ago that still lives on today with that cigar box of unpaid tabs she carried for down-on-their-luck performers and that hatpin she used to stick in the rears of drunk patrons who weren't quite ready to leave at closing time. Somehow I think she would.