Tift Merritt Is Over the 'Moon' for Her New Album
Before the advent of burning music on CDs and iPods, people assembled their playlists of songs on cassette tapes. Tift Merritt once made mixtapes herself, particularly of her early music, and had also received them from other people when she was younger.
"That was how I was introduced to music that has been so important to me," she tells The Boot. "Someone made me a mix of Maria McKee and Lone Justice, and someone made me a tape that had Mary Lou Lord, Big Star and the Jayhawks. I was 18 years old -- I didn't know about these people. I just found so much neat new music that way because people really did this kind thing."
The North Carolinian would revisit the subject on 'Mixtape,' one of 12 songs from her new album, 'See You on the Moon.' While some of the country elements that have long been associated with her music can be heard on the record, 'See You on the Moon' also reflects a continued evolution in her sound and approach.
"I really wanted to make a direct record," Tift says. "From writing to putting it together musically, I didn't want it to have any superfluous stuff that doesn't need to be there. That was sort of my attitude in writing it."
'See You on the Moon' could also be Tift's most personal work. Aside from the uplifting 'Engine to Turn,' there are songs ranging from the difficulties of relationships ('All the Reasons We Don't Have to Fight') to one about a childhood friend who passed away (the title track).
"I'm really proud of this record," she says. "I took a real step forward personally with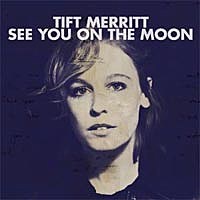 the writing of this. I can't explain how it happened. It's just that when I sat down to write, I really wanted to write directly and with strength."
Another touching track from the album is 'Feel of the World,' which Merritt wrote after the death of her grandmother. "When I finished it," she says, "I sort of sat back going 'What was that?' I read through it and I thought, 'This is my grandfather's song.' He had passed away in the '70s ... but I feel like I know him on some level. And I just thought this is his letter to her, not mine."
The new album, which was produced by Tucker Martine (whose credits include Sufjan Stevens, Laura Veirs and the Decemberists), further demonstrates Tift's musical range other than country influences. Rather, she sees herself as a singer and songwriter. "There's kind of a weird thing that follows me a little bit because we were nominated for a country Grammy. But if anybody listened to that [album, 2004's 'Tambourine'], they would know that it was a kind of a soul record, not a country record.
"There is country in what you do," she adds. "There are those Emmylou Harris records that I worshiped and still worship. But there's also a whole lot of folk and there's also a lot of rock and roll. There's soul, taking a notch from Bill Withers. I'm just doing what the songs tell me to do."
For Tift, the desire to branch out has also extended beyond her music. Aside from being a singer, she's also a photographer and the host of the Marfa public radio interview program, 'The Spark.' Past guests on her show have included Emmylou and Nickel Creek. "It's my little documentary project," she says, "about artists and how they really make their work and live their lives. ['The Spark'] is my wonderful excuse to really jump into their work."
It looks to be a very busy time for Tift with the release of the new album and her tour starting tonight [June 3] in Charlottesville, Va. It is further compounded by the fact that she and her husband just recently moved to a new place in her current town of New York City. "'What were we thinking?'" she says. "So yeah, it's been a very happy time. You just have to be grateful."