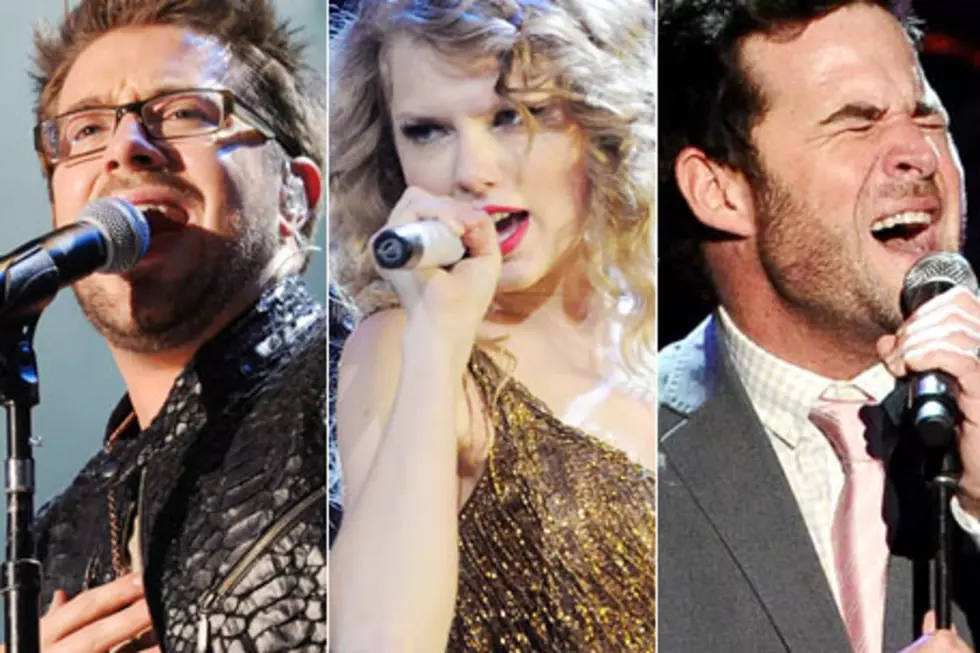 The Men of Taylor Swift's Tour 'Speak Now'
Getty Images
If Taylor Swift's appreciation of men wasn't obvious from her catalog of hits, then her selection of tourmates should do the job. The lineup for the North American leg of the 21-year-old's Speak Now World Tour includes Christian band Needtobreathe, as well as a rotation of men including Frankie Ballard, Adam Brand, Danny Gokey, Hunter Hayes, Josh Kelley, Randy Montana, David Nail, James Wesley and Charlie Worsham. The Boot sat down with these fellas to talk all things Taylor, and they did nothing but sing her praises.
"She's a sweet girl," Danny tells The Boot. "We did a photo shoot with her, and that's where I got to learn how big of a heart she has. I'd seen her before, but I'd never got to talk to her before. Getting [to know] her heart, her character and who she is, honestly blew me away."
"I met Taylor at [the] photo shoot, and she was great," Randy agrees. "She was so nice and complimentary and personable. You get why she's as big as she is. She always remembers people. You walk away from a conversation with her going, 'Man, she's really great.' I'm sure she has that impression on everyone."
"She is one of my heroes," Hunter admits. "We have a lot of mutual business friends so we figured out a way to buy an iPod nano and put a bunch of my demos on it and a video from me saying, 'I'm a big fan. I just want to give this to you, if you have time, to listen to my music that would be great.' I didn't think she'd have time, she's a bit busy. [laughs] I met her at the BMI Awards shortly thereafter and she was so kind, complimentary. She had obviously heard the music, she dug it, and she was really cool."
That iPod could quite possibly have gotten Hunter his spot on the tour.
"When I found out that she actually hand-picked us, that was mind-blowing that she liked my music," James says. "It's a big compliment."
A compliment from Taylor is nothing new to David. In 2009, the Missouri native's world turned upside down when the headliner tweeted that his then-single 'Red Light' was her "new favorite." "Taylor told me [at the photo shoot], 'I love 'Let it Rain.' It's so good. You're on fire! I'm so happy for you,'" he remembers. "I looked right at her and said, 'You mind tweeting that?' [laughs] I'm not sure if she got exactly what I was referring to, because she's like me and she's tweeted 3000 times since then."
It's the 'Mean' singer's complimentary nature that leads the openers to accept that she did choose personally choose all of them. "I completely believe it," Hunter admits. "She invited all of her opening acts out to a stop, and we got to meet the crew, the band and her. She's straight up came up and said, 'So glad to have you on the tour. I hope you really love the tour. We love having you." That made me feel really good."
Hunter wasn't the only man to be bused out for that opening show in Omaha, Neb. "That show is like Broadway meets Cirque du Soleil," James reveals. "It's incredible. A lot of it is her ideas, too. She has these big dreams for when she stands up there, and she's a great role model on top of all that. A lot of young girls look up to her, and I think that's awesome."
Having an artist who appeals to the younger generation, but is also someone their parents don't mind them emulating, is important. "I got to see it before my daughter, and it was great," James reveals. "You saw mothers and fathers there with their little girls. It's a great feeling. There was a man and his daughter waiting for the show to start -- this little girl was probably five -- and she was so giddy that this show was getting ready to start. Her dad couldn't take his eyes off of her because she was so excited. It's amazing that that's what music does. It would be an awful boring world without music."
The opportunity to open for the genre's biggest star is one that Randy plans to use as a learning experience. "I love watching anybody's show," he explains. "You pick up different things that people do on stage when you see it work. That's how we all learn. It may be something the band does or it may be something that they do personally on stage, an action or something. You pick up little things that would work for you. You can't go too far outside of the box. And Taylor's obviously done a lot right to get where she's at."
Another unique aspect is the camaraderie that the men share with one another. "I'm good friends with David Nail and Frankie Ballard," Randy reveals. "I know Charlie Worsham really well. We're all in that same spot. They're all just as excited. They can't wait to get out there. It's big for all of our careers, especially just starting out. It's great exposure."
Randy even co-wrote James' current single, 'Didn't I.' "I've know Randy's dad for a long time," James details. "His dad is a songwriter too, and a great guy. He's been brought up in those roots of writing and everything. It was cool when I found out that he was one of the co-writers on the song."
One big difference in the men of the Speak Now tour, however, is their off-stage motives. "If there's anything I hope to achieve out of this tour, I just want to know the grounds to which you have to achieve before she writes a song about you," David jokes. "Do you have to go on a few dates, and if you never go on another, do you get a song? Or, does love have to be in the picture? Do you have to eat Thanksgiving dinner with the person? I want to know exactly what the stipulations are. Maybe it's a blanket line, like if we get to this point and you do me wrong, you're getting a song."
Don't worry, folks, David isn't curious because he's interested in the superstar as anything more than a friend. "I've always been very curious about that, mainly because I want to be able to tell my wife Jake Gyllenhaal is a jerk and he really did her wrong and this is how he did it," he says. "My wife is like everybody else, she's sucked into this US Weekly world and she's dying to know. She's got her conspiracy theories, too, and I want to be able to put them to bed."
Frankie has also thought about what would constitute getting a song written about him. "That's only if I start dating her, I guess," he laughs. "I don't know if it's good or bad for my career if she writes a song about me ..."
Get a full list of Taylor Swift's Speak Now World Tour dates here.